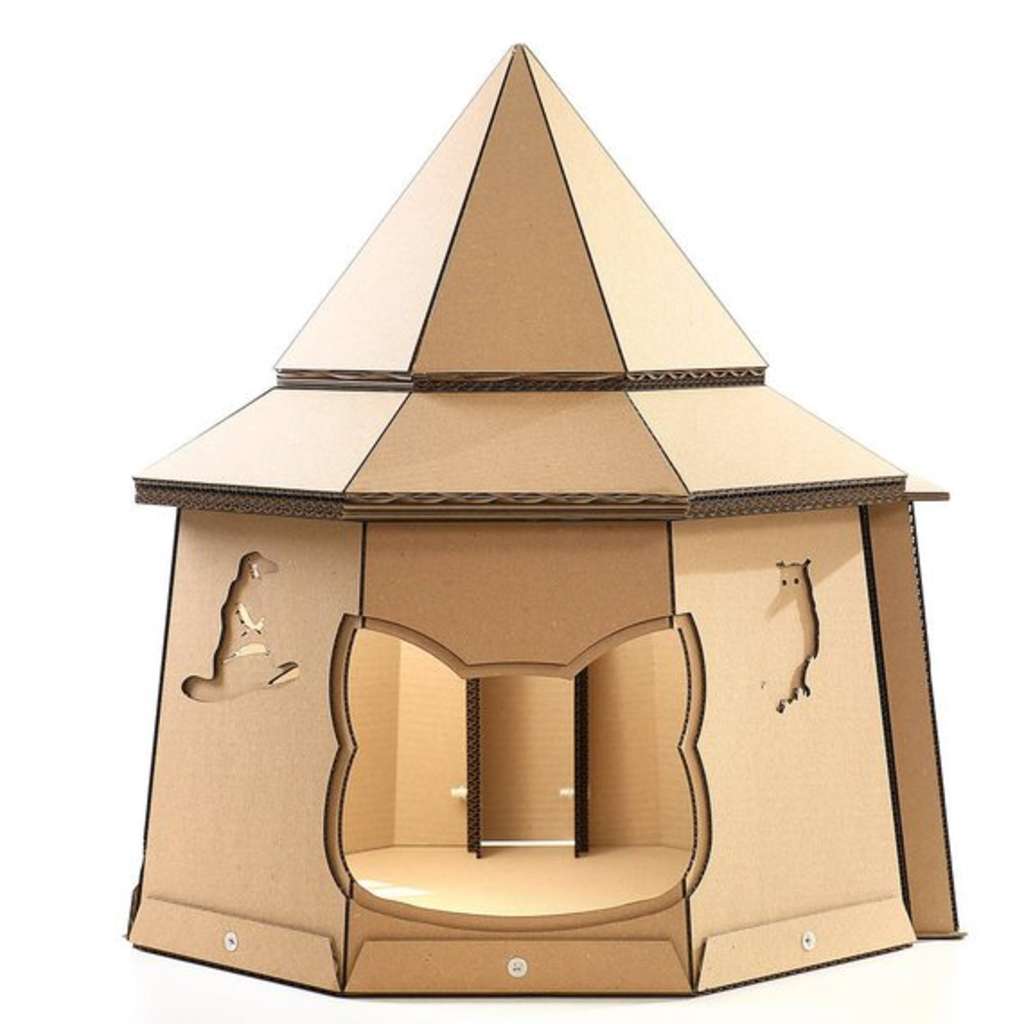 Cat beds are so 2015. The new trend that every cat and cat parent will obsess over is cat cardboard houses. Yes, finally, someone realized that our cats only care about the box that their toys come inside of. Rather than buy your cat some fancy cat tree that might never use, you can instead buy a little cardboard house for your cat to become the master of.
Thanks to CacaoPets, you can now give your cat exactly what they want. The Etsy seller has a variety of cardboard cat houses based on your favorite TV shows, movies, and more. Your cat can become the captain of their own pirate ship, travel through time in the Tardis, have afternoon tea at Hagrid's hut, eat chips on the couch at the Simpson's house, have their own fortress, or become a Stormtrooper.
Does your cat act like they are the Head Honcho of your house? Obviously – they're a cat! All cats tend to think they're in charge. And honestly, if we're waking up at 5 AM to feed them, cleaning up their litter box, and we can't sit on a certain spot on the couch because that is "their seat," then yes, our cats really are in charge. If your cat acts like the Commander-In-Chief, now they can have a home of their own with their personal cardboard White House.
CacaoPets opened their Etsy shop in 2016 and their "about me" is exactly what you might expect, "I am a cat-loving person and this made me open this shop. I will provide you with nice looking furniture for You and your pets!"
When speaking with Apartment Therapy, CacaoPets said:
Our houses are not just a home for your pet, but they are also shelter, favorite spot to play, hug, lie down, rest and sleep. They can be a perfect match to your interior, or a piece that will enhance it! It is not just a house, but a home for your pet!
If you want to see more cardboard houses for your cat, you can check out CacaoPet's Etsy shop and their website. Which little cardboard house do you plan to buy for your kitty bestie?
Apartment Therapy supports our readers with carefully chosen product recommendations to improve life at home. You support us through our independently chosen links, many of which earn us a commission.