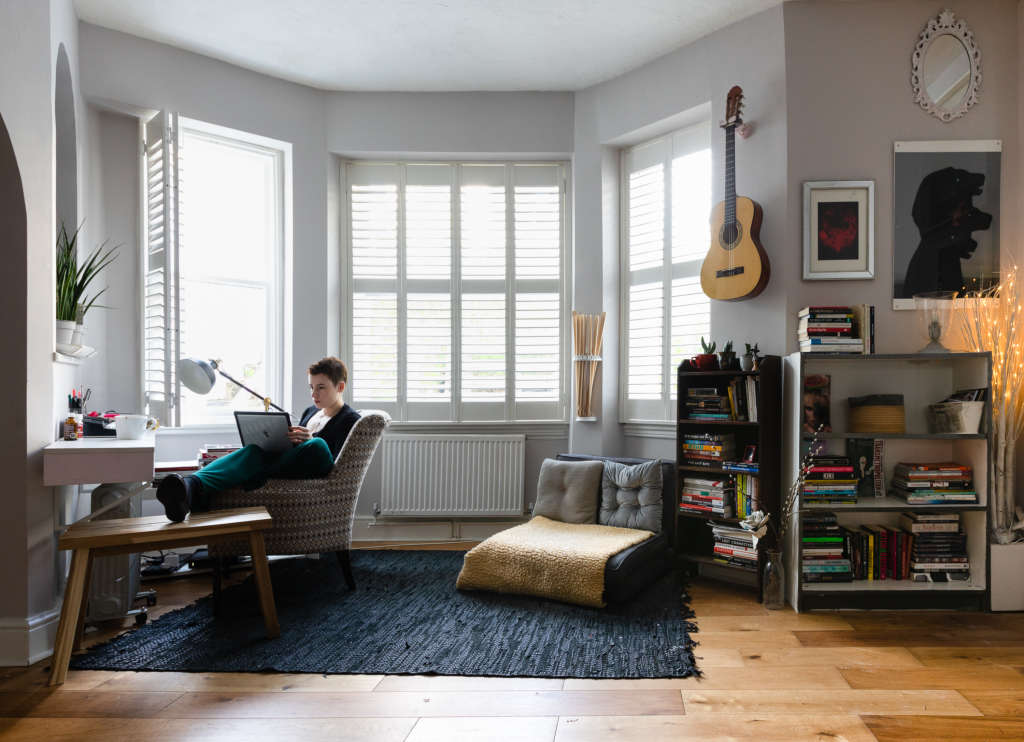 Name: Laurie Penny
Location: UK
Size: 370 square feet
Years lived in: 1 year, owned
The challenges writer Laurie Penny faced when designing her teeny flat were numerous: It's very small, has low ceilings, is strangely shaped, and is in a dark basement. "I basically live in a cellar," she admits. The color palette, what she describes as a "shocking shade of orange and bright blue" would need updating. And as a busy journalist and author whose home is also her office, she had another set of challenges to design around: She was diagnosed with severe ADHD over three years ago (though she struggled with symptoms, anxiety, and depression for much longer than that), and knew a key component to managing her mental health would be the way her home looks, feels, and functions.
"I live in a hole in the ground. But I've made it into a nice cozy Hobbit Hole. I call it Crickhollow," she says. "I got this place at a difficult time in my life, when I had just exited a harrowing relationship and was putting myself back together after an exhausting and traumatic few years personally and professionally. I had never intended to live alone or imagined myself decorating. But it's been a lifesaver."
Laurie—who's currently in a good place with her mental health and says she's lucky to have found treatments that work long term—isn't claiming that everything will be great if you could only just rearrange your house in a particular way. But she knows from experience there are alternative therapies and ideas that can help, in addition to traditional treatments. Including, but not definitely not limited to, arranging your house in a certain way.
"I'm here for hippie bullshit as much as anyone else," she says. "I love yoga and incense and all those things but there's a difference between suggesting to people they can have a bit more control and take charge of their mental health, and telling people that their health issues are all their fault, or that what's going on in their head has nothing to do with society— that you can change it all just by having a different mindset. Anyone who's ever had mental health difficulties [the National Institute of Mental Health reports that nearly one in five U.S. adults lives with a mental illness] would understand how patronizing that is."
---
"I try to have as much out as possible so I'm not constantly rooting through everything I own trying to find the one thing I need. I used to waste hours every week just looking for my belongings."
---
No one's experience with mental health is exactly the same. And of course, Laurie's experience living with—and designing around—ADHD and anxiety is unique to her. But she describes a common issue she's had over the years as an example of how your home's design can help mitigate symptoms… or at least make life a little easier.
"One thing I was worried about moving into my new place was losing my keys, because I've lost every set of keys I've ever owned," she admits. But thanks to careful planning and custom organizing ideas, she's been able to avoid key (and phone!) losing frustrations. "It's the littlest things, like being able to nail key hooks to the wall at my exact eye level so I can't miss them when I leave the house; it means I can see things to grab. I try to have as much out as possible so I'm not constantly rooting through everything I own trying to find the one thing I need. I used to waste hours every week just looking for my belongings."
She uses tools like open wire baskets so she can keep things tidy but still see them (so she won't forget what she has or where something is). She's placed plants in between her desk and the kitchen to minimize the visual distraction. Laurie has heard that raw wooden surfaces and the presence of wood in the home can lift one's mood, so she's made sure to include wooden decor elements, from furniture to twigs, branches, and a dead tree she found on the side of the road she thought looked nice. She even makes sure that certain cleaning products are in view in the places she wants to keep clean regularly because, she says, "If things aren't out I forget about it!"
Mirrors everywhere help to bounce light around, which is important since her home is naturally dark. She's made sure the main seating is near light sources. And white twinkly lights, she says, are great for adding light and coziness. White-painted metal lightens the space. And yes, she's used some faux plants to add life when there just wasn't enough natural light.
Laurie had to do some serious small place designing, too, including furniture arranging on paper before actually settling on a final composition. She sought out shallow/narrow furniture so the place doesn't feel too cluttered. She leans heavily on rugs to help visually divide a one-room space into more distinct areas. And she's kept a consistent color palette—as well as repeating decor motifs— throughout the small home to help it feel cohesive and more "grown up and pulled together. Thanks, Apartment Therapy."
And she's done it all on an incredibly tight budget (proving this kind of design doesn't take a ton of money to implement). "I blew half my budget on the sofa. The rest is IKEA, junk shops. Looking around my house I can't think of anything I've paid full ticket price on. I think I've made my place look more expensive than it is. I inherited many things from my parents including my brain quirks, but I also inherited the fine art of finding things in charity shops and on sale."
---
"One of the things about anxiety and ADD is that I get frustrated and impatient—I want everything done now, right now. And you can't really do that with a space. You really have to live in it a bit and see what works and doesn't work."
---
While the end result is a beautiful, well-designed home, the journey to this point was just as vital.
"The process of learning how to do it has been as important as anything else. I had never owned furniture before, I had never decorated anything, I had no idea how to put things on walls or paint, but the process of teaching myself all of that over the course of a year has been really helpful. And having to take time. One of the things about anxiety and ADD is that I get frustrated and impatient—I want everything done now, right now. And you can't really do that with a space. You really have to live in it a bit and see what works and doesn't work."
But perhaps the biggest lesson to glean from Laurie's home design experience is: "As with a lot of different types of mental ill health or neurotypicality, it's about being accepting about what you can and can't do," she says. "I will never be the kind of person who has the perfectly organized pantry with all the spices. I'll probably actually have four salts because I will have forgotten I had salt and gone out for more. Four times."
She says it's all about being gentle with yourself: "Before I got diagnosed, before I started genuinely working on it, I would always beat myself up for not being able to be an organized person, or not being at places on time, or for taking longer on things than I thought I would, and I just thought I was lazy, messy, and a slob. And I realized some things are just genuinely harder for me and I let go of the idea that I will ever be this slick, efficient human Pinterest board. But what I can do is make a special effort to know what I need to do to be at places on time. I can a be a bit more organized. It's all about working with what you've got."
Resources:
PAINT & COLORS
Mylands colours of London in 'The Boltons' — All walls
Mylands colours of London in 'floris' — Accents in bedroom
Mylands colours of London 'Blackout' — Kitchen cabinets
LIVING/BEDROOM/KITCHEN
Storage footstool, EKBY desk, wardrobe, BILLY bookcase, all the LACK shelving in the bedroom, pink side table, bench by the desk, bedroom string lights — IKEA
Lights — John Lewis (chandeliers really help low basements look a bit less gloomy)
Little brown bookcase — Found in the street
Armchair, wooden bookcase, school bench in the hall — eBay
Medicine cabinet in kitchen — Found in the street, upcycled with decoupage.
Posters — Gifts from friends and mementos from travel
Everything else — TK Maxx (our equivalent of TJ Maxx)
Black rug — Urban Outfitters
Room dividing bookcase and Small floor chair that folds into a bed — made.com
Tree! — Next door's front garden. It lay there among the beer cans for a week before I rescued it.
Thanks, Laurie! You can read more about Laurie on her website, check out her Twitter and her Instagram accounts, and you can support her journalism work on Patreon. Her most recent book, Bitch Doctrine, is available on Amazon.
---
Apartment Therapy supports our readers with carefully chosen product recommendations to improve life at home. You support us through our independently chosen links, many of which earn us a commission.