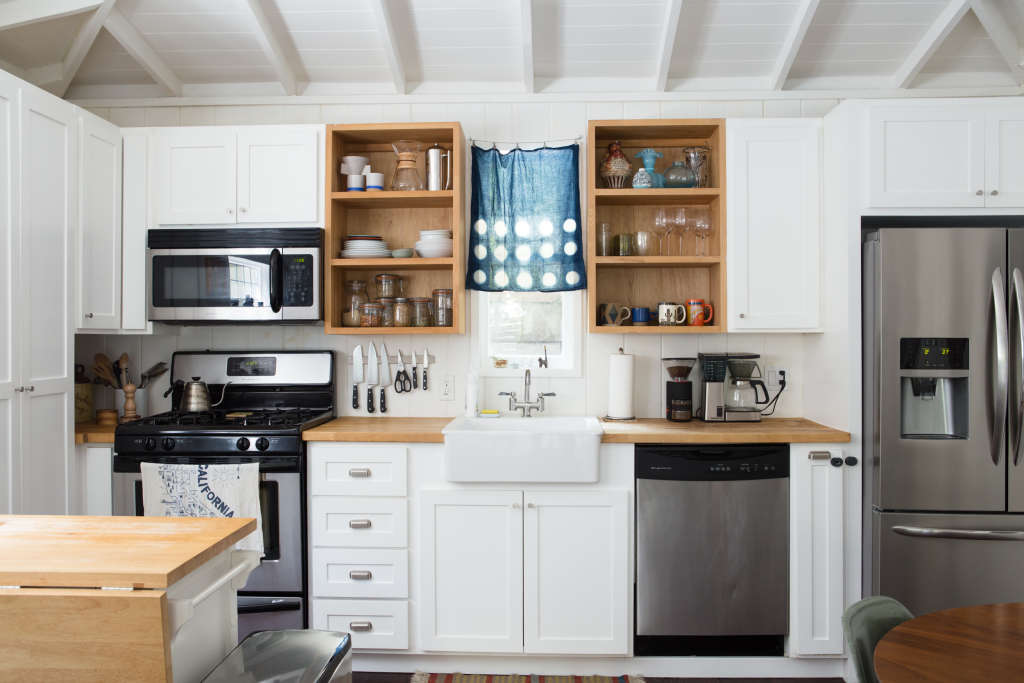 It's a renter's world, baby. With housing prices being what they are, and wages not quite keeping up, yesteryear's "American Dream" of owning a home is a blip on the millennial radar and shrinking fast. That's why learning how to adapt in a rental home is more important than ever. We've busted these 10 rental myths that may be keeping you from making your rental your happy place.
1. I'm stuck with my awful flooring
While some landlords are cool with minor renovations, ripping up and replacing flooring is almost always frowned upon. Landlord aside, we also don't recommend investing in a permanent major renovation that you can't take with you. Enter: peel-and-stick or floating vinyl flooring. Whether you're covering up dingy linoleum or dated tile, adding a layer of removable flooring can make a world of difference. Check out the faux hardwood tiles in Kit Warchol's 70s-Inspired Bachelorette Bungalow, or Brady Tolbert's upscale black-and-white checkered tiles for inspiration.
2. I can't add a backsplash
While you're peeling and sticking your way to a new vinyl floor, you might as well continue upward. Adhesive tiles like these Smart Tiles can work wonders as a temporary backsplash on your kitchen's boring bare walls. Our very own Esteban Cortez tried out the Subway White variety on his rental kitchen and gushed, "as soon as we finished installing the Smart Tiles, we felt like we had a brand new kitchen."
3. I can't hang art
Some landlords are extra persnickety when it comes to blemishing their fresh smooth walls. Art is the window to your home's soul (you can quote me on that), so don't let the fear of damaging your drywall keep you from hanging those pretty soul windows. Command hooks are a renter's saving grace in so many ways, and, lucky for you, they make specific picture hanging hooks for hole-free removal.
4. I can't replace fixtures
If you're like me and you've never looked into replacing your faucet, you probably think the process is irreversible and uber expensive. Turns out, it's pretty easy, totally reversible, and extremely affordable (plus, you can take your new faucet with you). Check out our post on 10 beautiful faucets for under $200 to see what's out there.
5. I can't increase my storage
If you are one of those lucky renters who nabbed a place with zero storage (no closets = more space for sliding around in your socks and underwear Risky Business style), don't go getting rid of all your possessions quite yet. There are a gazillion storage hacks out there to temporarily increase your storage space. Try adding a peg board to your kitchen or home office to hang individual items or baskets to corral a few, or try one of these IKEA storage hacks.
6. I'm stuck with my overhead lighting
Lighting trends come and go, and often times our landlords think they're doing us a favor by installing outdated track lighting or gaudy chandeliers. The good news is, most ceiling fixtures can easily be replaced with temporary pendant lights via outlet adapters. See how our tour participants Lauren and Danny made the switch here with simple pendant lights in their rental kitchen.
7. I can't make wall-to-wall carpet look good
Whether you decide to embrace your wall-to-wall-carpet, and work it into your overall design, or disguise it with layers of area rugs, it can be a fun challenge (that also happens to be super feet-friendly). If you're not convinced, check out our in-depth post on "Learning to Love Wall-to-Wall Carpet" for some drool-worthy inspiration.
8. I have to live with my window treatments
Most dated window treatments are super easy to remove and well worth the effort. I used to hide my vertical vinyl blinds behind some sheers (see above) in the interim before deciding to remove them completely and keep them handy for my landlord. Vertical blinds pop off and break down really easily (it's almost like they designed them to be immediately taken down) and can stack together as one unit, which can be stored vertically, say, in the back of a closet. Nothing makes a bigger difference in a home than high quality window treatments. Plus, this is another replacement you can take with you if you leave.
9. I can't work with dated cabinetry
Whether it's a honey oak finish or cheesy '90s country beveling that have you hating your kitchen cabinetry, there is a solution for you. Renter Jaclyn Simpson transformed her orange-toned wood kitchen cabinets by painting the surrounding walls a complimentary deep blue. If your landlord won't allow you to paint, replacing (or adding) modern hardware to existing cabinetry can make a world of difference as well. Here are some tips on how to choose the right hardware for your cabinets.
10. It's not worth the effort
This is the most important rental myth buster! Your living space should be your happy place, whether you own, rent, squat, or borrow your parent's basement. There's no scenario in which taking the time to set up your living space to your liking isn't rewarding. If you're looking to majorly increase your day-to-day happiness, do what you can to make your space comfortable, beautiful, and, most importantly, yours.
Apartment Therapy supports our readers with carefully chosen product recommendations to improve life at home. You support us through our independently chosen links, many of which earn us a commission.