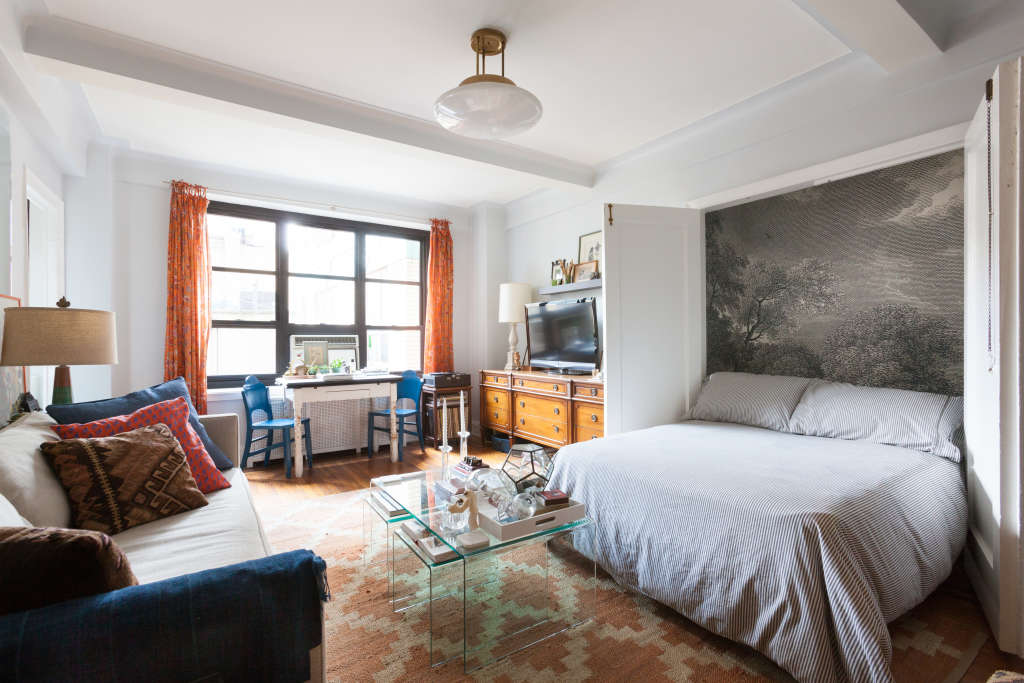 Furnishing a shoebox of an apartment or a tiny home can be quite the challenge, especially if custom goods are beyond your budget. But it's possible to be strategic about how you source items, starting with where you go looking for pieces in the first place to browsing sections (i.e. the back to college department) that you'd otherwise avoid. And, of course, double-duty items and clever repurposing are your small space best friends. Add these nine designer-approved stores to your list, and happy shopping!
It's always good to have a shopping plan when it comes to IKEA, since this Swedish megastore is constantly introducing new products and has lots of inventory. So what do pro designers recommend? "Their open-back shelving is super flexible and can go in a ton of different type of rooms—playrooms, libraries, bedrooms," says designer Jennifer Jean Morris of JMorris Design. "I added some interior shelves to an entry, and it became a great shoe depot, and with some bins I can grab gloves or sunscreens for on-the-go."
In fact, IKEA's KALLAX series is also often used by designer Janet Lorusso, principal and owner of JRL Interiors. "This is my favorite piece for small spaces because IKEA also sells a variety of bins that fit the cubbies, as well as drawers and doors, so you can configure it to be covered or open storage specifically for whatever you need," says Lorusso. "It can function as a cabinet, a drawer, a display, or a bookshelf and comes in a variety of configurations that can be used vertically or horizontally."
Lorusso is also a fan of the new HEMNES daybed. "It's a sofa by day and a bed by night as well as a dresser because of the storage space underneath," she says. Talk about a triple threat! These kinds of multitaskers are what you need to invest in to maximize your square footage.
When you want more of a choice, say, in patterns and colors and maybe something a little trendier than IKEA, give West Elm a look. "What I love about West Elm is that they have smaller apartment sized sofas and smaller chairs in all kinds of colors, styles and patterns," says Alice Chiu, principal of Miss Alice Designs. They even have a curated "Small Space Solutions" landing page, so it's clearly top of mind for their in-house design team. If you'd shop at WE normally, give this page a peep.
This one may come as a surprise if you don't keep up with home news, but Pottery Barn actually launched a dedicated small space collection, PB Apartment, earlier this year, and it's good, y'all. You'll find transitional sofas, desks, consoles, beds, and dining tables with petite proportions plus modular shelving and items with extra built-in storage. A lot of the pieces are in stock and ready to ship, meaning you don't have to wait weeks for custom, and many are also part of PB's "everyday value" pricing structure. So they won't totally break the bank.
This NYC-based retailer is the place to go for multifunctional pieces and furniture that transforms—think Murphy beds, sofa beds, and furniture with streamlined silhouettes. Their modular pieces can also accommodate drop-down desks and extra storage. "One room we designed for two brothers with Resource Furniture featured tall storage units with beds above and desks below," says designer Elizabeth Sanchez Vaughan of In-Site Interior Design. "It was a lot of function for one small room."
Designer Melanie Morris of Melanie Morris Interiors is another fan of the brand. "Going to Resource Furniture with a client is like taking them to a magic show," says Morris. "One of their products I absolutely love is their Goliath Glass Console Table that goes from 17 inches in depth to a full fledged dining table up to 115 inches long." Magic indeed! I feel like I need to YouTube that. Morris has also used their Murphy beds before in projects as well.
Looking for a sofa that's tiny but doesn't skimp on style? Check out modern e-tailer APT 2B for a bunch of apartment size, made in the USA options. The store stocks lots of different silhouettes, and you can order fabric samples if you want to check out one of their crazy bold colorways in real life. Don't worry: Beige, gray, and navy are options too. APT 2B is also the exclusive upholstery partner of designer Kyle Schuneman, who was named a House Beautiful top 20 new design talent to watch. So that's cool. Did I mention the sofas also come with a lifetime warranty? That's a lot of mileage, folks, for prices that start at $1,198.
When designer Hillary K. Cohen of hCO INTERIORS is working on a spatially-challenged room, she loves to visit Calligaris, especially for dining tables. "They have modern pieces that are designed with great proportions and smart touches," says Cohen. "In our 'River Residence' project, we used a round dining table with a marble top that expands when you have more guests." Not only is the base of the table designed to fit as many chairs as you need, Cohen says the extension pieces for the top are also stored within the table. That's a true space saver. I often wonder where people put a table leaf and their extra chairs when it's not Thanksgiving or the holidays, so sounds like Calligaris has part of that equation figured out with the self-storage. If you don't have a full-line showroom near you, several retailers around the country sell select pieces.
Over the years modern furniture emporium CB2 has quietly built up their more modest-sized offerings. They don't have a small space collection, per se, but they stock folding tables, wall mount shelves, and cabinet style wardrobes for those of us that deal with another small space tragedy—the lack of closets! If you're looking for clean and compact, check them out.
For a budget that's a little more high end, Made Goods is an amazing resource. "Small-sized heaven—they often have petite sizes for bedside and console tables that can be nimble," says Jennifer Jean Morris. Translation: Their little pieces can really go anywhere in the house and fit in due to their size. And their craftsmanship is on point too. "Their quality and finishes are so refined so you really don't feel like you are giving up anything," adds Morris.
Sara Cannon, designer at House Heroes LLC, is all about shopping at chain stores targeted to young folks, like Urban Outfitters and even PB Teen, for scaled-down pieces for her clients and her place. "My own home is a 1920s row house, so it's super narrow and has smaller rooms that are way more compartmentalized than a modern home," says Cannon. "While I treasure my 'grown up' pieces, I have to admit that I scored quite a bit of decor and storage items during back to school sales when retailers are targeting college students moving into little apartments or dorms." Urban Outfitters is great for sofas and beds, but they also offer rolling rack storage solutions, shelving units, side tables, and ottomans from a lot of the same vendors as big sister store Anthropologie. On the whole, UO furniture is just a bit smaller and more youthful.
Apartment Therapy supports our readers with carefully chosen product recommendations to improve life at home. You support us through our independently chosen links, many of which earn us a commission.