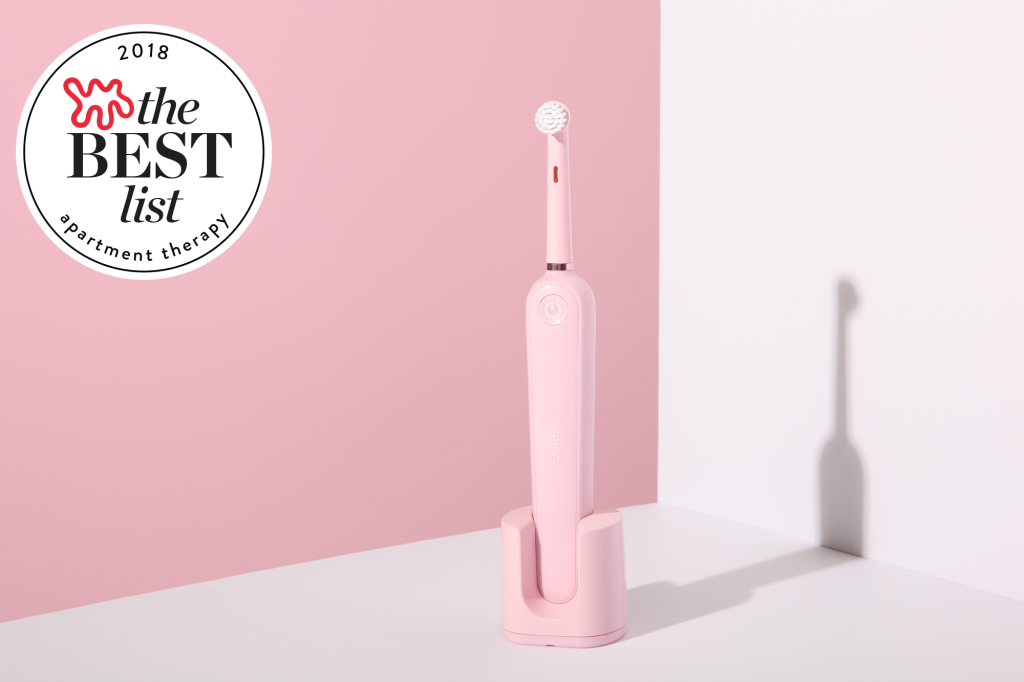 For something we (hopefully) use several times a day, most of us don't give much thought to which toothbrush we buy. But let me tell you, there's a whole world of toothbrushes beyond the oral care aisle of your local Walgreens. Doing a few minutes of research can not only help you find the perfect toothbrush for your needs, but also options that pack a lot of style. From electric to bamboo to plain old plastic, we've rounded up the most beautiful, eco-friendly and socially-conscious toothbrushes that'll add some fun to your normal brushing routine.
---
Maxwell's Favorite:
While I've been a longtime proponent of the classic Sonicare and Oral-B electric brushes, they aren't quite the pop of fun your bathroom sink needs. The ISSA brush from Foreo has an unusual design — it's made of silicone rather than plastic or metal, which keeps the bristles soft and the whole brush more hygienic. It also lasts longer than a regular toothbrush because silicone prevents bacteria build-up, so even though it's on the high end, you don't need a replacement head for an entire year.
---
ELECTRIC


One of the more well-known electric toothbrushes on the market, the Oral-B Pro 1000 has a powerful head that oscillates, rotates, and pulsates to remove 300 percent more plaque than a regular toothbrush. One of the best parts about this brush (in addition to the overall effectiveness) is the wide range of heads available. Aside from the standard Cross Action head, there are also options for deep cleaning, precision brushing and even braces, so you can switch out depending on your needs. Oral-B has several other electric brushes available, but we love this classic one for its simplicity and reliability.
---
A slim toothbrush that delivers serious power and style, the Quip is a much less expensive option for those who want to go electric but don't want to spend the money. Super lightweight and compact (it comes with its own travel cover), the Quip brush has a built-in timer with 30-second pulses to help guide you through a healthy two minute brushing routine. It's battery-powered, and if you opt for the subscription plan you get a new head and battery delivered to you every three months.
---
Newer to the market is the Goby toothbrush, with three color options (including millennial pink) and USB charging capability. The round brush head is made of soft bristles and has two speeds to accommodate those with extra sensitive gums, and the long-lasting battery means you only need to charge your brush twice a month. There's also a great subscription service—for $15 dollars less you can purchase a plan, which delivers a new head for $6 either every one, two, or three months.
---
The heavy duty Sonicare has a combination of three cleaning modes (clean, white, deep clean) and three speeds, to give you a whopping total of nine brushing options. This is the toothbrush for people who take their oral hygiene seriously—aside from all those settings, there's also a pressure sensor that'll alert you when you're brushing too hard, as well as a built-in timer to help you hit those ideal brushing intervals. For an even more hardcore experience, there's also a slightly more expensive Bluetooth-connected Sonicare that sends your brushing data to an app to help you keep better tabs on your oral health.
---
BAMBOO


Bamboo brushes are perfect for those who don't want to spend the money on an electric brush but hate how wasteful regular plastic toothbrushes are. Goodwell Co. has the eco- and health-conscious among us covered—their Bamboo + Binchotan brush is made from sustainably-harvested bamboo and has binchotan charcoal bristles. Purifying and antibacterial, binchotan charcoal helps to balance out the pH levels in your mouth and kills germs that cause breath. This combination results in a super effective manual toothbrush that looks good and is 100 percent biodegradable.
---
This popular bamboo brush found on Amazon is thoughtfully designed and promotes a good cause. Made of biodegradable bamboo and BPA-free nylon bristles, it's exactly like those regular brushes you know and love, but without the plastic and chemicals. Plus, it just looks nicer than those other ones. One brush is $6.99 and a four-pack is only $10.95 (it's recommended that you switch out your toothbrush every month), and, best of all, a portion of every sale goes to Earthjustice, a nonprofit environmental law organization.
---
This lovely toothbrush set is actually a great gift idea—simple, useful, and just different enough to be unique but not full-out weird (the same, however, cannot be said for gifting a regular old toothbrush from Walgreens). The brushes are genuinely pretty, coming in mismatched colors so you don't get yours mixed up with your partner's or roommate's, and come in a couple different themes. Whether you're giving to someone else or just treating yourself (which we highly recommend), you can't go wrong with this lovely pair.
---
PLASTIC


A plastic toothbrush with a conscience, Preserve brushes are made out of recycled yogurt cups and, when you're ready to get a new one, can be recycled through the company's mail-in recycling program. Aside from this eco-friendly approach to historically wasteful toothbrushes, Preserve brushes are also curved to better access all those hard-to-reach places, and come in six bright colors. Each brush is $3, and you can opt in to a subscription service that delivers a new brush every one, two, or three months.
---
Another company that makes toothbrushes on a mission, Smile Squared has both bamboo and plastic brush options. Their goal as a company is to make products that also have a giving component, and with each toothbrush sold another one is donated to a child in need across the U.S. and worldwide. The brushes themselves aren't designed very differently from most plastic options on the market, but Smile Squared's dedication to improving childhood health with their products makes them stand out.
---
Yumaki has several unique toothbrushes, from this brightly colored blue and red option to this one that has a faux tortoise shell handle. The brand has Swedish and Korean founders, a dream pairing that has resulted in thoughtful and minimally designed toothbrushes that you want to use, not have to use. Brushes come in a variety of bristle types (the Graf has medium bristles) but each one has the same signature curved ergonomic design.
---
Store your toothbrush upright. You should definitely shake out your brush after using to get any excess water off, but equally important is keeping it upright so that water (and bacteria) don't pool around the brush head.
Keep it away from the toilet! Did you know that toilet spray after flushing can travel to 2.7 ft away? It isn't pleasant to think about, but it should make you think twice about where you store your toothbrush (or at the very least, make you start flushing with the seat closed!).
Replace every 3-4 months. The ADA recommends you change your toothbrush about every three to four months, but it's really up to you and how often you brush. Personally, I prefer to replace mine every six to eight weeks—it just makes me feel better.
---
Inside Resources
Outside Resources
The Best Electric Toothbrush — Wirecutter
---
Apartment Therapy supports our readers with carefully chosen product recommendations to improve life at home. You support us through our independently chosen links, many of which earn us a commission.