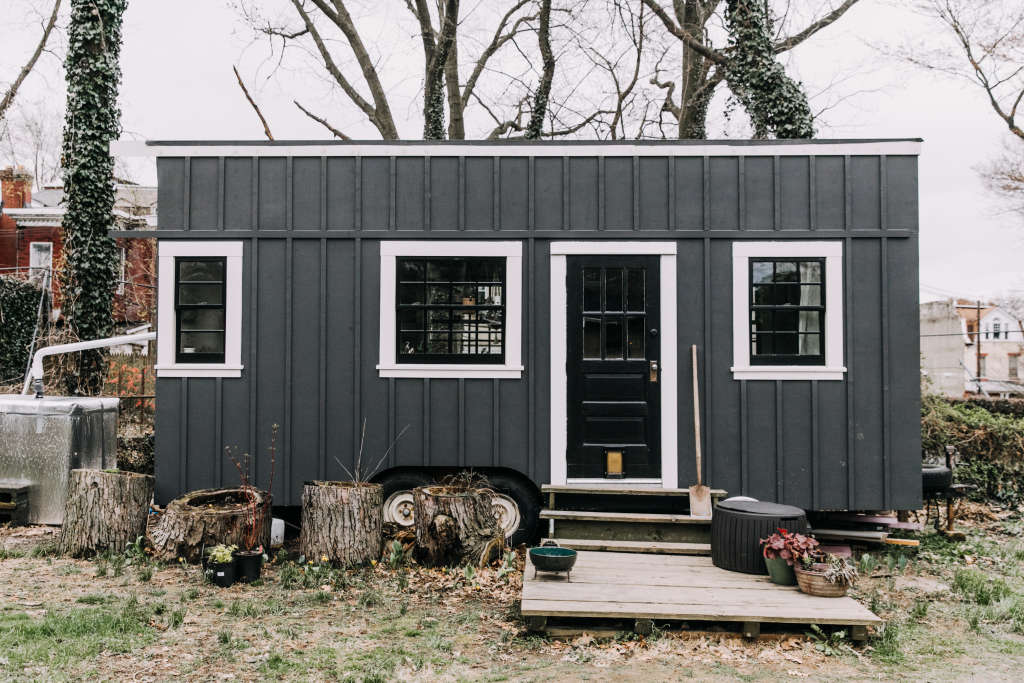 So you're going to build a tiny house. It may be small, and it may be cute, but you'll still need a plan to build from, just like with any other house. Even if your tiny budget doesn't allow for an architect, there are plenty of free (or very inexpensive) tiny house plans available on the internet. Here are some of our favorites.
This tiny home has a distinctly modern look, and the inside is filled with light. The design includes a sleeping loft (reached by stairs), a bathroom with shower, and space for a washer and dryer.
There's a lot going on here—a kitchen, two lofts, stairs that double as storage. The folks behind DIY House Building have made it possible to recreate their small home, with plans in both metric and imperial units and a 3D Sketchup model, too.
At just seven feet wide and 56 square feet (for the smaller version), the Don Vardo is a truly tiny house. The plans also include directions for building a slightly larger version, with 88 square feet and a simple bathroom with a toilet.
Unlike many tiny houses, which are designed to be built on a trailer, this one is freestanding, and at 480 square feet it's relatively spacious. That includes a living room, bedroom, and full-sized kitchen and bath.
Here's another freestanding tiny house, in a nice mid-century modern style. At 650 square feet, it's the largest out of these little houses: the one-bedroom, one-bath interior includes a living and dining area that's quite spacious.
Although it's quite cozy—just 160 square feet—this little house manages to pack in a porch, a lounge area, dining, an office nook, a kitchen, bathroom, and sleeping loft.
Quartz Tiny House Plan by Ana White, Free
Ana White has lots of great things on her site, and one of them is the complete plan for building the tiny house pictured above, called the Quartz. If you're even thinking about building a tiny house, I would recommend checking out these plans so you can get an idea of what's involved. The original plans do not include a bathroom, but there's a modification with directions for adding one.
The 12′ x 24′ Homesteader's Cabin is the largest of the free house plans offered by Tiny House Design. It includes directions for building a loft, but no kitchen or bathroom, so how you outfit the inside is mostly up to you.
This is a basic, very Walden-esque tiny house, measuring just 8′ x 12′. It's a good project for getting your feet wet, and would make a great potting shed or writer's retreat.
Here's a very cute little cabin, with a front porch and a loft. Like the two designs above, there's no allowance for a bathroom or kitchen, but the directions include an itemized list of exactly which parts you need, which is very helpful.