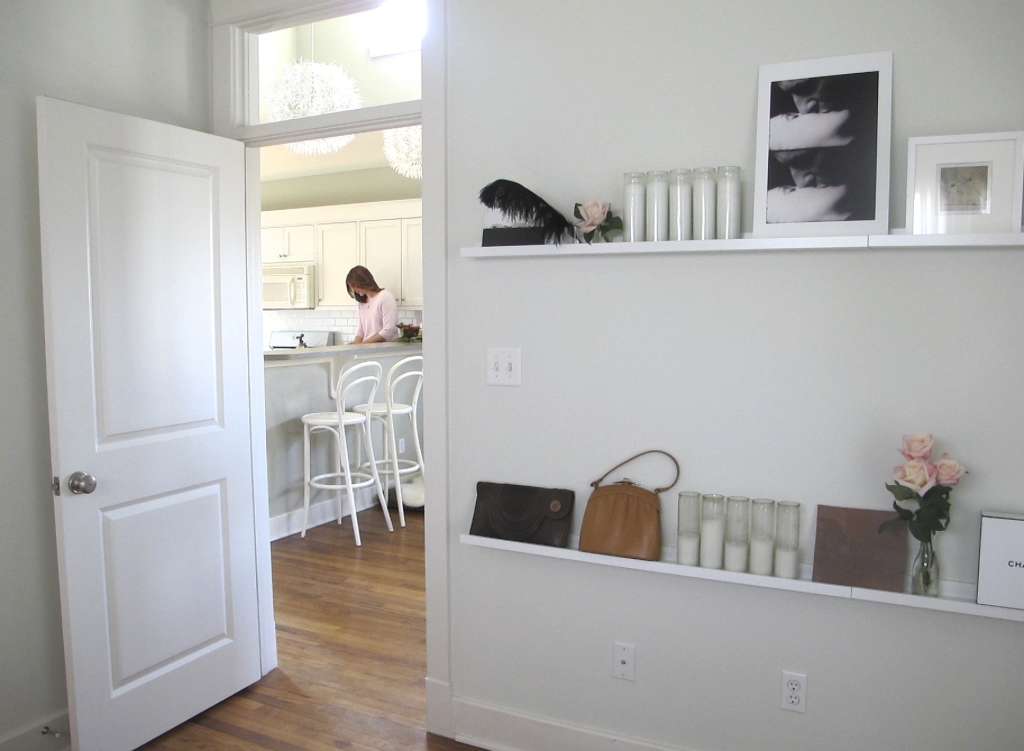 Some furnishings really earn their keep in your home—multitaskers like poufs, side tables, and storage ottomans come to mind. They're a surface for drinks, a spot to stash stuff, a makeshift seat when you're throwing a party or having friends over. And then there are those style chameleons that can hold their own and adapt to any setting or space, and for that, they are invaluable. IKEA's picture rails definitely fall into that latter category. You can use them in just about any room of the house, and depending on what you're looking to put on them, you can go shallow with the MARIETORP or a bit deeper with the MOSSLANDA offerings. And if you think pictures are the extent of what these guys can display, you've got another thing coming. Sure, they do have a built-in groove to angle your art so it really shines. But let's think bigger, shall we? Because this IKEA classic is far more versatile than you may think.
Entryway
First off, consider your home's entryway. Everyone could use extra storage here, and few of us have room for a freestanding hall tree or built-in cubbies. And that's where an IKEA picture rail comes in. Hang one of these guys, and you've got a perch for your purse, mail, keys and other things you need when heading out the door. It's the perfect little launchpad area, and you don't even have to waste any floor space. Best to mount yours at chair rail height, so your stuff is easy to get to.
Living Room
And, of course, you can use an IKEA picture ledge as it was intended—for artwork, photos, and other ephemera in a living room. I love a picture ledge or two over a sofa. This solution offers way more flexibility than a traditional gallery wall, since you can constantly move pieces around or in and out of the composition.
Above the Bed
Want to fill that annoying blank wall space above the headboard in your master or guest bedroom? Yep, the IKEA ledges will work here too. Just be sure you securely install them and try not to style them out with anything too heavy. They are right above your head, after all.
Bedroom Wall
You could also try ledges on a side wall in a bedroom or otherwise. I love the vibe here, where the shelves have been painted to match the wall. It's very soothing, especially with the black-and-white artwork.
Decorative Display
I also love ledges in a bedroom for the decorative display of some of your most-used or loved wares. Again, things like purses, candles, decorative boxes, and artwork fit perfectly here.
Kid Rooms
Kids' rooms are another popular spot for picture ledges. You'll often find books or smaller toys on them here. This is a great way to get kids in the habit of putting thing away. Again, just be sure these tiny shelves are mounted at a kid-friendly height otherwise it will be too difficult for them to access them.
Kitchen
Don't discount the kitchen either. If you have houseplants or a little herb garden you want to get off your countertops, the MOSSLANDA ledges should be plenty deep enough for you. Park some of your cookbook collection here too.
Spice Storage
And a group of ledges mounted vertically up a wall, spaced equally from one another, can be a handy makeshift spice rack. You could do this for cooking sprays and oils too. Just leave a little more space in between the shelves. What's nice is that you're getting items off the counters, which creates the illusion of having less stuff.
Craft Room