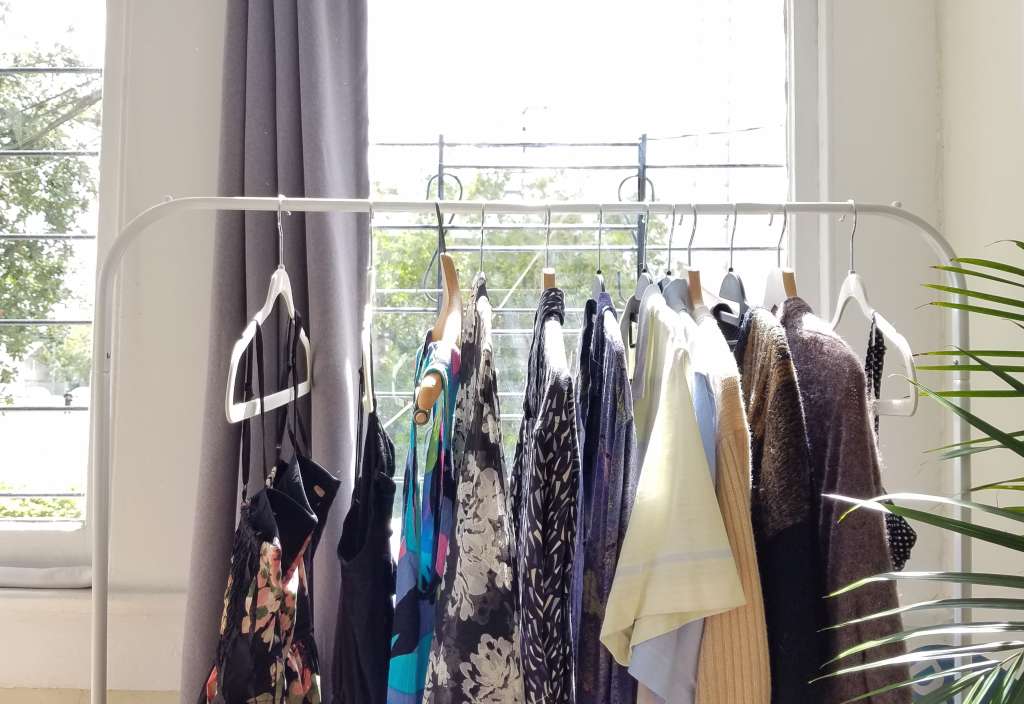 Many of us are familiar with the floor/chair/bed-covered-in-clothes issue that can strike one's bedroom at any time (or, all the time). Whether it's the clothes you plan on wearing the next day, the clothes you wore that day, or the product of a flurry of outfit changes until hitting on just the right look—you can't have a bedroom that's a sanctuary if you're swimming in articles of clothing.
Apartment Therapy has offered up many clothes organizing solutions over the years, from no-hanger-needed solutions, to product recommendations, to a round-up of great tips, to even an absurd idea.
But, none of these solutions had fit my unique clothes storage needs… until I dropped $10 on a certain IKEA item. $9.99, actually. It's the MULIG Clothing Rack, and it's my very favorite thing ever.
My eyes had originally been on IKEA's RIGGA Clothes rack, nearly three whole dollars more at $12.99. It seemed sturdier from the photos, and had a nice little shelf at the bottom I thought would work well for shoe storage.
A last minute executive decision from my boyfriend (who was making the IKEA run for me), led me to my MULIG purchase; he reports that when he (gently) shook both models in the store, he felt the MULIG was far superior in sturdiness.
Even if they had been equal in sturdiness, I'm glad the MULIG is the one I ended up with; sometimes you need to be reminded that you don't need "extra" things. You don't actually need a shoe shelf, the floor underneath the rack can be your shoe shelf.
I put a big plant in front of it and honestly really dig the modern loft vibes emanating from that corner now.
(Image credit: Adrienne Breaux)
Beyond shoe storage revelations, the MULIG is super sleek and thin, yet holds a fair amount of clothing. Why I'm able to take the seconds to hang something up on this rack more than I am able to hang something up in my closet is a mystery, but a fact. Hanging my "not quite dirty, not quite clean" clothes on this rack is easy to maintain, looks far more organized than a pile in the corner of my room, and even streamlines my entire wardrobe.
I'm also glad it's in white; it blends into my room's decor and doesn't feel like something bulky or industrial. And having this rack in my bedroom is also like practice for a future capsule wardrobe project: I know which clothing is my favorite/gets worn the most often now because they are the items that end up on this rack.