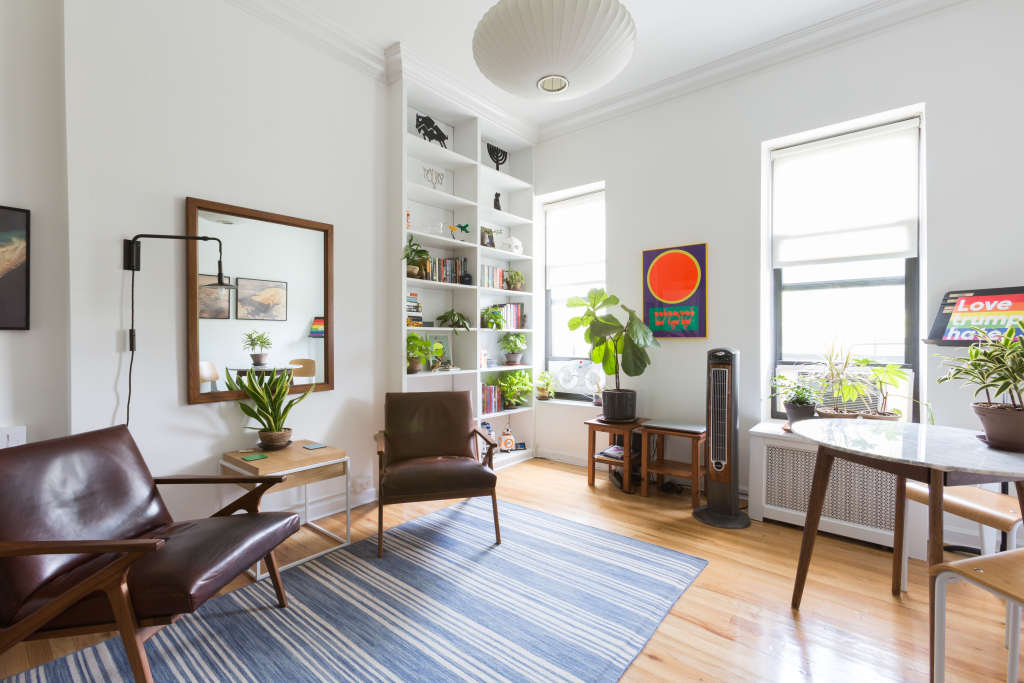 Name: Rachel Winard, and Stacey Flannery and their cat
Location: Carroll Gardens — Brooklyn, NY
Size: 500 square feet
Years lived in: 5 years, owned
When Rachel and her partner Stacey bought their Brooklyn apartment five years ago, they put in lots of work to create a clean and comfortable space that supports a healthy lifestyle. Important not just because they both have busy careers—Rachel is the founder and CEO of Soapwalla and Stacey works at the Readers' Advisory Library— but also because Rachel lives with systemic lupus, a chronic autoimmune condition. It's actually the reason why she founded her skincare company; she was looking for solutions to her skin's specific needs.
---
See the video tour of this home:
---
Apartment Therapy Survey:
Our Style: Comfortable and clean, without being fussy.
Inspiration: Nature, calm, oasis, space to breathe. I have an autoimmune illness (lupus) and need a space where I can fully rest and recharge. That's what I've tried to create in our home.
Favorite Element: Roof deck! A lot of blood, sweat, and tears went into that project, and it's our little slice of heaven in this crazy city. I'm incredibly proud that Stacey and I did so much of the work ourselves.
Biggest Challenge: We live in a 4th floor walk-up and since we moved in five years ago, each of us hurt our legs and were on crutches, and I recently underwent open abdominal surgery. That's a lot of stairs when you can't walk properly…
What Friends Say: How happy the apartment feels, and how it's a perfect extension of us.
Biggest Embarrassment: None. If something bothers us, we work to fix that (either by changing the thing or our attitude about the thing). But the biggest thing on our current to-do list is to replace some subflooring in the kitchen that no longer exists. The thing about fixing up a 1900 apartment is that nearly all of the renovation work we do is hidden behind walls or floors.
Proudest DIY: Roof deck!
Biggest Indulgence: The Buddha painting in our bedroom. Our friend Albert painted it. He died a few years ago, and I'm so glad we:
(1) have this beautiful reminder of him on our wall, and
(2) purchased it from him prior to his death.
I'm a big proponent of buying your friends' work, whether it's art or books or things or experiences. It's one of the most important ways to support one another.
Best Advice: Buy slowly, discard quickly. It's okay to have a half-furnished apartment for a year. It's okay to take months to make a decision about the stuff you really want. And once you make a decision, check with the store to see if they have annual promotions or floor model sales.
The flip side: If there's something you really dislike using, get rid of it. Don't throw it away! Recycle it, give it away, donate it, sell it. But don't hold onto things that you don't like. That's no bueno.
Dream Sources: My grandmothers' homes. The Puces de Vanves flea market in Paris (it's unreal). Grdn plant store in Brooklyn. My own apartment!
Resources:
PAINT & COLORS
Ben Moore Super White for everything except the kitchen backsplash.
Kitchen backsplash — Benjamin Moore Seaside Blue
ENTRY
Mezuzah — Housewarming present from my parents
Entry rug — Crate & Barrel (P.S. I named her Edie Hedgewick)
Coat rack — Bought in Austin in a small home goods store
Violin — Made in 1915, I've had it since I was 15.
Small table — Given to us by friends
Wooden jeep — Made by Stacey's grandfather, who passed away.
LIVING ROOM
Cavett chairs — Crate & Barrel
Mirror — Bought by my parents at an estate sale in 1992.
Side table — Bought from a small store, unsure of the maker.
Rug — Dash and Albert Cottage Stripe, purchased as a second
Swing arm sconce — Crate & Barrel
Wall light — Nelson Pendant Light, Small Saucer
Wall photography — My dad's friends took all the photos in the early '70s and '80s.
'60s Shemesh Art Print on wall between the two windows — Gift from a family friend.
Wooden tables below the Shemesh Art Print — IKEA circa 1999 and going strong.
BOOKSHELF
Books — Bought mostly from Books Are Magic and secondhand stores, or borrowed from the library (we're BIG fans of the library)
Legos — LEGO store
Krishna and Ganesh bronze statues — From my travels in India
Rocks, shells, and granite — Various trips and hikes
Tiny glass hummingbird — Stacey's grandmother, who passed away.
Black cat sculpture — Me, in high school
Black cast iron menorah — Josh Owen
Silver shalom menorah — A Judaica store in Seattle
Black cast iron buffalo — Gallery in northern California
DINING AREA
Mara Walnut Table — Article, it was the one that fit in our small area!
Chairs — I don't remember! I searched for a long time to find stackable chairs that were comfy but made of mixed material. I am totally spacing on where I ended up purchasing.
Plants — GRDN
Music stand — I've had that since I was about 8.
Love trumps hate poster — Gay Pride 2016.
KITCHEN
I FINALLY bought myself a Kitchenaid mixer this past December. I'd wanted one for years and years. It's as amazing as I thought it would be. (Pro tip: Wait until mid-Dec and you can purchase it for 40 percent off from most big box retail stores).
Water filters — PUR
Sori Yanagi tea kettle matte finish —I LOVE THIS THING. It's the best tea kettle I've ever owned. I can't rave about it enough. I write love letters to it. I paid about $50 for it 7 or 8 years ago and it just gets better with age.
Wooden cutting board — A friend of a friend made it. You can buy one at my friend Joel's store, Cut Brooklyn:
Compact white dish drainer — Simple Human
White 6L garbage bin — Simple Human
Paper Towel Holder — Simple Human
Ani L'Dodi V'Dodi Li print — Judaica store in Seattle
Print above key shelf — My old friend Randall Stoltzfus from yoga years ago did this and I just love it. He's an incredibly talented artist.
Rug — Dash and Albert washable indoor/outdoor rug
Ubiquitous IKEA Shelf — I know people have strong feelings about IKEA. I think if you purchase judiciously, there are some incredible finds for good prices. But make sure to purchase things that have staying power. This is 5+ years old and looks (and feels) as good as the day we bought it:
BEDROOM
Mezuzah — Judaica store in Seattle
Ceiling Light Fixture — David Trubridge Coral, 16″
Dresser — Blu Dot purchased during their annual sale
Side tables —Crate & Barrel, discontinued
White leather chair — Given to us from my parents (the chair was also given to them, so I'm unsure who made it).
Plants — GRDN and friends
Buddha painting — Our good friend Albert Sharp.
Prints above the bed — Anthony Burrill, purchased directly from the artist
White bedside lights — ColorCord
Bedside skincare — Soapwalla
Tiffany-like lamp atop the dresser —My parents gave that to me when I was a kid.
Flower photo atop the dresser — Purchased directly from the artist at a holiday fair I participated in
BATHROOM
Products — Soapwalla, of course
Towels — Coyuchi. The CEO is an acquaintance of mine, and I love their dedication to sustainability and fair manufacturing practices.
Glass sake cup on the right side of the shelf with plant cuttings — Soapwalla's studio neighbor, Barbara Cahn. We also have another sake cup and a small vase in the living room
Vase on left side of the shelf with plant cuttings — I bought it at a holiday fair I did for Soapwalla in 2010.
Cup holding the Q-tips — An old acquaintance, Nevia, gave it to us. She was a gorgeous potter, specializing in Japanese and Korean glazing techniques.
18″ x 36″ mirror — Restoration Hardware
Fixtures — Kohler Purist
Bottom fish print — Nantucket, purchased directly from the artist
Top octopus print — An artist on Etsy
Sunken shelf opposite sink — Porcelanosa (not pictured here)
WASHER/DRYER AREA
Ketubah — Artist in Seattle
Horse photo — David Orndorf off Etsy
ROOF DECK
Teak table — Came with the apartment (we've done some major rehabbing).
Chairs — I can't find ours but these are similar
Wooden planters, railings, trellis, framing — Oriental Lumber and Dykes Lumber for wood; GRDN and Chelsea Garden Supply for soil and plants.
Roof deck porcelain pavers — Artchitrex
Assorted other planters — Neighborhood hardware store, gifts from friends, Crate & Barrel
Thanks, Rachel and Stacey!
---
Apartment Therapy supports our readers with carefully chosen product recommendations to improve life at home. You support us through our independently chosen links, many of which earn us a commission.