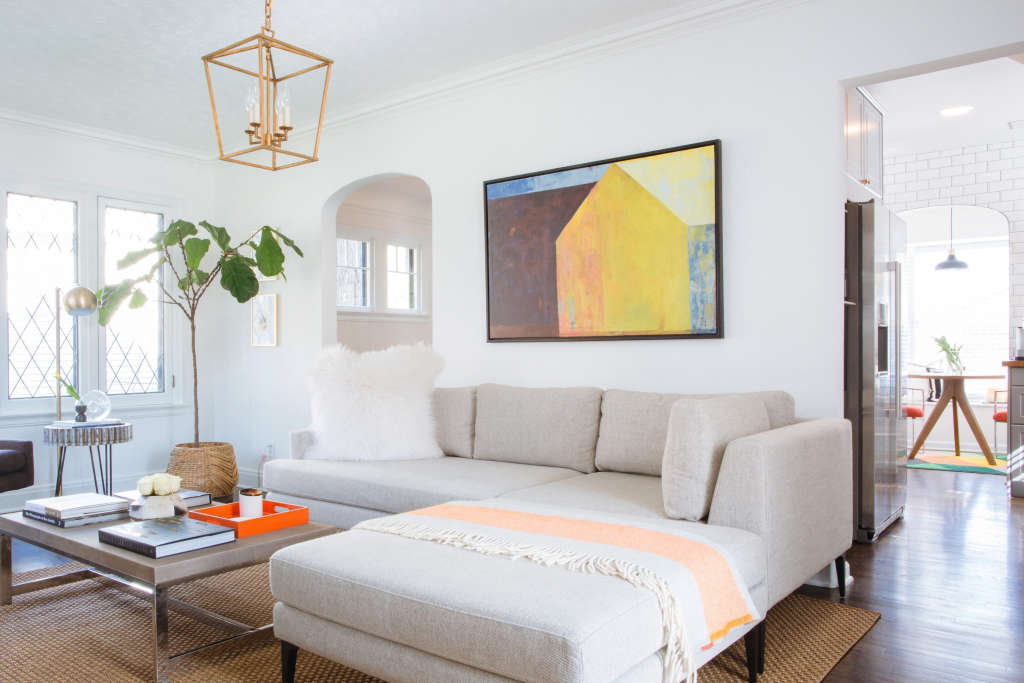 The influx of guests this time of year always kickstarts my home to-do list. Install curtain rods, update the showerhead, and oh yeah, finally dress that naked wall. Instead of spending time searching for that perfect piece of artwork, make one instead. Painting your own art not only saves money, but lets you coordinate colors throughout your home and truly make the space unique and yours. Plus, it's a lot easier to hang one to three statement pieces versus a full-blown gallery wall.
Children's books, magazines, and even mobile games make great color palette inspiration. Brittni of Paper N Stitch painted an adorable triptych inspired by illustrations from her favorite game. Create your own cohesive set by mixing full images with standalone drawings for visual balance.
Instead of layering multiple colors like the other DIYs, Ashley at Sugar & Cloth blends three similar colors for a soft, ombre look. The subtle shifts in color create a perfect backdrop for you living room.
Mr. Kate is a crazy talented designer who never leaves a room makeover without some original art. Mr. Kate used a paint spatula to break up a photography-heavy gallery wall and pull together the different tones.
I love the contrast between Amy's peachy, sunset waves and the smaller, black patterns.
Marbling might be the most beginner friendly technique in this roundup because there truly is no way to go wrong. Take a cue from Mr. Kate and pick three to four colors to mix on your canvas for a polished finish.
Can you believe Erin's brushstroke beauty actually started out as an old IKEA print? It's looking much cleaner these days with fluid lines. She repurposed a generic canvas by painting over it with something entirely new.
Test out the color-blocking trend on canvas instead of committing a whole room. Tape out simple shapes and experiment with color, like this artwork from A Beautiful Mess.
Stamps and stencils are a beginner painter's best friends. Use letter stencils for meaningful typography (song lyrics, poem, vows) or stamps like Charlotte to recreate designer patterns.
Embrace all the colors in one abstract masterpiece. Fran at Fall for DIY layered her palette in a crosshatch pattern to add depth and interest.
Abstract art is all well and good, but sometimes you need a classic to balance it out. Mimic an old school oil painting with another throwback: paint by numbers. Amber has a printable for this succulent you can trace onto canvas, or you can use a projector to scale up for a larger piece.