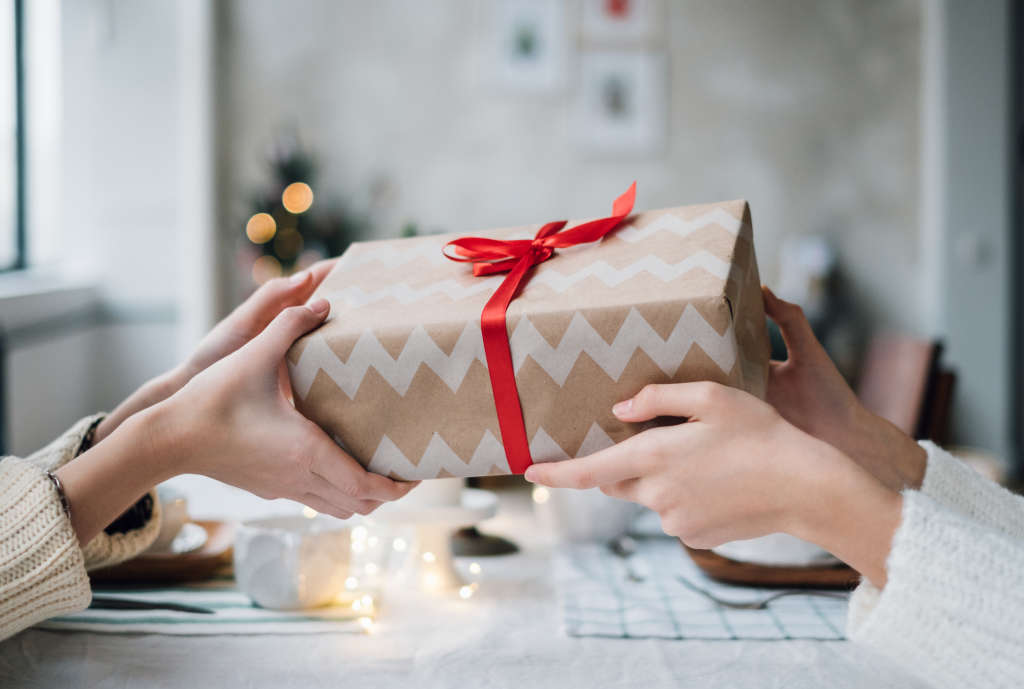 It's truly the most wonderful time of year: lots of parties and good cheer. But the number one rule when you're party-hopping this holiday season? Besides pacing yourself with the eggnog or mulled wine, it's don't show up to a party empty-handed. It's even more crucial if you're a house guest for a night (or even more).
To help you prep, we've compiled a list of the best hostess gift ideas for every occasion—whether you're heading to a cocktail party or staying at a friend's house for a whole week.
The type-A party planner extraordinaire in your life will appreciate beautiful stationery. This card set features four different designs and has a blank interior so she can use it for just about any occasion.
There's nothing like the combination of marble, wood, and gold—talk about a glamorous and elegant look. This affordable set can dress up the dining or buffet table, but it can also do double-duty and hang on the wall as decor since it comes with a strap.
Who doesn't love showing off their hometown pride? Or maybe they want to embrace their adopted city? Whatever the case, these tea towels will work in any style kitchen and can be personalized with a monogram or text (up to nine characters) for free.
Any hardworking host deserves some rest and relaxation at the end of the night. Help them get one step closer with this fluffy cotton robe that's just perfect for lounging in after a hot bath or shower. The everyday style is guaranteed to get a lot of usage.
Whether your host is a proud plant parent, or hasn't grown anything green in their entire life, a palm tree in a mason jar is still a cool and unique find. The kit has everything they need to get started, including a copper-colored jar, non-GMO palm seeds, a coco husky net pot, activated carbon, plant food, and more. Who knows? Maybe the next time you go to their house you'll find a baby palm tree in the garden!
This luxe gift is for the host who's housing you for a full week (or more). Every serious host needs a serious bar setup—and sometimes you don't need the fanciest liquors to take cocktail hour to the next level, just some pretty glassware. The decanter and double old fashioned glasses feature a timeless windowpane design, and a monogram can be added for $9.50.
There's always one party we look forward to all season. You know, the one that has the best food, drinks, and guest list. So when you head to that gathering, bring along this statement-making cocktail shaker for the host. Because nothing says "Get the party started" like a glitter bomb.
Oh, have you heard? Terrazzo is in. This peony and patchouli scented candle not only smells good, but the vessel is one they'll want to keep once the wax is long gone.
The agate decor craze gets the puzzle treatment in this challenging activity piece. These are great to have on hand for rainy days, game nights, and lazy Sundays. And just think, your host friend can even bring this out at their next party.
Scents can really set the tone in a room, and this diffuser will envelope a space in a cozy, warm feeling with its cinnamon, clove, and orange notes. Just call it Christmas in a bottle.
(Image credit: Penguin Random House)
Even the best home cook can learn a thing or two from the Barefoot Contessa herself, Ina Garten. Her latest cookbook features brand-new recipes and her tried-and-true tips and tricks—it's a must for anyone who loves throwing dinner parties.
Here's another luxe find for the host who's going the extra mile for you and opening up their home for a night (or more) this holiday season. This classic knitted with whimsical faux fur pom poms was made for napping or Netflix bingeing.
Bring this to the party and suggest a round (or two) of this fun game for a crowd. Players match captions to memes, and hilarity ensues. The expansion pack features 115 new cards and can be paired with the original game.
Imported from Greece, these olive oils are an impressive gift for a discerning chef. One oil is "full-bodied and peppery," while the other has a "delicate buttery flavor" with fruity hints. And the bottles aren't too shabby to display on kitchen counters, either.
Jonathan Adler's new collection for Amazon is chock full of some stylish, colorful, and playful decor. This mirrored jewelry box is giving us some major '80s vibes in a totally good way. It can be used to store so much more than baubles, and will add some dazzle to any surface.
This may be under $10, but it's not lacking in luxury. These delicious-smelling soaps are hand-wrapped in pretty floral paper so you don't even have to do much presentation-wise except maybe tie a bow around it. And since they're so affordable, keep a few on hand for any last-minute holiday party invites.
Okay, yes this might be the most you've ever splurged for a tiny box of roses, but what if we told you that these roses will last a whole year? Consider this a floral arrangement and a magic trick. They don't need to be watered, just kept out of direct sunlight and in room temperature.
This hand cream is like having a Christmas tree with you at all times. This soothing lotion—with a scent of Frasier fir, cedarwood, and sandalwood—can combat dry wintry skin, so whomever you gift this to will have the softest hands all season long thanks to you.
Model, TV personality, cookbook author, and all-around fun person, Chrissy Teigen, has a new line of kitchenware at Target, and it's unbelievably chic, glamorous, and practical all at the same time. Gift your host this bowl set that can hold condiments, small snacks, or meal prep ingredients.
Gift this to the friend who loves to serve cocktails that are worthy of a speakeasy. The set includes eight notebooks organized by liquor, from tequila to whiskey to gin. There's even space in each book for mixologist notes.
Apartment Therapy supports our readers with carefully chosen product recommendations to improve life at home. You support us through our independently chosen links, many of which earn us a commission.