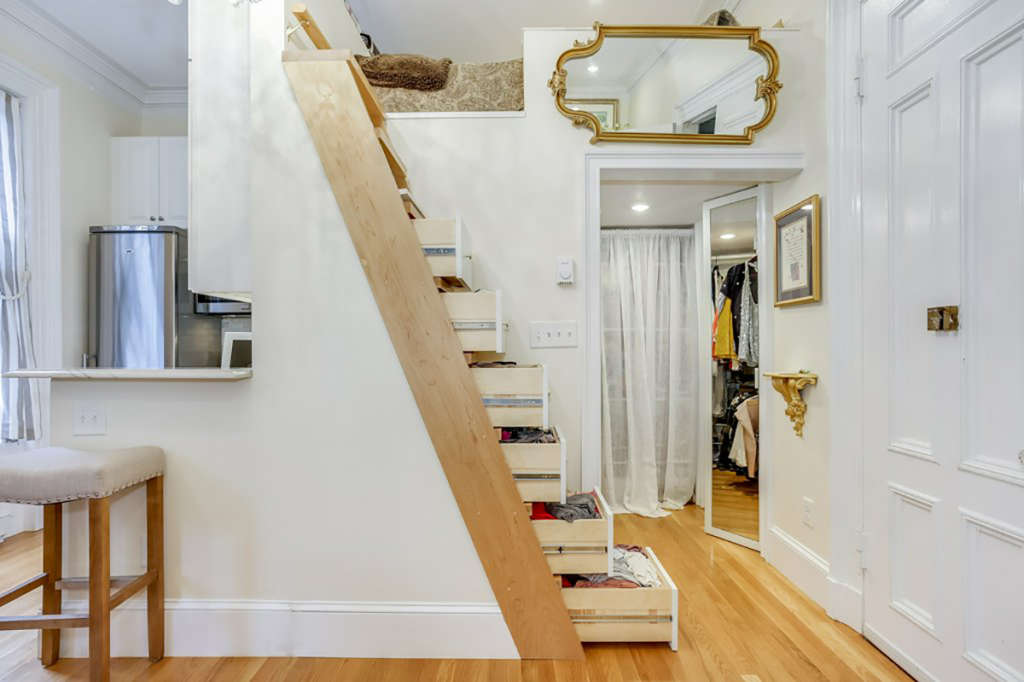 In a studio apartment, every single inch is precious. And while having an upstairs bedroom in a studio is a luxurious division of living area, a stairway seems like a massive waste of space. But fortunately, the designer of this tiny but totally enviable home saw so much more.
Maggie Crowley of Maggie Davis Style is responsible for this glorious studio, and everyone who lives or has lived in a studio apartment is probably currently wishing Maggie could have worked this magic on those too.
Here's how this apartment got this good:
I have become a master at maximizing space and this project truly maximizes every square inch. The 300-square-foot studio located in the heart of Boston, on one of the most desirable streets, had not seen any updates since the '60s. I started by gutting the place and laying out a whole new floor plan. I lofted the bed and put a walk-in closet beneath it that led to the marble bathroom. I also took advantage of the stairs and built-in drawers, which was like having a dresser without occupying the space! This 300 square feet is where elegance meets comfort.
The two things usually lacking in studio apartments are a discrete sleeping area and storage. By taking advantage of the 12-foot ceilings and creating a second floor, Maggie was able to create both in one brilliant move. The new walk-in closet would have been amazing on its own, but the stairway dresser is truly next level. And while most small-space storage solutions are—for better or worse, generally worse—visible, all this crucial storage disappears completely.
Generally when a studio features an upstairs bedroom, it features a ladder, which means it also features a sofa that gets slept on most nights because who wants to deal with a ladder for middle-of-the-night bathroom trips? Stairs, however, are much more manageable for most folks.
What's truly special is that this apartment is as gorgeous as it is practical, thanks to so many well-thought out touches. The gold mirror above the hallway reflects light, creates the illusion of additional space, makes the most of an awkward empty spot, and looks extremely glam. The gold touches throughout tie the various areas together and add a feeling of luxury, something generally not experienced in studios. The white paint also reflects a ton of light, helps the apartment feel spacious, and allows the fascinating original molding and doors take on the look of a fantastically frosted wedding cake.
Well done, Maggie Crowley of Maggie Davis Style!