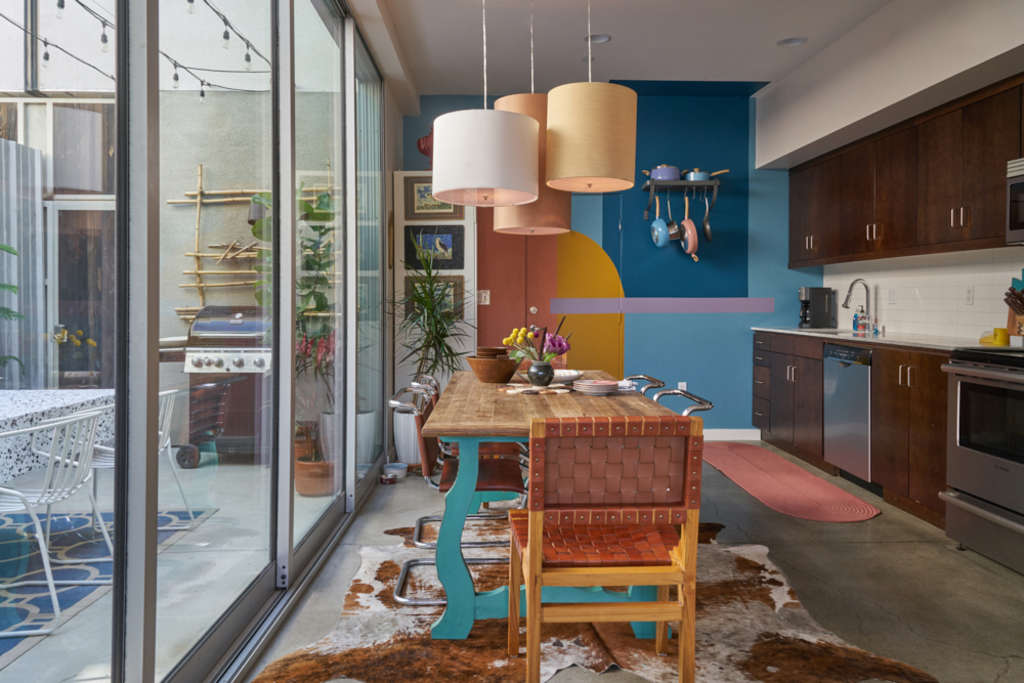 Name: Joy Lofton and her family (Earl, Eleanor, Lois, Peaches, and Nunzo)
Location: Atwater Village — Los Angeles, California
Size: 1,500 square feet
Years lived in: 6 years, owned
Joy Lofton, an actress and wardrobe and interior stylist, enjoys living close to the L.A. River in Atwater Village with her family and pets. She's inspired by Art Deco as well as early '70s and '80s style, as evidenced by her one-of-a-kind home. But this isn't a home that looks better than it functions; Joy's philosophy about designing a house is that you have to design around practical needs, "because we don't all live in a magazine spread." Not only does she stress that it has to be comfortable and work for the whole family but, "I also think you have to stay true to the house, and follow what it's telling you to do."
While Joy enjoys acting, she's often stuck with gaps of time between auditions and meetings, and she uses that time to search local vintage and thrift shops in whatever neighborhood she finds herself in. She's quite the fan of flea markets, as well as the OfferUp app. "Almost all of my art is thrifted, and if I'm asking myself the question 'is this awful or is it amazing?' then I usually end up buying it. I have a 14-foot high gallery wall of thrifted art that I had a great time collecting."
With plenty of windows and skylights, the house has a very modern style. It's got vaulted ceilings, sleek fixtures… but also has the capability to open up fully into seamless indoor/outdoor space. All the glass doors on the first floor push open to let in the natural air and sunshine. Her use of bright colors, her hand-painted mural in the kitchen, and all her great colorful furniture and decor brighten up the space beautifully.
She designed each nook by both elevating the character of the architecture and mixing in her own personal aesthetic. And again, function remained a constant throughout the design process, like how she decided on her couch configuration: "The goal was more seating, as I don't have both a living room and a family room, so I wanted the room to work for entertaining, as well as for family movie watching. I went with two sofas, but wanted to avoid the standard format of them facing each other. I went with a vintage curved one (from Hernandez Furniture in Hollywood), and a new extra long velvet one from CB2."
Other ways she added a personal touch to the home? Using paintable wallpaper for texture, DIYing a color-block painted wall in the kitchen (inspired by a design she saw on Pinterest), and even replacing a chalkboard wall in the kitchen with white cork. Some decor outcomes were even happy accidents.
"I had an entire wall of bookshelves, and when I was taking them all down, I shoved the books into an alcove (that previously had firewood in it), and I liked how it looked, so I kept it. It's not exactly 'user-friendly' but we love books, and it's better than storing them in boxes in the garage."
Apartment Therapy Survey:
Our Style: Art Deco meets 1970s—half vintage/half new.
Inspiration: Art Deco style, 1970s style, Color, Color, Color.
Biggest Challenge: We don't have both a living room and family room, so the challenge was creating a space that could be used for both family time and entertaining. I didn't want it to be TV-centric, and we needed a lot of seating.
What Friends Say: They say "It's so you"—which I suppose can be taken as a compliment or an insult.
Biggest Embarrassment: I hate my bathroom vanity sconces. I want to replace them, but I know if I do that, I'll suddenly be switching out faucets and hardware. One thing always leads to another and another and another with me.
Proudest DIY: The color-block wall in the kitchen. I was scared to death to do this design, because I'm impatient, and I suck at measurements and math. I had to sketch it out onto the wall, and then use Frog Tape to block off each section. I half expected it to be a disaster, so I felt like a rock star when I finished it.
Biggest Indulgence: My curved leather vintage sofa. It was an impulse buy. I didn't want to gamble with thinking about it, because it was vintage, and I knew it wouldn't be there long.
Best Advice: If you get a variety of pieces/items that you are really drawn to, I find that they magically end up working well together in a space. Once I stopped worrying about "if stuff will go together," a nice flow seemed to happen naturally on its own.
When it comes to pillows, bedding, ceramics etc, I tell people to overbuy, try stuff in the space, and return what doesn't work. Don't be afraid of making returns.
Dream Sources: Anthropologie, CB2, West Elm, AllModern, OfferUp, Chairish, 1stDibs, World Market, Home Goods, Overstock.com, H&M Home, Zara Home, Gilt Home, Room and Board, HD Buttercup, Urban Outfitters, One Kings Lane, Horchow, Serena & Lily, Rose Bowl Flea Market, Out of the Closet, Council Thrift
Resources:
LIVING ROOM
Paintable Wallpaper with Benjamin Moore's West Coast
Rust Sofa — CB2
Curved Wood Accent Table — Overstock.com
Rug — Overstock.com
Lamps — HomeGoods
Arc Floor Lamp — West Elm
Art, Curved Sofa, Coffee Rable, Console Table, Swivel Chairs, Side Tables — Vintage (from Rose Bowl Flea Market, Offer Up, Council Thrift, Revival Vintage, Hernandez Furniture)
KITCHEN
Sherwin-Williams Paint
3-Drum Chandelier — AllModern
Woven Leather Chairs — Anthropologie
Mies Van Der Rohe Chairs — Vintage with restored leather
Table — Urban Home
Cork — AmCork Blizzard Cork Wall Tiles
BEDROOM
Rugs — Overstock, Anthropologie, HomeGoods
Desk — West Elm
Bedding — Anthropologie
Lamps — Gilt Home
Nightstands — West Elm
Dresser — Vintage
Accent Chair — World Market
COURTYARD
Outdoor Table and Chairs — CB2
Tablecloth — H&M Home
BACKYARD
Purple Wool Yoga Blankets covering outdoor sofa — Amazon
Outdoor Pillows — World Market
Outdoor Chair — Target
Outdoor Mosaic Table — West Elm
Thanks, Joy!
---