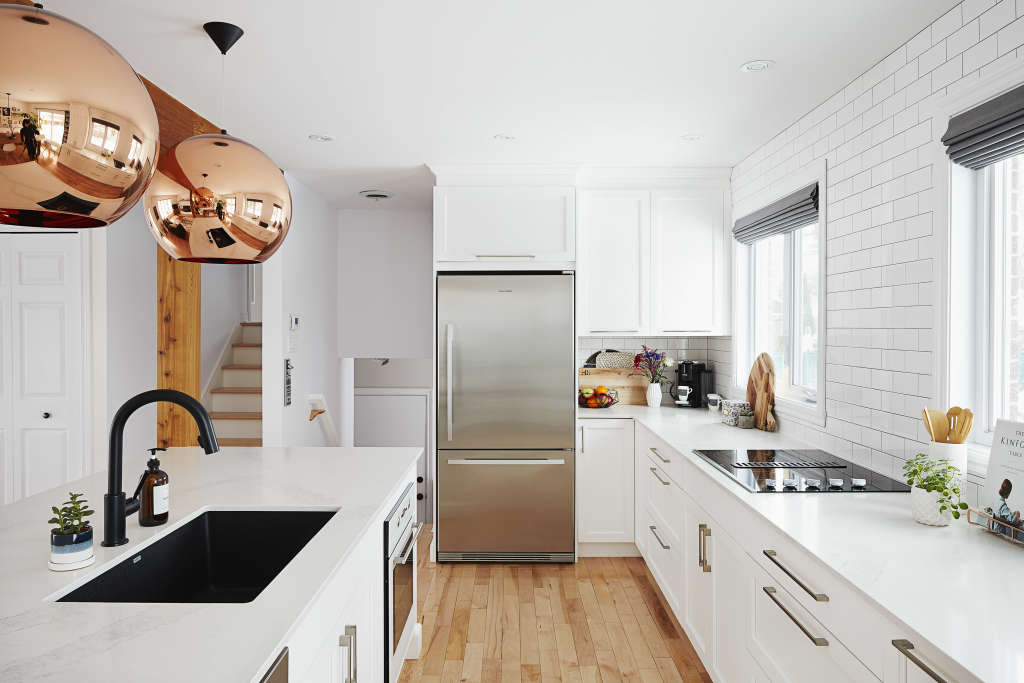 Wellness starts at home. That's why it's important to know what kinds of things healthy eaters avoid keeping in their kitchens—or at least out of plain sight.
We called upon six of our favorite health, wellness, and fitness expert friends to find out what stuff they've ousted from their kitchen counters, and they had lots to share. From small appliances to tempting treats, read on to see what healthy eaters say you shouldn't openly keep in your kitchen.
1. Salty Snacks
As much as we hate to admit it, no matter how small the packaging, our wellness experts agree that salty snacks should be out of reach in your kitchen. "Like most people, I have a hard time controlling how many chips, snack crackers, and Cheez-Its I eat," says Carrie Percy, RDN and Clinical Dietician at Enloe Medical Center. "The combination of salt and fat can be very addicting, making it easy to polish off one bag in an entire setting."
"I think when we have an abundance of snack items laying around, we tend to reach for them throughout the day, often finishing the entire bag." Vanessa Fitzgerald, health coach and founder of Vees Honey adds, "I always keep veggie slices and mini cucumbers on hand to dip in olive oil and sea salt when I am feeling snack-y. This not only keeps my weight and gut in check, but it also delivers key nutrients to my body that my cells can actually utilize."
2. Microwaves
Believe it or not, most of the wellness experts we spoke with say microwaves are a big no-go for their kitchen countertops. "A microwave is something you'll never find in use at my house," says health and nutrition coach Katrine van Wyk.
Julie Melillo, a life coach in Manhattan adds: "I got rid of my microwave because it's too easy to eat the wrong things: frozen dinners, microwave popcorn full of chemicals, microwave cakes, etc. If I have to heat up leftovers, I'll use a pan and add in vegetables to make a stir-fry. Those extra few minutes give me time to think through what I'm eating and why, instead of making a buffet of unhealthy stuff in a zombie-state of pushing buttons. "
3. Sweets
It might seem like a no-brainer, but when it comes to sweets, our health experts say to keep them out of plain sight. "If you keep items like candy, cakes, and any other sugar processed food on your counter, they're going to be the first thing you reach for when you're feeling hungry," says Nikki Ostrower, nutritionist and founder of NAO Wellness. "Keep readily available fruit, like bananas and apples on the counter instead, so that if you do want a snack, you can just grab one on the go."
4. Sugary Drinks
Though they're technically kept in the fridge, our health aficionados also emphasized how important it is to keep sugary beverages out of reach in your kitchen, too. "The worst thing you can do when trying to stay healthy throughout the day is drink carbs and sugar," explains personal fitness trainer extraordinaire Tina Cabrera. "I've completely eliminated all sodas and sugary juices from my fridge, because if they're not in there you can't grab one when you're thirsty."
5. A Toaster
Considering they're mostly used to heat starchy breads, it's no surprise that some of our wellness experts have banned toasters from their kitchen countertops. "I haven't owned a toaster in almost a decade." Melillo explains, "They're a recipe for a carb-overload and I don't want to be reminded of white bread, toaster pastries, or any of those fast-to-make but lifestyle derailing foods!"