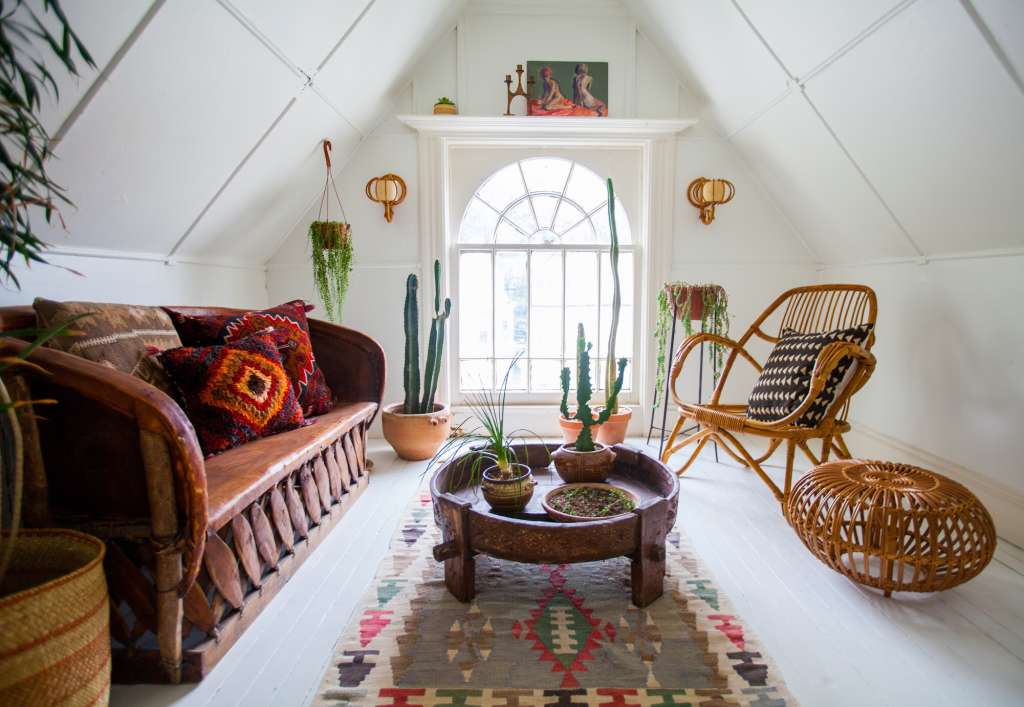 Boho decor is so inviting and cozy, with its eclectic, free-spirited look and textured, layered elements that beg you to relax and stay awhile. These DIY projects are perfect as the cherry on top of your already maximalist boho space, or as accent pieces to introduce just a bit of flair.
The neutral tones of unfinished wood make it incredibly flexible for decor. Brittany fully embraced the beauty of wood beads and went all out on this stunning chandelier.
Add a surprise pop of color with statement knob tassels. Erin found the easiest way to DIY chunky tassels so you can whip up enough for all your doors.
We couldn't have a boho roundup without including a macramé curtain. Emma created a partial design to layer over a white curtain for that extra touch of visual interest.
A lot of boho decor touches on celestial and mystical themes. Display a DIY marbled moon phase wall hanging like Molly for a modern take.
Cristina used rope, unfinished wood beads, and clay (the three cornerstones of boho DIYs) to achieve a macramé-esque wall hanging. Scale it up or down to fit any space in your home.
Welcome good energy in with an open hand dish. Add an extra dose of boho and decorate with palmistry markings.
The lower the seating, the more boho the space. Rachel stitched two rag rugs together to create the coziest lounge spot every, perfect for you or a furry friend.
Are you an incense, candle, or palo santo burner? Brittni makes the case for the latter with her eucalyptus, palo santo bundles designed to relieve stress and aid meditation.
Preserve the character in an old piece of wood and transform it into a new shelf to display your treasures, like this one from Lotts & Lots.
A little paint goes a long way. Kim started out with two, standard thrift store vases and painted her own tribal-inspired pattern to add a pop of color to her mantel. She also has an entire DIY library dedicated to boho decor.
Macramé feathers are popping up all over Pinterest as bag charms, keychains, and wall hangings. Learn how Lucy faked the macramé feather look without the complex knotting to make a dramatic wreath.
Mr. Kate made this darling teepee for a nursery, but the soft linens and mountain of pillows make me want to build one as a reading nook for myself.