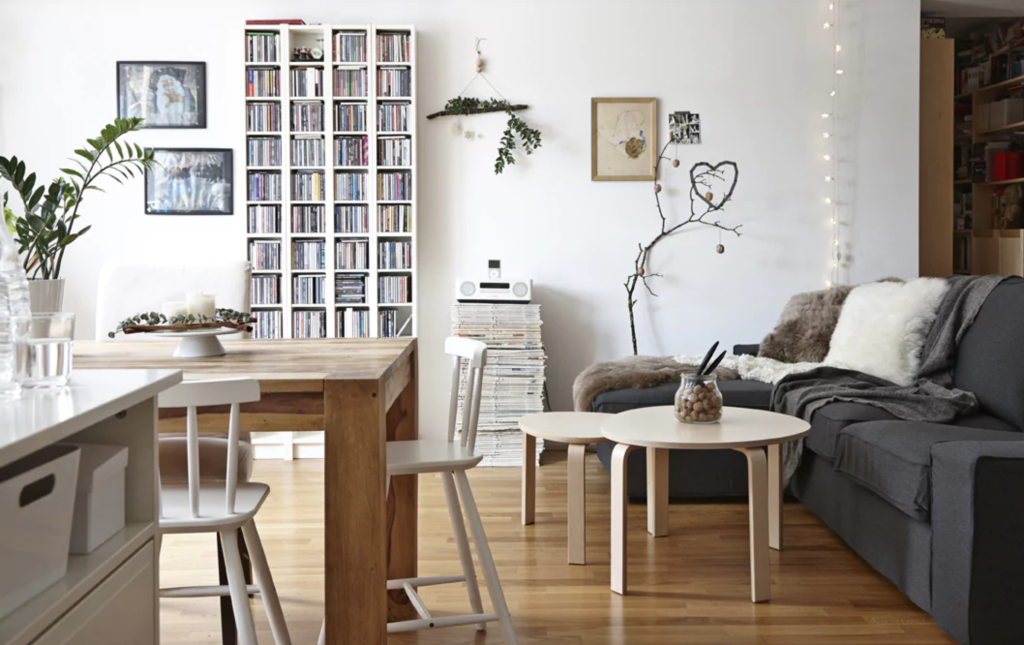 Okay, we admit it: We're obsessed with organizing. So naturally, the bigger the challenge, the more fun we have figuring out how to organize it. That's why we rounded up some of the best ideas for arranging really narrow spaces—think: the sliver of space between your fridge and oven, next to your toilet, and behind your doors—to inspire your own home organizational endeavors.
Invest in a storage tower
Turn even the tiniest bit of spare room in your kitchen or bathroom into a storage-savvy display with a compact pull-out drawer cabinet. This slim tower from The Container Store is small enough to squeeze between your toilet and sink, but offers enough storage room for all your cosmetics and beauty supplies.
Or a slide out storage tower
Similar to a pullout drawer cabinet but with easy-to-access open shelves, this Slide-out Storage Tower on Amazon is an awesome way to utilize the tight space between your toilet and sink (or oven and fridge) and even comes with wheels for easy maneuvering.
Consider picture ledges
Slim, sleek, and super easy to install, wall-mounted picture ledges—like MOSSLANDA ledges from IKEA—provide just enough room to store tiny cosmetics and toiletries (like nail polish and perfume) and are small enough to fit anywhere in your bathroom. You can even install them on the wall, then push your furniture up to them to create sneaky slim shelves inside vertical gaps, like IKEA has done in this kitchen above.
LACK FTW
In dire need of some bedside storage but hardly have the room for a nightstand? The LACK wall shelf unit from IKEA fits nicely next to your bed and offers way more storage potential than a bulky single-drawer nightstand.
Forge storage with floating drawers
Even the smallest sliver of wall space is no match for some wall-mounted storage. Case in point: A slim but storage-friendly scene we spotted on Refinery 29, which uses floating shelves with built-in drawers to create a full-blown jewelry organizer—in the cramped space behind a freakin' door!
Find a slim side table with hidden storage
Looking for an affordable way to score more living room storage? The web is filled with sleek, and more importantly, insanely slim side tables with built-in storage—like this flip-top end table with a shelf we saw on Hayneedle—that'll fit perfectly between two sofas.
Score a door storage cabinet
Why carve out a little bit of storage room behind the door when you can install a whole darn storage cabinet? This storage cabinet from Amazon attaches directly to your door's hinges and offers eight whopping shelves of storage space.
Discover pull-out solutions
The KOMPLEMENT hanger from IKEA is designed for just this kind of dilemma. install it so it stays tucked next to your hanging clothes in the closet, or contort yourself to install one in a tiny, vertical space in the kitchen or bathroom, like IKEA has done in this kitchen.
Pick up a slim rolling cart
A little rolling cart goes a long way in a cramped (and storage deprived) room. This wheeled wonder from Amazon comes equipped with three spacious storage baskets and will set you back less than 20 bucks.
Buy a Clutterbuster
If you don't already know about space-saving potential of a Clutterbuster then now's the time to wise up. Designed for hanging clothes, coats, and towels, this swiveling cutie attaches directly to your door hinges for unexpected storage space.
Employ a floating bookcase
Believe it or not, the tiny sliver of wall space between your door and wall can actually offer some serious storage potential. Follow in the good folks at Darn Crafty's footsteps and install a slender floating bookcase (or three) in a cramped corner to earn some extra storage.
Get magnetized
Magnetic spice racks and knife holders can essentially be installed anywhere—think: the side of your fridge or cabinet or in the small wall space between your oven hood and stove—for a bit of unanticipated storage opportunity and easy access to your kitchen supplies.
Apartment Therapy supports our readers with carefully chosen product recommendations to improve life at home. You support us through our independently chosen links, many of which earn us a commission.