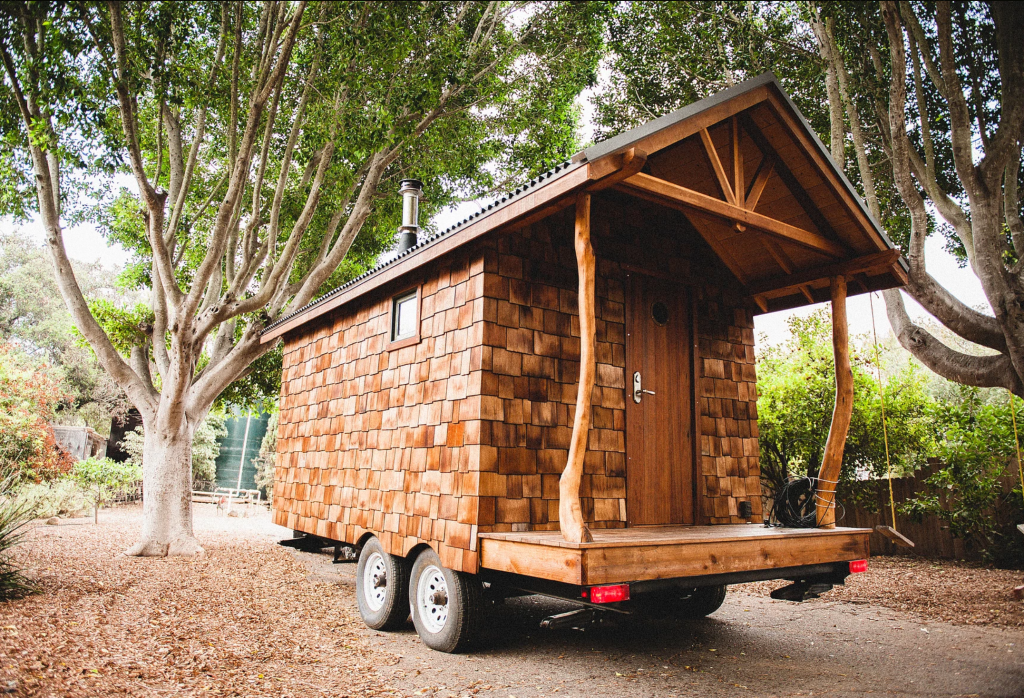 We've featured lots of tiny houses on this site, but I'm not sure there's ever been one so picturesque. This little house is so damn adorable that you'd just want to stuff it in your pocket (if you had really big pockets) or pinch its cheeks (if houses had cheeks). If Ron Weasley's home from Harry Potter were transformed into a tiny house, it would be this house. And it's built almost entirely from reclaimed wood, so it's environmentally friendly and cute as well.
The home, a creation of Humble and Craft, features reclaimed materials from a variety of sources. The cedar shingles that cover the exterior came from an old mansion: the porch posts, which give the home its whimsical appearance, are from an old tree. Much of the interior is finished in redwood salvaged from a 5,000-gallon wine barrel from a vineyard in Santa Cruz. (If you're wondering what a 5,000 gallon wine barrel looks like, here you go.)
The house is built on a trailer that measures 16 by 8.5 feet, which means its whole footprint (including the porch) is just 136 square feet. There's quite a lot going on in this small space: features include a kitchen with reclaimed redwood countertop, a bathroom with a shower, a wood-burning stove, and a lofted bed.
The design even takes into account storage, something that seems to be overlooked in many tiny houses. Underneath the loft is a space for lounging, and also a wall of shelves, including a wall-mounted TV (for your tiny house Netflix marathons).
It's all very tiny, and very cute, and very pretty in this photo shoot by the coast. But even if the idea of living in 136 square feet makes you a little itchy, there's plenty of inspiration here for using reclaimed materials in a home of any size.
To see more of the Acorn tiny house (and check out some of their other projects), visit Humble and Craft.
via Inhabitat