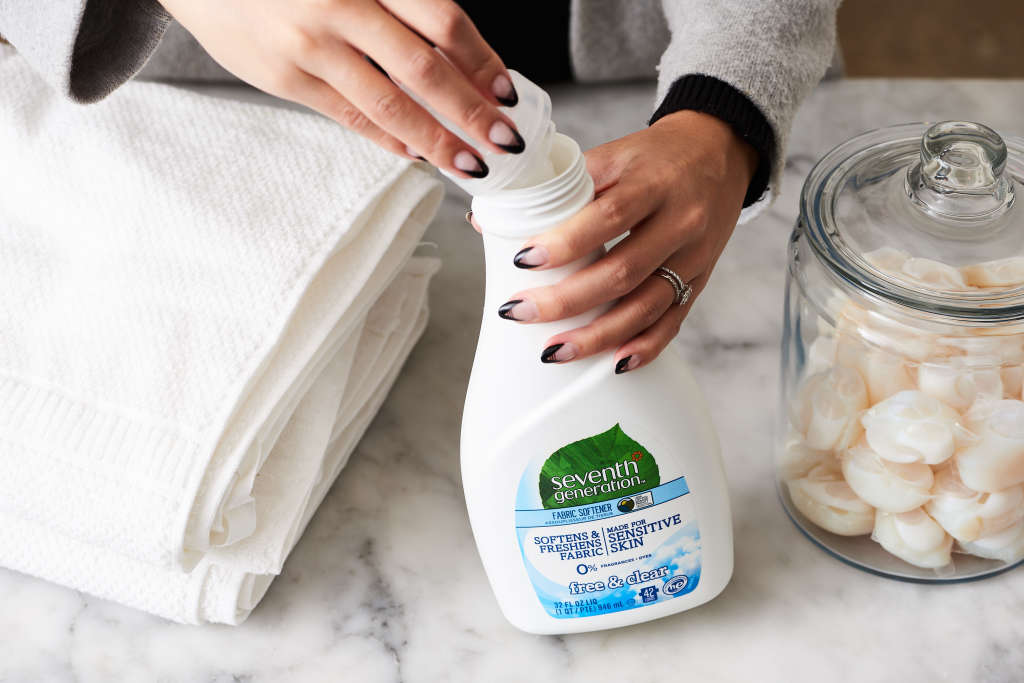 Ah, fabric softener. If you haven't heard of it (like most millennials apparently), you may be missing out. From the more straightforward use of softening and scenting your laundry to less conventional uses like unshrinking sweaters, removing wallpaper, or dusting baseboards, fabric softener is a proven—and cost-effective—multitasker. But like its cousin laundry detergent and its second cousin dish soap, there are a few things you definitely shouldn't do with fabric softener.
Have some fabric softener burning a hole in your laundry room but not quite sure how to put it to work? Here are a few ways not to use it.
Don't (always) use fabric softener when you wash your towels
We get it: There's nothing as annoying as getting out of the shower and reaching for a stiff, brittle towel. While a little fabric softener can help keep your towels smooth and fluffy, too much of it can also reduce their absorbency (which kind of defeats the purpose). To refresh your towels or soften brand new ones, try adding a cup of white vinegar to your next load instead, plus a half cup of baking soda during the rise cycle.
Avoid using fabric softener on certain fabrics
Due to its chemical properties, fabric softener can rough up (or wreak havoc on) certain materials. Avoid using it on microfiber, since, like towels, it can impact the effectiveness of its absorbency. You'll also want to skip the fabric softener on specialty fabrics like wicking sportswear, flameproof children's clothes or pajamas, or water-resistant items and synthetic fabrics like polyester or anything containing elastane and nylon (think skinny jeans or leggings).
Skip the fabric softener on baby items
Along the same lines, it might be best not to use fabric softener on baby clothes. For one thing, many baby pajamas are made with flame-resistant materials, and fabric softener could reduce their effectiveness. Babies also have more sensitive skin, which might become irritated with harsh chemicals like fabric softener or regular detergent. To keep baby's clothes soft without adding unnecessary risk, try a "free and clear" detergent paired with some vinegar in the load.
Don't pour fabric softener directly on your clothes
Unlike stain remover, fabric softener is meant to be used in your actual load of laundry. Applying it directly on clothing can leave stains and oily, waxy spots that might be difficult to remove. To prevent fabric softener from getting all up on your clothes, make sure you're not over-loading the machine so water can circulate and dilute and distribute the softener and detergent.
Don't use fabric softener at all if you prefer something more natural
It's hard to give up on laundry staples you're used to using, but if you're eco-conscious or into green cleaning, you may want to consider dumping the fabric softener altogether. According to the Environmental Working Group, an organization that rates the safety of household goods and food, many fabric softeners contain harmful chemicals that can negatively impact our bodies, from aggravating asthma to irritating skin. Some experts link the BPA in fabric softeners to a higher risk of cancer.
Looking for a more natural alternative to fabric softener? Try wool dryer balls or use the tried-and-true trick of white vinegar in the wash (don't worry, your clothes won't smell—but if you want them to, you can add a few drops of your favorite essential oil).
Apartment Therapy supports our readers with carefully chosen product recommendations to improve life at home. You support us through our independently chosen links, many of which earn us a commission.