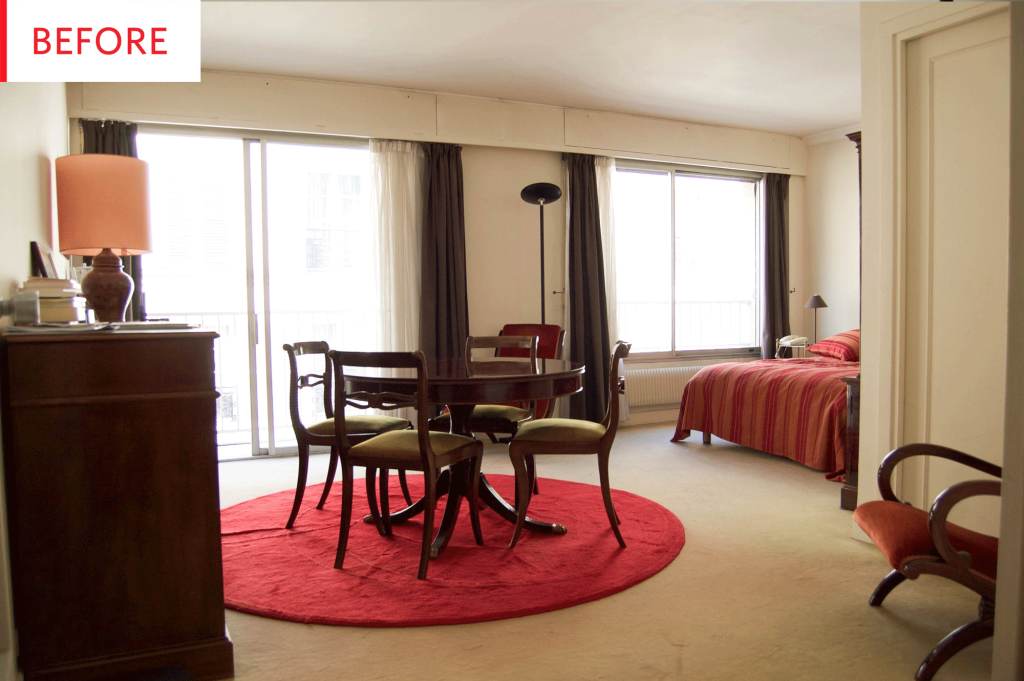 This Paris pied-à-terre had been sitting unused for years. It was owned by Laurence Moinet-Saussereau's father, who bought it in the 1980s for work and kept it even after he moved away from Paris. A few years ago, he donated it to Laurence and her sister, who had been dreaming of remodeling it and renting it out. Though we often focus on full-time homes to tour at Apartment Therapy, every now and then a rental space comes along that's so delightful it deserves a deep look. This small Paris space is one of them!
Fortunately for Laurence, her daughter Marie Lacote is an interior designer, the owner of Velvet Jungle Interiors (and though based in Paris, Marie is available for e-design in the U.S. via Havenly). Marie was given full creative control over the remodel… but there were limitations on the design possibilities. The space is only 460 square feet and originally a big open room for the living and bedroom area.
Though in good shape, the decor was pretty tired and outdated. From the old-fashioned furniture to the unremarkable architecture—not to mention the unattractive tile in the small bathroom and kitchen—a lot of the updates that were needed were going to be cosmetic.
Though, an architectural dividing wall was placed between the bed and living area, turning the studio apartment into a cozy one-bedroom. The key here is the dividing wall wasn't an opaque addition, rather an industrial-style, modern, nearly all-glass wall that gives a visual division of space but also lets plenty of light flow through the space.
Another limitation in the design process was budget; there wasn't a big one to work with. There were some indulgences in the final design, but they were able to "make room in the budget" for a few expensive, big-impact elements by sourcing plenty of affordable items that don't look cheap. "The wood flooring and marble for instance are from the equivalent of Home Depot, we have quite a few IKEA pieces, and furniture and decor from shops akin to Target or HomeGoods!"
The cabinets, appliances, countertops, and drawer pulls in the kitchen are all from IKEA, for instance. Combined with elegant and a bit indulgent cement floor tiles though, and the whole space's look is elevated.
Another way money was saved was that Marie wasn't afraid to get handy: "My daughter actually did a lot of the work herself once the workers were done, like spackling, painting, wallpapering, putting together all the furniture, including the kitchen and a giant IKEA dresser, standing at 4'11", that's no small feat!
Though there are some indulgent purchases that certainly set a tone in the space, Marie did a great job in using bold color to make the space feel more modern, updated, and expensive.
A half-painted wall of "India Yellow" from Farrow & Ball—topped with a sleek, thin black molding—makes the entryway look lush. "…the yellow paint in the entryway is really a showstopper in person. My daughter had her heart set on it from the start and I wasn't sure until I saw it finished. Having the wall painted halfway and that glossy black rail detail was the perfect little add-on. It's so cozy!"
But perhaps most of all, Marie and her mother just weren't afraid to tackle a small space's design: "Working with small spaces always has its challenges but I think it's worth really going for it. Most people in Paris, and in big cities around the world, live in small spaces so it's important to remind everyone you can really achieve big changes despite the small square footage."
"…we went from a poorly planned, uninviting studio, to a comfortable, cohesive one-bedroom that feels homey and chic, and twice as big."
Thank you Laurence and Marie!
Apartment Therapy supports our readers with carefully chosen product recommendations to improve life at home. You support us through our independently chosen links, many of which earn us a commission.