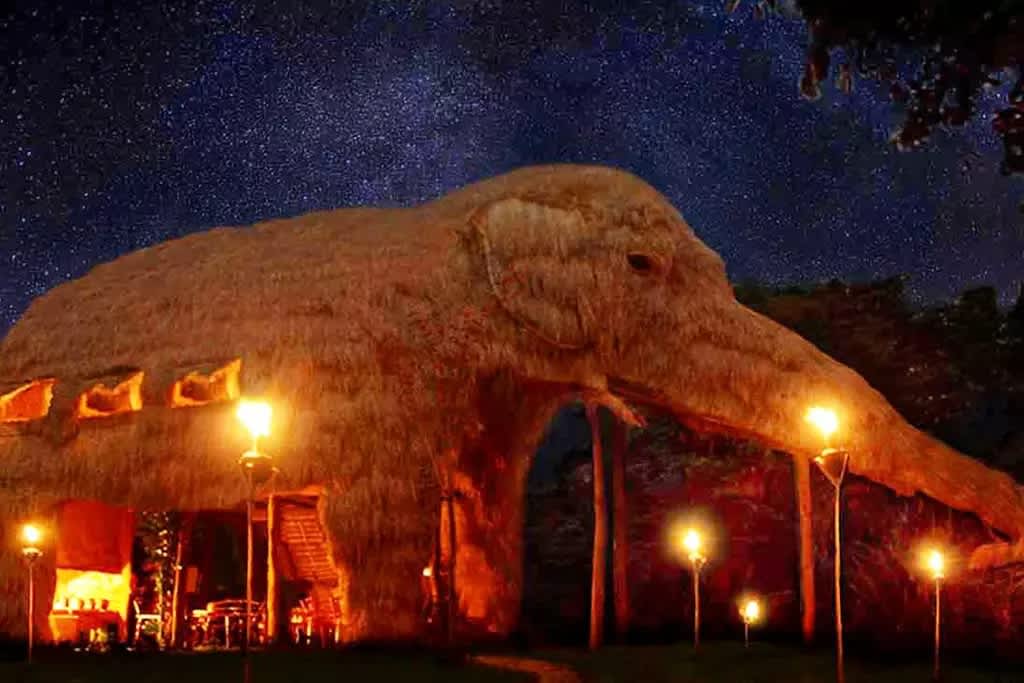 If you're not already sold on the fact that this rental is shaped like a giant elephant (think of the post-trip Insta posts!), you'll be pleased to learn that it's charm goes far beyond that particularly striking detail.
This 40-foot, two-story mammoth of a tiny house is located in the Southeastern Uva Province of Sri Lanka, near a river that borders Yala—Sri Lanka's famous wildlife park. You won't have to wander far to see some wildlife, though, as peacocks and elephants supposedly regularly roam around the eco-lodge every day.
The elephant-shaped villa can comfortably fit 10 people, though note that there's a minimum occupancy of four guests and groups larger than 10 can be accommodated at an extra cost. It is made entirely of wood and straw to match the natural feel of its surroundings.
There are two large bedrooms, plus a lounge on the upper deck. The bathroom has running hot water, a shower, and two toilets.
Guests can enjoy authentic Sri Lankan cuisine at the resort's on-site restaurant, which serves local dishes and updated takes on classic Sri Lankan plates. Food is prepared using traditional techniques with the occasional assist of modern technologies like electric ovens and gas burners. Western dishes are available upon request, and the kitchen team also prepares barbecues.
On the activities front there are several options both on- and off- property, from enjoying some peace and quiet to something more adventurous. Early birds can catch the peacocks walking around or walk along the nature paths winding into the nearby forest. There's a mini adventure course on the property (advance booking required) that features zip lines and a sky bridge. Tractor rides bring guests to a suspension bridge that leads to an old track with scenic views. For those that want to get up close and personal with some real elephants, you can spend the night at an elephant farmer's tree hut and watch them work or take a day trip to Udawalawe National Park.
Rates start at $171 per night, according to the Glamping Hub listing.