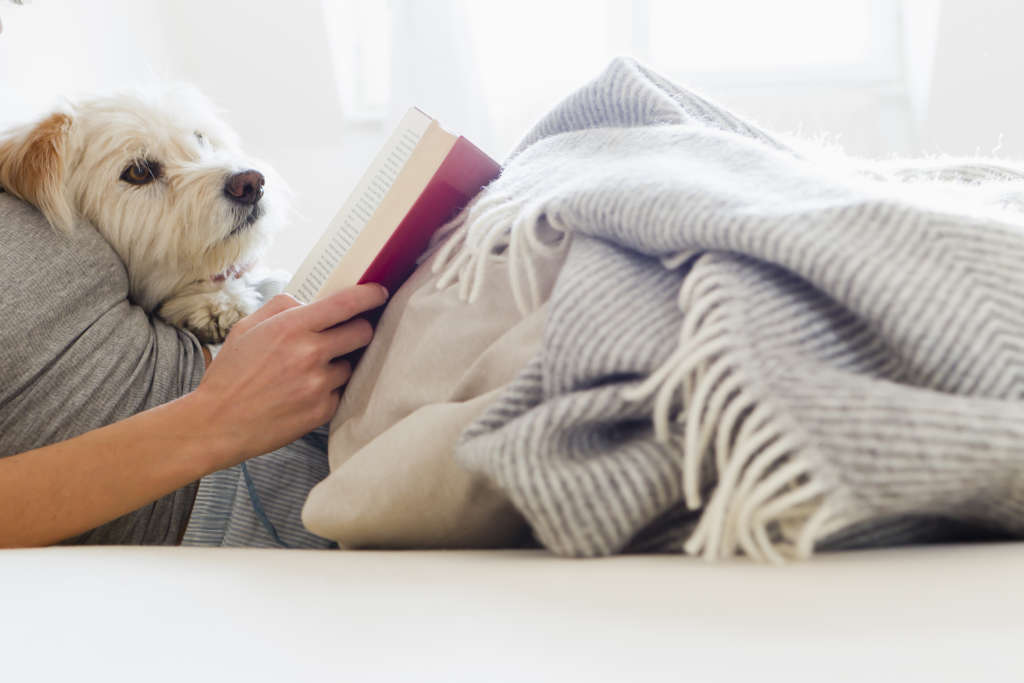 We all know someone who seems to run a little colder than everyone else. You can find them wearing a few extra layers, even in the warmer months. It can be a seemingly normal temperature, and you can spot them shivering under an office blanket (hey, this one might not be their fault). If they had a nickel for every time they heard the "cold hands, warm heart," cliche, well… they could fund a cure for cold hands.
We don't have a solution for being freezing all the damn time. But what we do know is that the winter is a particularly hard time for freezing-cold people. And often the key to a thoughtful gift is noticing the little things. So if you can't crank up every thermostat in town, perhaps you can gift one of these 20 finds.
Your recipient can wear their feelings right on their sleeve (or, well, torso) with this find. Available in six colors, it's just right for layering—over another sweatshirt or three, perhaps?
We did the hard journalistic work of testing these whimsical slippers. The findings: Not only are they perfectly cozy on their own, but if you plug them into your computer via USB, they get a little extra toasty—similar to a heating pad. That does mean you're tethered to your computer, though. Also big news: They're available in an equally adorable corgi style, as well.
(Image credit: Bath & Body Works)
This one is just right in sentiment (that cozy name) and practicality (that hygge feeling). But what, exactly, does "sweater weather" smell like? According to Bath and Body Works, it's a combo of fresh sage, juniper berry, aromatic eucalyptus, and fresh woods. We'd snuggle up to that.
If your recipient can often be found piled under a minimum of two or three blankets come wintertime, update their everyday throw to a heavy-duty throw. This beautiful Etsy find (available in 16 colors) is arm-knitted from giant yarn of merino wool. Plus it just feels warm draped over a couch or the foot of a bed.
Remember those little hand warmers you could pick up at the corner store as a kid? This is like the grown-up version. First you charge them up, using any USB plug. Then, you slip it into your pocket, where it can provide up to six hours of warm relief (up to 120 degrees Fahreneheit) to cold hands. Added bonus? You can use it to charge up your phone on-the-go, too. Handy.
Make stepping out of the shower on a cold, dark winter morning a little less painful with this plush bathrobe. Or better yet, upgrade a Sunday Netflix binge—no shower necessary. Made of Turkish cotton, this is the kind of splurge you probably wouldn't make for yourself—ideal gift territory.
Give the gift of warm hands and answered texts. These color-blocked cuties offer the warmth of mittens and the practicality of gloves—the tops pop off as needed, offering easy finger access for double taps and the like.
Warmer days start with really hot coffee. One of our editor favorites is this sleek tumbler from Corkcicle. Made of stainless steel, it'll keep hot beverages hot for three hours (and cold beverages cold for nine). Available in two sizes and a handful of colors, it also arrives in a perfectly giftable box.
This handmade scarf is available in 29 colors, meaning you can find one to go with just about any winter coat. Plus that double loop is great for keeping the warmth in—and the cold out.
If blankets and robes just won't cut it, try this sleek little space heater. It can warm up a cubicle (if it's allowed at the office), a bedside table, or a chilly morning bathroom routine. With two heat settings and a four-hour auto-off timer, this tower is small but mighty.
If they're sleeping in sweatpants and sweatshirts to stay warm, gift an elegant upgrade. There's something about a monogrammed PJ set that just feels so darn fancy. This set can be embroidered on the sleeve with one to three characters in a variety of colors.
If there's one tool an always-cold person needs to survive, it's a really good blarf. The blarf—or a blanket/scarf combo—can be, as its name suggests, used as either a blanket, a scarf, or a wrap. This one has versatile stripes that can take it from office to weekend.
For when everyday socks just aren't warm enough. These extra-thick ones will keep feet toasty.
So apparently it's a myth that the majority of heat escapes through our heads. But here's a cold-hard fact: Cold ears are the worst. This stylish beanie (available in 24 color combos!) is comfy and warm.
One way to keep warm? Drink a whole lot of hot beverages. Hot tea. Hot chocolate. Hot coffee. Help make it happen with a counter-worthy kettle, like this one from Smeg. Cream goes with just about any color scheme, or you can venture out into a bold red, stainless steel, or even pink.
An office blanket is all well and good, but this one actually heats up. It has four heat settings—and pockets.
Send the warmest thing we can think of this winter—soup. This basket includes mixes to make your own chicken noodle, chicken chili, and potato corn chowder soup, along with crackers.
If unicorn slippers aren't quite your speed, consider these slightly more classic—but still playful—mules from The White Company. The slip-on style is convenient, but the knit material and feathery pom pom mean they're plenty cozy.
Chances are your friend or loved one has plenty of sweaters. But here's one they can DIY. Included in the kit is a sweater pattern, five balls of wool, and two knitting needles—you can customize the color and the pattern language (English, French, and German are available). It's like a sweater and a fun weekend-in project, all in one.
Guarantee a warm night's sleep starting with the bottom layer. This heated mattress pad has 10 heat settings that auto adjust throughout the night—plus a 10-hour auto off for safety's sake. Especially nice for aching muscles, or just really cold feet.
Apartment Therapy supports our readers with carefully chosen product recommendations to improve life at home. You support us through our independently chosen links, many of which earn us a commission.