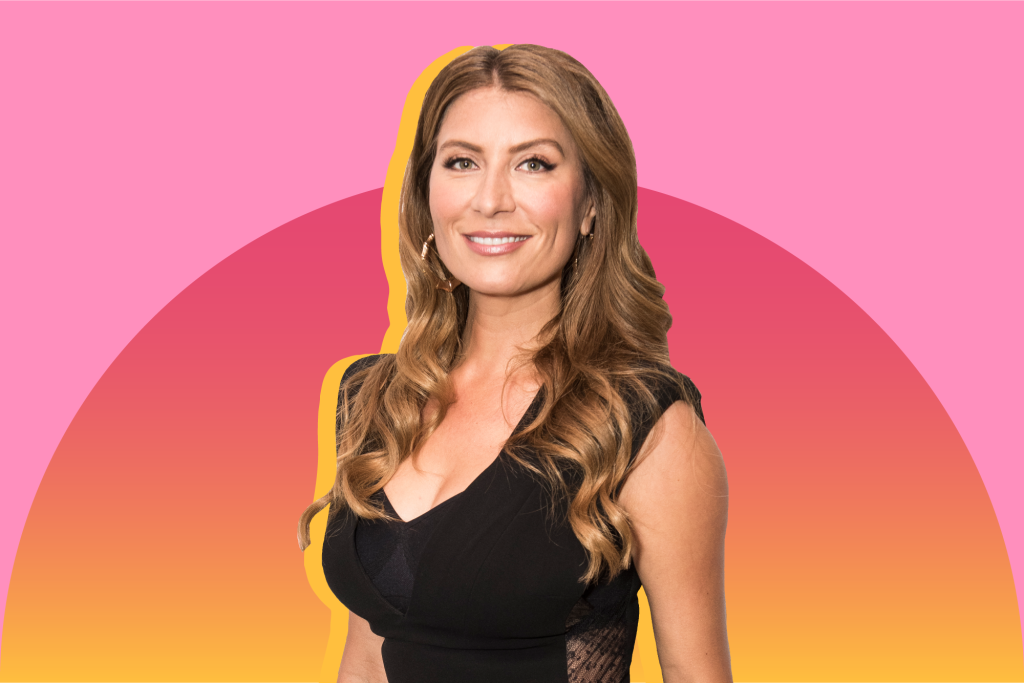 Welcome to My First Apartment! Whether it's your first studio, a four-bedroom deep in the city shared with a handful of roommates, or even an entire house (lucky you!), there's something special about moving into the first place that's truly your own. In this series, we'll showcase actors, artists, entrepreneurs, and beyond—asking them to revisit that oh-so-sweet nostalgia of newly-found freedom.
To say that Genevieve Gorder is captivating is an understatement. With an energy and signature style like hers, it's no surprise that she has worked her way from a designer on MTV in the '90s to a household name hosting an ever-growing list of design-oriented shows over the past two decades (hello, "Trading Spaces"!) Her most recent show, Netflix's "Stay Here," premiered in August and she's currently filming a new show for Bravo in L.A. The gal is non-stop!
And between her projects, she's managed to use her fiery personality to do some good, too. Currently, she's co-starring in a video with members of STEM Kids NYC, a nonprofit that advocates for tech-based education for the city's school-aged children. The video aims to help individuals protect their digital data. For every like, share, or comment on the video, Allstate (the video's sponsor) will donate $1 to the non-profit, up to $50,000 as part of their new Hidden World of Data campaign.
While we're so amazed by her accomplishments, we wanted to start at the beginning—before she became the design superstar she is today. Read on as she waxes nostalgic on her first Chelsea apartment:
My First Apartment: Genevieve Gorder
City: Manhattan, New York City
Neighborhood: Chelsea
Size: ~300 square feet
Rent: $500
How you paid your rent: A bevy of ways! I was in college, so it was sometimes an ask from family. But I was also working at MTV. They paid me like $300 a week, which seemed like it should have been something at the time—I mean it wasn't 1805 but it was still the '90s! But it was never enough, so I would sideline with freelance jobs when I could get 'em. And I worked as a cocktail waitress up the block [from my apartment]—I'd make in a night what I made in a month at MTV!
Why you decided to live there: It was a pre-war building (I always have to be ancient, and that's as ancient as we get in America) but it had an elevator. The landlord gave me two months free and a cut rate if I fixed up the thing—I rented it right after a man who moved into it in the '20s (and had lived the majority of his life there) left.
What you did on the first night: I always sit in an empty house and watch the light—how it moves through the space. I want no sound. I've always been this way, since I was a little kid. You have to watch how the light hits before you decide what you put where.
Set the scene in three words: Classic Chelsea elegance.
Three things on your wall: A huge picture of Prince from "Under the Cherry Moon." A painting I did of a fawn-ish dog animal that was part of a reoccuring dream. And, always, a picture of my Grandma and Grandpa.
Thing you loved most about living there: I had no roommates, cause I'm a Leo. And though I'm not a scaredy cat, I do get scared—I even slept with a knife under my pillow for a couple of years. [But living there,] I always felt safe and had a lot of friends right away. [My building held] a sense of protection and community for me.
Thing you hated most about living there: The hallways were poorly lit and had the horrible '70s-sprayed surface texture. They were scary.
The craziest thing a neighbor ever did: My apartment had four sets of french mullion windows that opened up into a courtyard. I'd look out [across the courtyard] and there'd be a lot of sex—a whole show any time of day. It was like "Melrose Place."
Who came over the most?: I ran with a gang from art school. We were all part Eastern European, tall, and just scrapin'. We loved to dance. Wine became "a thing." Our apartments were always really cool because we were art kids. Even if we were poor, we'd make our spaces beautiful. That's a non-negotiable—beauty. It doesn't have to cost anything. Cleverness is free, too.
One feature you'd never live with again: A tiny kitchen is just depressing. Period.
One feature you'd never live without: A giant french window. I recreate it wherever I live.
Uninvited strangers?: My neighbor had mice… that was annoying!
Song that will always take you back: Dimitri from Paris's "Sacre Bleu"
Smell that will always remind you of it: Votivo's Red Currant
Favorite piece of furniture: I had this desk I fashioned out of plastic file cabinets. I used $2 Rub 'n Buff—a wax emollient that can make anything you rub it on look like metal—from Michaels and turned [the plastic] into brass. On top, I had this antique door that I think I found in the trash. We have the best furniture on the street EVER. I still pick it if it's good. I attached a pipe and a flange to make another supportive leg. It was the bossiest free desk I've ever seen. It was so good.
What you had too much of: Stuff! I was a design student with A LOT of projects. It was a beehive of art clutter.
What you had too little of: Storage—classic NYC issue.
Thing you wish you knew back then: Less is more.
Did you get the security deposit back?: I did! That apartment went from $500 to $1,600 when I left.
One item you still have today: I still have Prince. Because Prince is a consistent. That specific picture isn't on my walls, but he's everywhere—in every Minneapolis kid's home forever and forever. He has a church-like importance.
This interview has been edited and condensed for length and clarity.