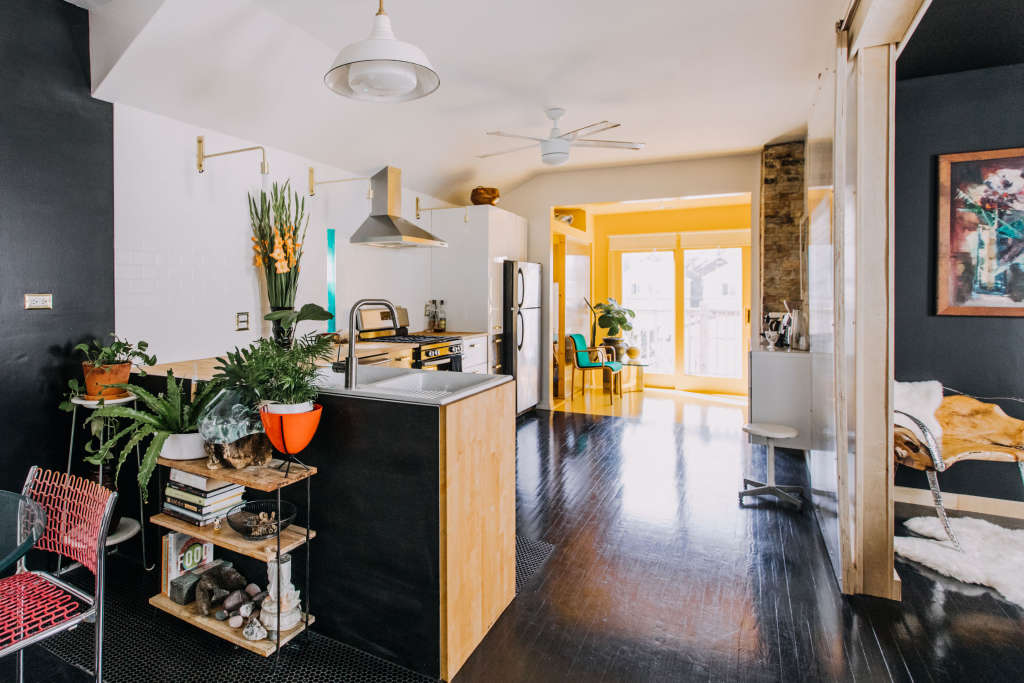 Name: Tes Hash Davison and Daniel Davison (And Lamb!)
Location: Pilsen — Chicago, Illinois
Size: 950 square feet
Years Lived In: 4 years, owned
On a recent work trip to Chicago, I stayed at my good friend's house and was blown away by the style and design of the apartment. I got to sleep in the adorable attic guest room and am obsessed with the hot pink bathroom!
Tes has spent the past five years pursuing a PhD in Philosophy at the University of Chicago but recently decided to leave the program in order to focus on channeling her philosophical work into conceptual art rather than into academic writing. Daniel is a musician and artist, with his work revolving around creative projects in the areas of design, restoration, and building. Most recently he played as a drummer for the band, Every Time I Die. Tes and Daniel have started a new company together called Yeah Friction. You can follow along their journeys through Instagram at @tes.hash, @ddavison and @lambmakeshappy.
Tes and Daniel moved to Chicago for Tes' PhD program and fell in love with the city. One of their favorite things about their neighborhood of Pilsen is the long-standing Mexican community there. There is an amazing grocery store (La Casa Del Pueblo), cheap food, fine dining, vintage shops, art galleries, and the National Mexican Museum of Art, all within arm's reach! The neighborhood is also situated really well within the city—it's only a short bike ride from Pilsen to Chinatown, Downtown, and Lake Michigan—all places that they love to frequent.
Apartment Therapy Survey:
My Style: Our style is probably best summed up as something like, "Eclectic Modernism." We have a love for the sleekness and simplicity of the architecture and design that came out of the modernist movement, yet we also love a lot of color, found objects, and funky designs. Tes is also drawn to Art Deco architecture and design and likes to bring in brass, velvet, bright color, and curves whenever she can. Daniel finds himself more and more drawn to minimalism as the years go by, but he also enjoys incorporating some industrial and organic elements into the conversation as well. Both of us really enjoy experimenting with color and inexpensive materials to create a space that is interesting, unique and inspiring—but also very livable!
Inspiration: Tes: I find that most of my inspiration for interior design comes from just being out in the world. I often see things that inspire me in industrial architecture and design that I then make a mental note of and try to bring elements of that into residential design. I think that you often see more fun, "risky" design moves being made outside of the home in offices, civic buildings, museums, etc… but it has never made sense to me not to bring that same sort of boldness and creativity into the space in which I live. I also find a great deal of inspiration through traveling, fashion, and from the sunsets in the American Southwest. Lastly, I find people incredibly inspiring—I am always thinking about how someone might feel in a space that I am designing and I love to try to design a space in such a way that it makes people feel a particular way (e.g. relaxed, inspired, excited, curious…) when they spend time in it.
Daniel: In short, I am inspired by travel, photography, street art, Modernism, Joseph Cornell, International Style architecture, Usonian architecture, modern coffee shops, interior lighting, walking in cities, walking in nature, modern Australian and Belgian design, exploring abandoned buildings, reading history, riding public transit (I always get lots of ideas while zoning out looking out a bus or train window), large bodies of water, and riding my bicycle. All of these sources of inspiration intersect at different points and are all in some way linked to any creative project that I am involved in—from writing/playing music to designing/decorating a space.
Long answer—looking back to when I was a kid, I realize that I've always enjoyed making a space my own by whatever means that I could. When I was young this meant building elaborate forts and treehouses in the woods. A little later it meant covering every inch of my bedroom walls with posters, street signs, and magazine clippings. As a teen it meant creating my own mixed media art and photographs—using these and found objects to cover my walls. In my early twenties it was the thrill of searching and finding the right items for utility and decoration for my apartment or house. My early twenties also marked the start of ongoing creative collaboration with Tes. We saw our living spaces as blank canvases—our place for continuous design experimentation.
This experimentation evolves over time, as does the source of inspiration; however, I think the overall most inspiring thing for me can be summed up in travel—as it is connected to so many of my points of inspiration. Through playing music I began traveling frequently and for extended periods of time as a teenager. I think back to my first trip to Europe in 2000 and remember that being inspirational in so many ways. Seeing how people in different places live and dress, noticing the distinct ways the cities and towns are different from the ones I am used to in the States, visiting shops and cafes, and being exposed to different elements of local design and culture, seeing different eras of architecture, seeing the street art (and noticing the techniques and styles morph over the years), walking around residential areas and noticing the construction and materials used, visiting museums, etc.—and taking inspiration from all of it. Documenting it in photos and by journaling.
Eighteen years after that first Europe trip I am still just as inspired when I travel, whether in the U.S. or internationally. If at all possible when visiting a new place, I try to visit the contemporary art museum and/or galleries, look for and visit design shops and decor shops (some of my favorites are in Antwerp and Copenhagen), look up any notable architects from the area and try to see their work, and try to find the best coffee in town.
Favorite Element: Daniel: My favorite element of the apartment is the openness that we were able to bring to the space by removing several of the existing interior walls. Originally, the apartment was a dark and stuffy traditional two-bedroom apartment (with tiny bedrooms). We knocked all of the bedroom walls out and in the space where they once were we designed and built one master bedroom with a walk-in closet and added a walk-in coat closet/boot room off the entryway of the apartment.
To maintain a sense of openness, instead of using drywall in the new build-out, we used birch plywood and translucent polycarbonate panels. The polycarbonate panels provide enough privacy for a bedroom but they also allow the light from the two windows on the exterior wall of the bedroom to illuminate the main area of the apartment. Our bedroom door opening and doors were also designed with openness in mind—consisting of two 4×8′ sliding doors of ply and polycarbonate and a 7′ wide opening.
Tes: I think I have at least four favorite elements of the apartment. One of my favorite elements is also the sense of openness that we were able to bring to the space. The goal was to try to somehow make this rather small and basic apartment feel as modern and loft-like as possible, given the time and money constraints we were under, and I think we ended up pulling it off pretty well! I also love the kitchen—the mixture of brass, stainless steel, and glossy white is just one of my absolute favorite things about the space. Next, I really adore the little attic bedroom! We really felt it was necessary to retain a bedroom space for guests, even though we knew we needed all of the square footage on the main floor to be put to use in other ways—the attic space was literally just big enough to function how we needed it to. It is just so cosy and cute and the view you have from the window at the peak makes you feel so high up. Lastly: color, color color. The yellow room and the pink foyer/bathroom floor make me seriously happy every time I look at them.
Biggest Challenge: #1: time. #2: money. Up until about the last six months of the renovation process, Daniel was on tour six months out of the year (each year) with the band Every Time I Die, and Tes was in the middle of a PhD program in Philosophy at the University of Chicago. That means that both of our schedules were insanely busy, and because of money constraints (and maybe also because we do like doing this stuff…) we were doing all of the work ourselves. It took probably five times longer to finish the project than we had originally intended and of course in the end we spent way more as well.
What Friends Say: "Wow, this place has changed so much… last time I was here it was a total construction zone and ya'll were sleeping on a mattress in the living room walled off with plastic."
"How do ya'll know how to do all this stuff?"
"Wow! Very bold and chic!"
"Can you come to our house, please?"
"Wow, you guys really nailed it!"
Biggest Embarrassment: That the exterior of our building doesn't yet match the interior! Next on the list is taking care of that gray vinyl siding…
Proudest DIY: Well, we do everything from plumbing, painting, electrical, drywall, and framing ourselves… honestly, the whole apartment is our proudest DIY to date! The most difficult thing we did ourselves on this project was probably installing the new header/support beam that was necessary after we removed all the bedroom walls. Daniel made the beam and our friends Trevor and Codesiah came over late one night and the four of us heaved it into place on rickety ladders (won't do that again).
Also worth noting is the contribution that our friend and architect Tafhim Rahman (@tafhim.rahman) made to the design and build-out of the plywood and polycarbonate room!
Biggest Indulgence: Vintage designer furniture pieces to outfit the apartment after it was completed!
Best Advice: Daniel: One should not feel the need to follow any design trends (or any trends for that matter), design and decorate your space based on what inspires you and what you actually like, and what makes you feel good, even if the mix of things goes against the norm. Also, "measure twice, cut once."
Tes: Try to find your spot on the swing between "less is more" and "more is more" — don't go too hard in either direction. Take risks and give color a shot.
Dream Sources: Lambert & Fils Studio; Valerie_Objects; Allied Maker; Muller Van Severen; Baxter; Muuto
Resources
PAINT & COLORS
All paints are Behr Marquee (unless otherwise noted)
All white paint is Nano White
Bedroom wall color — Limousine Leather / matte
Entryway / bathroom floor color — Sweet Chrysanthemum / eggshell (plus two coats of high gloss oil based poly on the floors)
Bathroom wall color — Dark Ash / eggshell
Attic bedroom color — Behr Premium Plus High Gloss: Custom color match to Glidden Miami Jade
Yellow room color — Behr Premium Plus High Gloss: Custom color match to Rustoleum professional traffic striping paint.
LIVING ROOM
Mix modular sectional by Gus Modern — Purchased from Modern Coop in Pilsen, which was located just around the corner from our house at the time.
Vintage Pastille chairs by Eero Aarnio — Purchased from our friend and modern furniture aficionado @bakerferguson. He has great taste and is a fantastic source for vintage modern designer pieces.
Mobile chandelier, large — Brass by West Elm
Vintage Ibex taxidermy — Wisconsin Flea Market
Wood sculpture — Found at Mt. Lemmon, AZ (and then poly'd)
Rug — IKEA
Vintage brass pedestal — Craigslist
Vintage brass floor lamp — Estate sale
Vintage brass console table — Estate sale
Vintage polished aluminum and glass coffee table — Paul Mayen from @bakerferguson
White aluminum tall planter — CB2, discontinued
Vintage telephone — Tes's Grandpa Sim
Vintage glass and chrome side table — Craigslist
Vintage plastic mushroom table lamp — Estate sale
Vintage Biomorphic glass vase with teak base — Antique auction
Vintage chromed steel triangle side table — @bakerferguson
Black steel cube planter stand — Trash pick from Philly
Vintage Thorens turntable — Daniel's dad
Original vintage landscape oil painting — Estate sale
Original "Prayer" oil painting by Pilsen artist Juan Carlos Torres Gonzales — Purchased at a charity auction for the school across the street from out house.
Stockholm mirror — IKEA
OFFICE NOOK
Brass wall light — CB2
Vintage Burke Tulip chairs — Model 116 from Craigslist
Wall mounted desk — We made from reclaimed wood from a Philly dumpster.
Polycarbonate panels mounted and used as dry erase boards
DINING ROOM
Vintage brass and glass dining table — Craigslist
Vintage Eames PSC chairs — Herman Miller from Craigslist
Vintage Thonet Sof-Tek stacking chairs by David Rowland — @bakerferguson
Original acrylic painting on wood — Steve Hash
36″ George Nelson "Bubble Lamp" — Modernica
Vintage Biomorphic glass vase with teak base — Antique auction
Plant stand – "Socker" plant stand — IKEA (discontinued)
Vintage West German pottery vases — Antique auction
KITCHEN
Brass swing arm wall sconces — CB2, we converted and hard wired these, instead of using as plug in lamps.
Ceiling fan with light — Home Depot
Vintage schoolhouse pendant light over sink — Wisconsin flea market
Kitchen cabinets — IKEA SEKTION base cabinets with Grevsta stainless steel fronts
Brass drawer pulls — CB2, discontinued
Glass coffee maker — Coffeemaker No2 by Manual
YELLOW SUNROOM
Vintage brass and glass coffee table by Mastercraft — Craigslist
Vintage Bill Stevens side chair by Knoll — Craigslist
BEDROOM
Antique metal bed frame — Lakewood Antiques Market Atlanta (RIP)
Tes converted the frame from a full size that required a box spring to a platform style that accommodates a queen size mattress without a box spring.
Los Ojos blanket — Pendelton
Original flower oil painting — Estate sale
Mirrored cube side table — Thrift store
Wood bedside lamp — Menards
Teak root and chromed steel chair — Antique auction
ATTIC BEDROOM
We converted this space from an unfinished dusty attic space into a fun little guest bedroom. Since this space was an addition to the back side of the building (many years before we bought the place), some of the wood on the walls is the original 1896 siding from the exterior of the house. To seal up this old wood to make the space livable, we had to paint four or five coats of primer and several coats of the final paint color. We added built-in bookshelves on the landing of the stairs—we thought that this otherwise unused space was a convenient spot for storing books, and it solved our problem of not wanting to have bookshelves in our main living area.
We cut 6″ planks out of ¾" OSB and used these planks as our wall covering. We left them natural and coated them with three coats of high gloss water based poly for durability and aesthetic.
We made the handrail that leads up to the sleeping area using a wood beam that Daniel got out of a dumpster of renovation waste in the Bridgeport neighborhood of Chicago. It's a pine beam from the 1890s. We sanded it and sealed it with the same high gloss poly as the walls (from Home Depot)
Yellow ceiling light – IKEA PS 2017 table lamp; We converted it for hard wire and ceiling mount use.
BATHROOM
GODMORGONd cabinet / ODENSVIK sink — IKEA
Moen matte black bathroom faucet — Menards
We removed the old outdated tile from the bathroom and our entryway and installed wood flooring that we made by cutting down 6″ wide planks of ¾" plywood. We had done this before in our rental unit downstairs and were really happy with the results. This time we were even more happy, since we decided to paint the floor high gloss pink! Since these floors will be exposed to moisture, we sealed them with several coats of a high gloss oil-based floor poly. The oil-based poly did add a slight amber tint to the floors—we were okay with this given the extra protection and durability of oil-based poly (versus a water-based poly that wouldn't add the amber tint, but wouldn't hold up to the moisture as well as the oil based).
BACKYARD:
Wood Fired Hot Tub — 6′ steel stock tank from a Tractor Supply store, a 31-gallon galvanized steel trash can from Home Depot, about 50′ of copper tubing, some metal drill bits, a bunch of miscellaneous connectors for connecting the copper coil to the tub, and a truck load of firewood.
The basics of the hot tub are pretty simple: a large tub of water, copper tubing that is connected to the tub, the tubing enters into the burn barrel and coils many times around inside the barrel, then comes out of the barrel and is then connected back to the tub at a different point (so that water can freely flow through it). A fire is built inside the barrel—the copper coil heats up, which heats the water inside it—when the coil gets hot enough, it creates a thermosyphon, which pulls the cold water from the tub into the coil, and pushes the hot water through the coil and back into the tub.
Then over time we built the beds, planted a Japanese Maple, and have added other plants, shrubs, and ornamental Midwestern grasses.
Thanks, Tes and Daniel!
---
Apartment Therapy supports our readers with carefully chosen product recommendations to improve life at home. You support us through our independently chosen links, many of which earn us a commission.