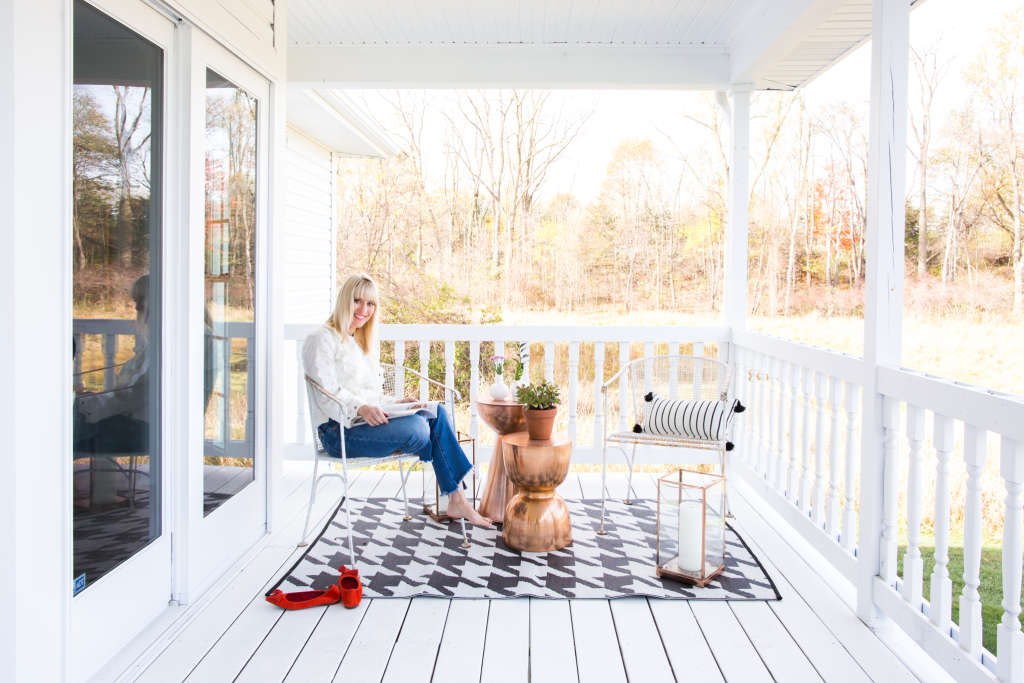 Here is something every small-space dweller learns in the course of living pint-sized: Your home does not have to end at your four walls. In fact, the best way to expand your mind and your living space is to spend as much time as you can in the "in-between" space just outside your door, amongst neighbors and nature and all that good stuff out in the world.
So this weekend, we thought we could all spend some time cozying up our spaces to get as much of that in-between time as possible, even as the temperatures drop.
Apartment Therapy Weekend Projects is a guided program designed to help you get the happy, healthy home you've always wanted, one weekend at a time. Sign up now for email updates so you never miss a lesson.
This Weekend's Assignment:
Clean and cozy up an outdoor space.
If you think you don't have an "outdoor" space, extend your thoughts and your weekend to include alternative locations, like your stoop, a shared courtyard, or just the small corridor space right outside your front door. It's a lovely time of year and we should all try to carve out small ways to enjoy it.
So here are some things you can tackle this weekend, in the name of cozier weekends the rest of the season:
Sweep and clean your threshold and entryway
Those leaves are taking over. Reclaim the space for yourself, and maybe the benefit of your neighbors.
Beat out your doormat
Or get a mat if you don't have a good one already. Whether you go classic or cheeky, you should have a mat that welcomes you home with a smile (plus it helps to keep your indoors clean). Here are some of our favorite doormats.
Clean your outdoor light fixtures
Or add some light, if your outdoor spot doesn't have any already (evenings are getting darker and darker). This portable (and affordable) modern lantern works well for renters or anyone with a shared space; you could keep it near your entryway and carry it out with you. Or if you're up for a design-y splurge, this LED lantern is super hygge.
Cover any outdoor furniture that needs protection from the weather
Yes it's sad to say goodbye for now, but better to make sure your non-weatherproof furniture lasts for many, many more temperate seasons. If you don't already have covers, the AmazonBasics brand furniture covers seem to all have 5-star ratings. (Lots of AmazonBasics have 5-star ratings, actually.)
Find a convenient place to stash a blanket
…or a comfy coat, or anything else that helps you enjoy your outdoor space in the cooler weather months. If you already have a blanket by the door or in a storage container outside, you're more likely to take your book or knitting outside when the weather's nice.
Add a touch of fall decor
Add a wreath or a seasonal hanging for decoration—and to feel the magic of how one piece can turn a leafy little nook into what is truly an outdoor room. You can't ever go wrong with a natural wheat wreath, in our book.
Get an evergreen plant
What isn't made better with a plant, really? Talk to the folks at your local nursery to find a plant suited to being outside through most of the winter, so it can keep you company out there any night that's literally not freezing.
You can catch up with weekend projects right here. Share your progress with us and others by posting updates and photos on Instagram and Twitter with the hashtag #atweekendproject.
Remember: This is about improvement, not perfection. Each week you can either choose to work on the assignment we've sent you, or tackle another project you've been meaning to get to. It's also completely okay to skip a weekend if you're busy or not feeling the assignment.
Apartment Therapy supports our readers with carefully chosen product recommendations to improve life at home. You support us through our independently chosen links, many of which earn us a commission.