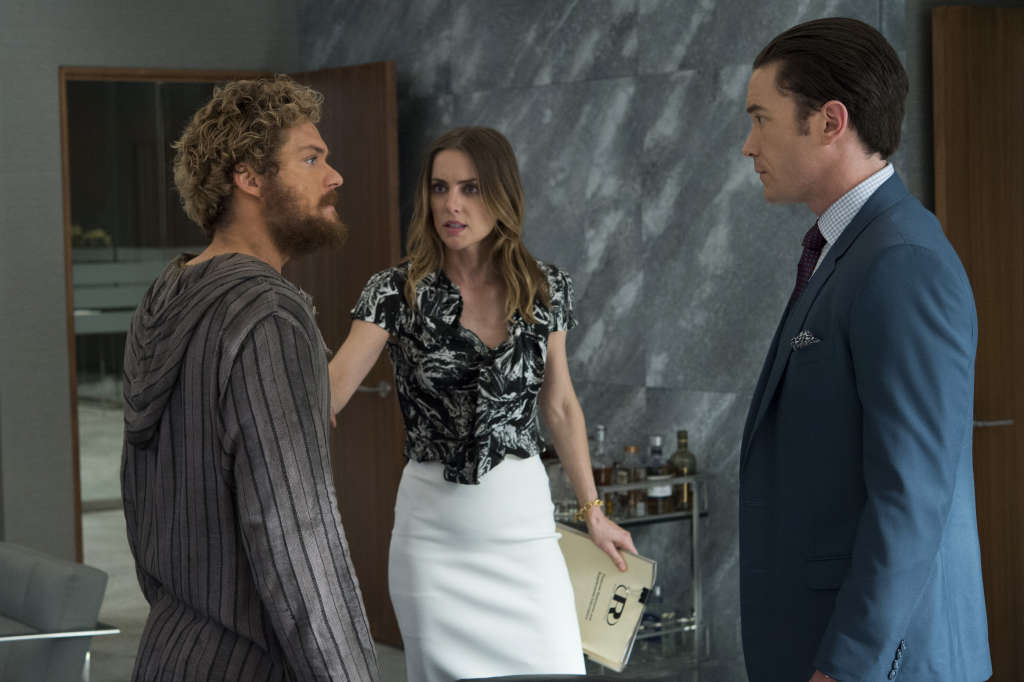 If I were plotting revenge and generally cooking up evil plans, a sleek, modern loft sounds like a pretty good place to do it. In Marvel's "Iron Fist," the character Joy Meachum's apartment is haunting in its stylishness. But if you don't focus on the evil deeds happening, it's really just an impossibly chic lair.
What keeps this look interesting is the moodiness. The industrial loft certainly plays into this, but more importantly, so does the lighting. As we enter Joy's apartment, the first area to catch your eye is the multi-pendant lighting installation over her sofa. It is the same style pendant in different sizes, hung at slightly different heights. I think this is brilliant. The pendant is a simple round shape, but because of the variation in placement, it becomes more visually interesting without feeling chaotic. You know how for a few months all of our favorite DIY light fixtures were bare bulbs hanging from the ceiling? This is the elevated version of that. And don't feel like you have to buy eight pendants. Three would be beautiful over a dining table.
The other lighting within the space is statement-making as well. A sputnik style pendant hangs over the entry and oil-rubbed bronze dual pronged sconces flank the front door. Both take up visual space in a subtly aggressive way, making you stop and stare.
(Image credit: Linda Kallerus/Netflix)
The furniture consists of classic modern styles. Nothing too recognizable, and that's key. This is not a flashy, modernist art collector's apartment. It's subtle and conservative. Maybe that's the key to a truly great villain. You never suspect them because they live in an objectively well-designed apartment without ostentation.
The sofa is classic, other than the fact that it is custom and wraps around a pole in the middle of the room. Straight back in a light gray fabric with a slight curve to the arm for a point of interest, it's definitely a piece that can be sourced from a variety of retailers. The chairs are a modern take on a wingback with a sloped arm—these are covered in an icy gray fabric that does have a bit of a sheen, and trim is a silvery stain, which is unique because you often see these chairs done with a dark wood trim. If you can't find the right color, consider painting or staining it yourself, you DIY queen.
A vintage inspired, gilver (that's gold-silver to you) bar cart is your sly conversation piece. Sitting near a rectangular, silver coffee table, only your enemies/consiglieri with great taste will recognize its slight dissonance within the space and comment on your sharp design eye.
Add two or three vases filled with fresh flowers or greens, but nothing too cheery or bright. After all, you're not trying to make people happy, you're trying to take over the world.
Get the look
Sofa: Mitchell Gold + Bob Williams Cara Sofa, from $3,030
Chair: Mitchell Gold + Bob Williams Ariana Chair, from $2,430
Rug: West Elm Distressed Foliage Rug, sale from $96
Coffee table: RH Nicolas Glass Coffee Table, $3,595
Round pendant: YLighting Convertible Drum Pendant, from $218
Sputnik pendant: Pottery Barn Explosion Chandelier, $799
Side table: RH Thaddeus Forged Iron & Marble Side Table, from $1,095
Bar cart: Target Sinclair 2-Tier Bar Cart, sale $125.79
Sconces: Shades of Light Elegant Dual Arm Taper Sconces, $529
Paint: Benjamin Moore Whitestone 2134-60
Apartment Therapy supports our readers with carefully chosen product recommendations to improve life at home. You support us through our independently chosen links, many of which earn us a commission.