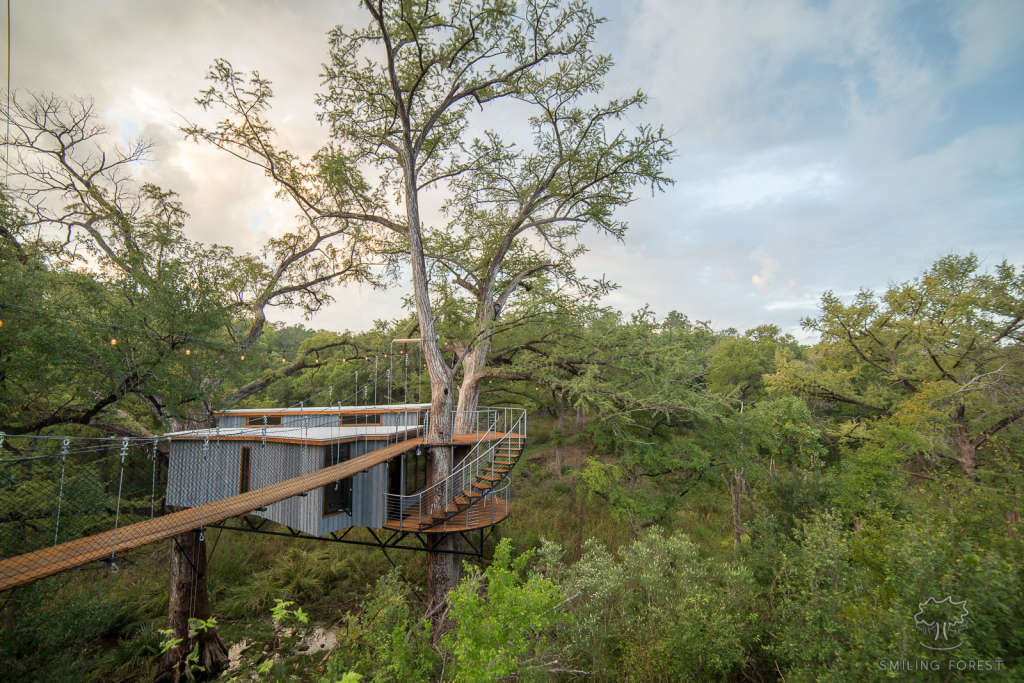 On your next vacation, you could easily go the standard route by booking a hotel room in the getaway spot of your choice, or you could toss a little bit of childhood nostalgia into mix by spending a few nights in a real-life treehouse. Sleeping one of the whimsical elevated dwellings is one of the more unique ways to get in some rest and relaxation while simultaneously testing out the theory that living in a treehouse is as dreamy as it sounds. Appealing to the inner child in all of us is this Yoki treehouse vacation rental in Texas, designed by Will Beilharz, founder of sustainable design studio and construction company, ArtisTree.
Named for the Hopi Native American word for rain, the 500-square-foot treehouse is located an hour outside of Austin. The home is comprised of two structures: the birch plywood-clad main area is elevated 25 feet off the ground, hovering above a small creek and wedged between two bald cypress trees that help it to blend in with its natural surroundings. Meanwhile a detached bathhouse made of concrete and pine sits on the ground nearby and is accessible by a 60-foot suspension bridge that connects it to the main cabin.
The interior of the treehouse bears a polished, modern aesthetic that nicely contrasts the woodsy landscape. There's a kitchen and dining area, a loft bed perched just above a sitting area, a bedroom and an observation deck on the roof. The bathhouse features a large, luxurious tub and panoramic windows. The designers prioritized sustainability in the construction process through the use of reclaimed wood and locally sourced materials. The Yoki also has solar panels and a rainwater harvesting system.
In addition to the Yoki treehouse, ArtisTree also designed four other luxurious, eco-friendly retreats in the Austin area, Mexico and Hawaii. So, pick a treehouse and prepare for a getaway that will uplift you in more ways than one.
h/t Dezeen