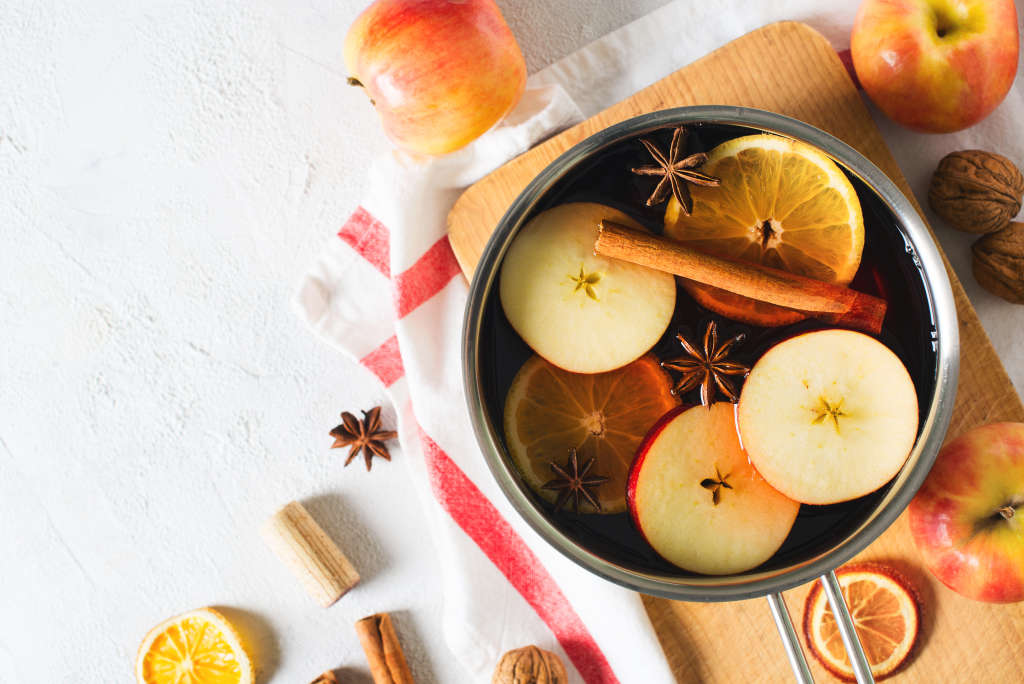 The season of scented candles has begun! While Pumpkin Spice Latte and Vanilla Bean Frosting might sound scrumptious and inviting, the truth is that many scented candles are made of petroleum-based paraffin with dubious artificial scents. A better and safer alternative is to do what your grandmother did: simmer a pot of spices on your stove!
Ingredients like cinnamon sticks, apple peels, orange rinds, cloves, apple juice, vanilla, anise, and nutmeg will soon make your home smell like you've been baking all day.
How to Create a Simmer Pot:
Fill a small saucepan with water and bring to a boil. Add the ingredients from your favorite recipe, continue to boil for a few minutes, then turn the heat down to simmer. Add water as needed, usually every 30 minutes or so.
You can also use a Crock-Pot or other slow cooker to create a simmer pot: Fill the pot most of the way with water, add your ingredients, put on the lid, then turn the slow cooker to high. When there's steam rolling off the lid, take the lid off and set the slow cooker to a low or simmer setting. Add water as needed to keep it at least halfway full.
Be prepared: Get into the habit of saving (rather than composting) your orange peels, lemon and lime peels, and apple and pear skins skins.
Simmer pots are more of an art than a science. These recipes below can be remixed to your taste or your pantry. It's ok to leave ingredients out, go heavy-handed with the scents you like, or substitute things in the recipe for other flavors you like better (or to suit what you have on hand).
Cinnamon Apple Simmer Pot
cinnamon sticks
apple peels
orange rinds
whole cloves
Lemon & Orange Simmer Pot
peel from 1 lemon (or lemon slices)
peel from 1 orange (or orange slices)
2 bay leaves
3 cinnamon sticks
2 Tablespoons whole cloves
Creamsicle Simmer Pot
a few drops vanilla extract
orange peels or orange slices
Lavender Simmer Pot
1 cup dried lavender (or lavender essential oil)
1 tsp anise
1 Tablespoon nutmeg
1 Tablespoon whole cloves
1 cinnamon stick
Bay Leaf Simmer Pot
5 bay leaves
1 Tablespoon whole cloves
2 sticks cinnamon
Colorful Cranberry Simmer Pot
orange slices
lemon slices
cinnamon sticks
a dash of nutmeg
1 tsp cloves
a handful of cranberries
Pumpkin Spice Simmer Pot
4 Tablespoons apple cider
a generous sprinkle of pumpkin spice seasoning
cinnamon sticks
ground nutmeg
a drop of vanilla extract
whole cloves
Do you have a favorite simmer pot recipe? Tell us below!
Re-edited from a post published 10.18.2011—TW