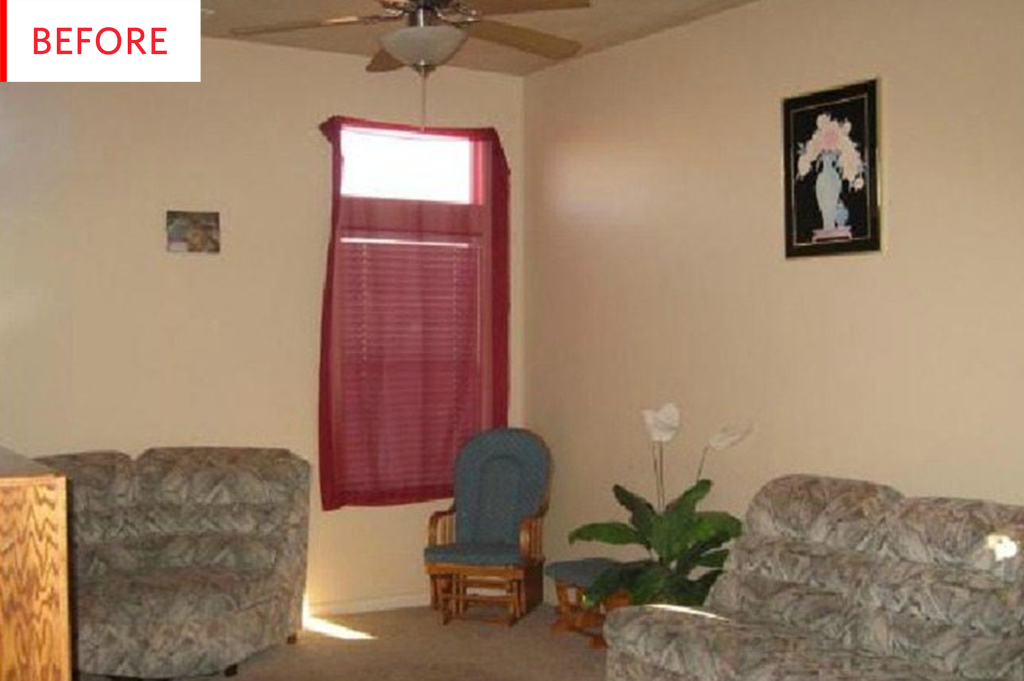 Some people see a living room like this and think about giving the walls a fresh coat of paint, swapping out the furniture if possible, and maybe saving up to replace the carpet. Others imagine transforming this fairly standard room into a fabulous loft—and even more amazingly, they actually follow through.
Here's a taste of the thought process that went into this daring renovation, courtesy of owner Mandi:
My inspiration for the space was an industrial-ish loft (because that is all I want in this world, and lofts don't exist in Southern Utah).
We've seen plenty of renovations in which raw brick was exposed, but I believe this is the first in which brick walls were actually installed, and I hope it's the first of many. While you could create brick walls in any home you choose, this room, with its high ceiling, tall windows, and generous size, was perfectly poised to become a loft. If I saw this photo on its own, I would never suspect it's not a gem of a loft in a formerly industrial district.
This visionary makeover was done by Mandi of Vintage Revivals, who had an excellent strategy: Since the walls were going to be dark, she lightened the art, rug, and ceiling.
If you're interested in creating your own industrial loft out of thin air, Vintage Revivals has a faux brick tutorial, and check out the grouting portion of the tutorial. There's no exact total given for what this project cost in time and money, but the brick veneer (an assortment of random remnants) cost $5 per square foot, the bricks took approximately four days to install, and the grout cost $195 and took about 18 hours.
Does anybody look at this photo and think, "Ah yes, the loft of my dreams?" Vintage Revivals did, and I want to hire Mandi to look at every aspect of my home—and life—and describe all the hidden potential.
The white wall opposite the windows is crucial, acting as a floor-to-ceiling bounce board for light. The art is a brilliant choice as well. There is a grid of eight large-scale pieces which together suit the proportions of the wall to a T, but the actual illustrations are rather small, meaning there's a ton of white negative space to reflect light.
The palette of the furniture—white, black, tan, and various shades of wood—works quite well with all of the hues of the bricks. The varied brown hues all work together, while the white and black keep everything looking crisp and modern. I especially enjoy the black frame around the doorway—so dramatic!
There were obviously many steps between the original living room and the new loft, so be sure to check out all of the process photos and the links to each specific project at the bottom of Vintage Revivals' loft reveal post.
Thank you, Vintage Revivals!