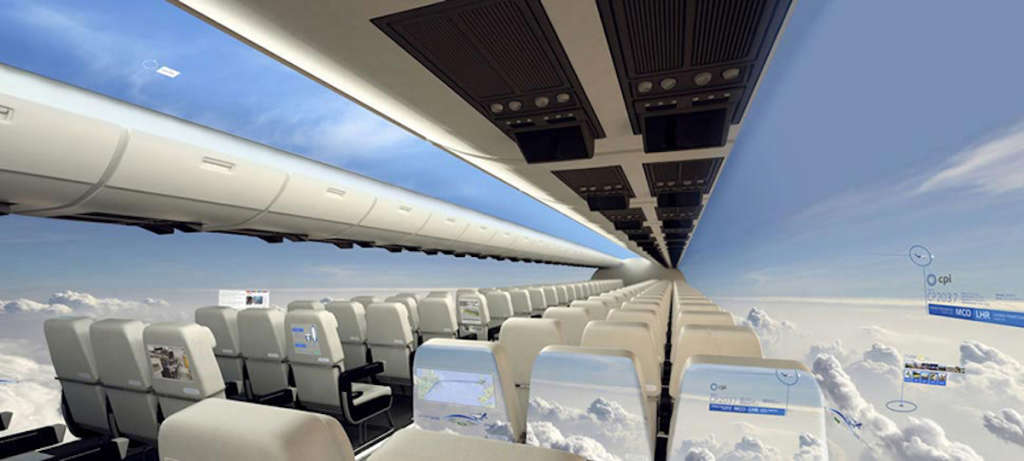 What is the appeal of the window seat on an airplane? Maybe you want to get a view of the sky as you travel, or perhaps you just don't want to get stuck in the middle seat. It seems like everyone fights for the window seat, rather than the aisle seat, and the person last to the fight gets stuck sitting in the middle.
Well, if you love the window seat for the view, a new type of airplane is currently being brainstormed. The Center for Process Innovation, a British research and technology firm, is hoping to create windowless planes as the future of air travel. Yup, you read that right, they want the plane to have no windows at all, but not to get rid of the view, but to enhance it.
The Center for Process Innovation has been working on their windowless planes concept for years now. The idea is to create virtual windows using OLED touchscreens, that way every seat on the plane is a window seat and every passenger has their own view.
CPI's pitch is:
Imagine a cabin where the windows are display screens, relaying a choice of views from around the aircraft. If you're not sitting in a window seat, your large seat-back display becomes your window on the world as well as a source of entertainment.
Supplement this with subtle cabin lighting from gently glowing walls and you create a unique travel environment. Screens that are ultra thin, very light and highly flexible are integrated with the fuselage or the seat backs with no unsightly, clumsy or heavy housings.
CPI is working with companies in the industry to develop thin and flexible display screens that can be embedded into the fuselage lining panels. The idea is to build these screens so they last for the planes entire lifetime. CPI is looking to create a cost-effective roll to roll processes of lighting the display screens. According to the company's website, it will take them about five years to create these types of screens.
An upside to windowless planes, according to CPI, is that they will be lighter, thus meaning planes can fly faster and burn less fuel. However, other concerns have been raised. When speaking with BBC about Emirates planning to test out windowless planes, the aviation safety expert of Cranfield University, Professor Graham Braithwaite said:
"Being able to see outside the aircraft in an emergency is important, especially if an emergency evacuation has to take place. Flight attendants would need to check outside the aircraft in an emergency, for example for fire, before opening a door and commencing an evacuation – and anything that needed power to do this may not be easy to get certified by an aviation safety regulator."
You can see more about CPI's plans for windowless plans in the video below: