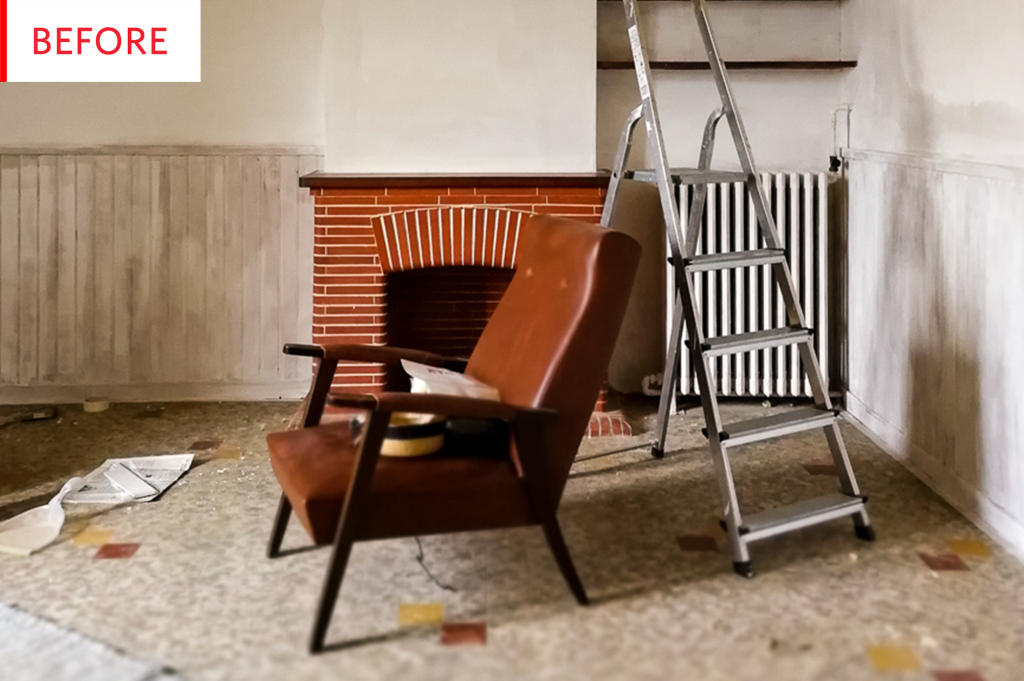 This is a near-perfect cozy corner—imagine curling up by that fireplace in that chair, warmed both by the fire and the radiator—but its new owner believed it could be totally perfect. And, indeed, perfection was achieved, thanks to about $150 and a summer of hard work.
Here's a little backstory on this house and its dated floor:
Our house was built in 1910 and this particular floor was the only one replaced since. These '80s tiles felt very out of place among our stunning surviving floors, but I did not want to rip out a perfectly functional floor just because it did not suit my taste. Having dreamt of a crisp black and white patterned floor for some time, I decided to paint my own with the aid of a stencil and professional quality tile paint.
Tiina Lilja of Chez Nous N°21 created this stunner of a floor that looks both at-home and surprising in this historic home. The pattern is classic but the paint is fresh, just like the original wainscoting is revived by a coat of paint.
I am astounded by how well all these patterns work together. Part of that is probably Tiina's photo skills, but the scrolled floor pulls together all the parallel lines of the wainscoting, fireplace, and radiator. And for a room that's entirely black and white except for the fireplace, all of the patterns create so much variety and texture.
This floor in question was installed sometime in the early 1980s and it was clad in 10 cm by 10 cm ceramic tiles in a gray faux stone pattern, peppered with red and yellow accent tiles. The work had been done well as 30-odd years later everything was still straight and solid, with hardly a scratch in sight. Great pity, really, that I really hated all of it.
One of the prettiest process shots we've ever received—but here's what doing this project was really like:
I ended up working on this project on and off for a whole summer, falling out of love with the repetitive stenciling every now and then and finally finishing nearly four months later. Painting the base layer was easy as pie, but stamping out the pattern quickly grew tiresome. The stencil I ordered online was a near perfect replica of one of our existing encaustic cement tile-motifs and I found using it relatively easy, but pretty damn dull. It was certainly surprising how much sheer labor went into creating a whole floor's worth of prints, and I did not realize how often you needed to clean the back of the stencil if you wanted to avoid spoiling every other imprint. The paint, which I over-purchased by a mile, still cost less than £100 for the two colors I chose (brilliant white and charcoal gray) whereas the stencil came to around £15, which I thought was not half bad. Hah hah, and please do not make me think of the invisible cost of splendid summer days spent on my knees stamping out this pattern!
I heartily salute Tina for such impressive stick-to-itiveness, patience, and knee sturdiness.
This is so exquisite; I love seeing how the pattern is coming together, and how the lines of the original tiles work so well with the new stencils. If you're finding yourself as tempted as I am, definitely heed Tiina's advice first:
Based on your personal "make do and mend" philosophy, DIY proficiency, and overall enthusiasm on spending time on your knees, you might want to consider if this project is for you. Floor painting is truly something that can be made just as easy or as hard as you wish and I jumped straight in the deep end. Painting ceramic tiles would have been simpler with a water-soluble product, certainly, but as I needed to use materials I knew would last without chipping for years to come, (we have a large Alsatian dog so durability is paramount) I had to work with trade quality floor paints that tend to be oil based, rather than the quick drying and odorless DIY-kind. This lead to a few problems, mostly when it came to staggering out my printing so that I could avoid smudging fresh impressions by accident and cleaning out the back of the stencil every now and then, which was a pain.
As a confident painter, I know what to expect with trade products, but in hindsight, I was not anticipating how much dedication needed to pull off this project. Before starting, I did read a few blog posts on DIY stenciled floors and most of them described this as a quick weekend project. Well, let me tell you IT IS NOT. Having said that, I now have a unique handmade floor that looks great too—just make sure you know what you are signing on for before any paint is spilled!
It looks like a dreamy place, and I hope Tiina is finally able to enjoy it:
All bitterness I had harbored towards this DIY floor quickly evaporated as I saw it finished. Months of crouching on the floor, all the back pain—it simply melted away when I finally got to admire the refinished floor. I loved being able to give this set of old tiles a second chance and compared to the price of gutting and replacing a floor, I ended saving a load of money too. I learned this is something I can do and did do well, but let's just say I am glad there are no other floors in my house that need a quick update…
Thank you, Tiina Lilja of Chez Nous N°21!