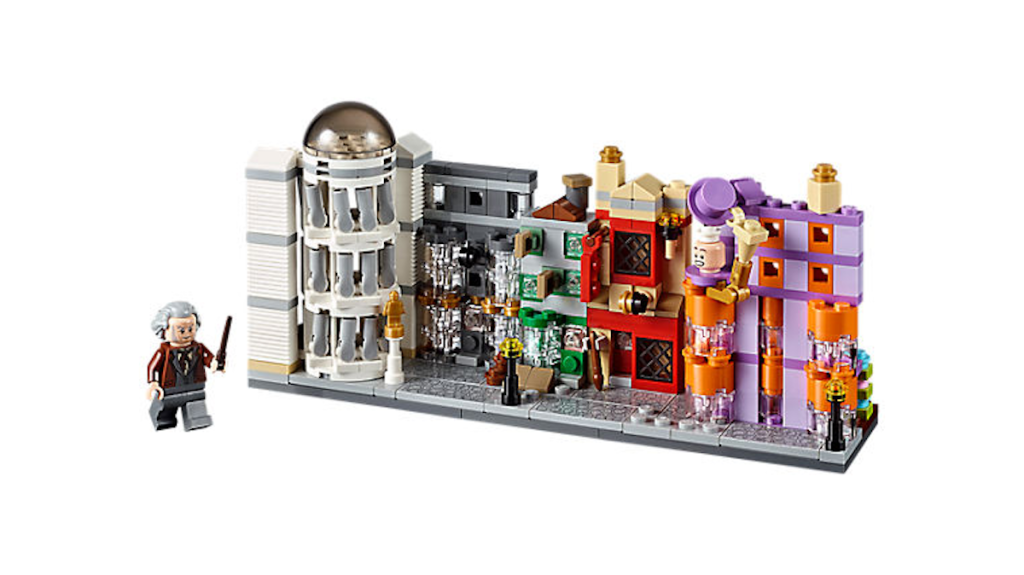 Happy Christmas Harry! Well, more like Happy November thanks to LEGO. Right now, LEGO is running a promotion that will make your Christmas shopping extra magical. Remember when earlier this year LEGO released a 6,020-piece Hogwarts castle? Well, LEGO is back with another incredible Harry Potter product.
If you buy a Harry Potter LEGO set, you can get the Diagon Alley set for freethroughout November. So, if you've been waiting to buy that Hogwarts castle, now is the time to do it because you're going to get a free gift that you cannot pass up.
Recreate the magic of Diagon Alley™ with this magical LEGO® micro build featuring Gringotts™ Bank, Ollivanders™ Wand Shop, Flourish and Blotts, Quality Quidditch™ Supplies and Weasleys' Wizard Wheezes, plus a Mr. Ollivander minifigure with a wand.
In order to get this free Diagon Alley set, you're going to need to make a big purchase. So, don't think you can purchase a tiny Harry Potter figurine and get this item for free. In order to get a Diagon Alley set, you'll need to buy a Harry Potter product valued at $99 or more between November 9 and November 21, or while supplies last. You can purchase these items in store or online.
This version of the Diagon Alley set was not previously for sale in LEGO stores or online. However, it was spotted for sale last year in Slovenia, according to The Leaky Cauldron. LEGO does have a different Diagon Alley set that has since been retired.
The Diagon Alley set is for ages 10 and up. It comes with 374 pieces, so it will be a much easier build than the Hogwarts castle. If you really want this, you can choose from LEGO's Hogwarts castle ($399.99), the Great Hall ($99.99), or you can mix and match various Harry Potter products from LEGO until you hit that $99 threshold. The Hogwarts Express is $79.99, while the Quidditch Match set is $39.99.