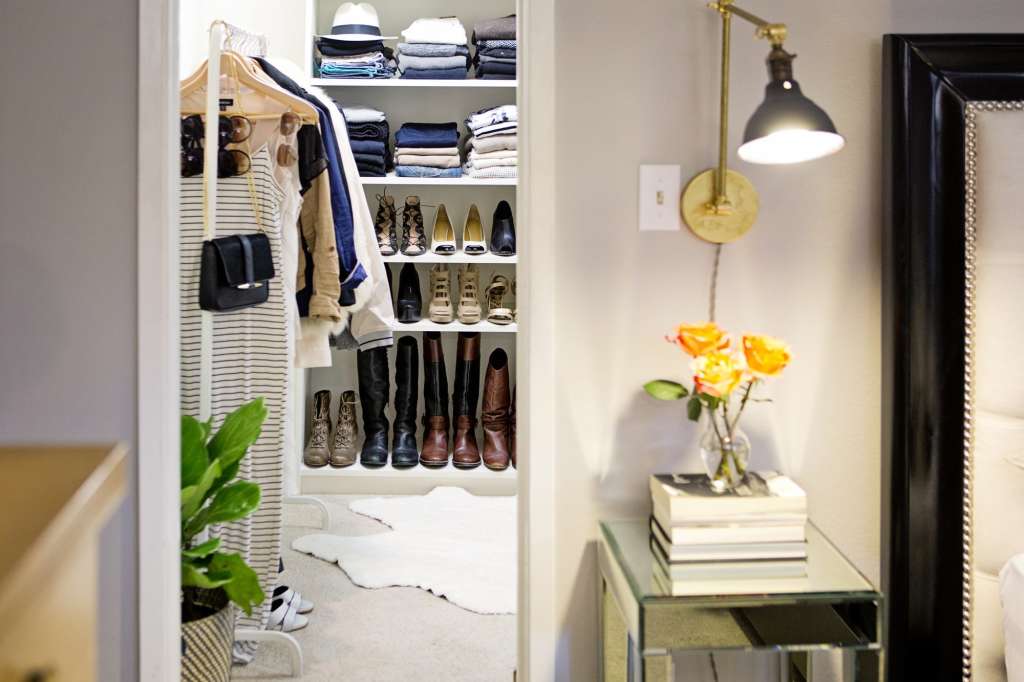 I'm a little OCD when it comes to my closets. All of the hangers match and face the same direction, and I've color-coded and categorized most of what I own. The set up consists of two decent sized reach-in closets that face each other in a tiny little hallway off my master bedroom with a vanity at the end of it. It feels like a walk-in even though it's not. Really, it's my happy place, my little oasis in all of New York City. And I really maxed those closets out, spatially speaking, with a couple of key add-ons—shelving units by Closetmaid placed on the ground for things like T-shirts, sweaters and jeans and, just above the hanging bar, extra open shelving all the way to the ceiling for shoes. But there's just one problem: Tall floppy boots.
You might have them, too: suede over-the-knee boots. Or maybe it's a slouchy style that comes up just below the knee. If you have something made out of super stiff leather, then you're probably okay. But anything else, and it's a problem. I mean, if your boots are anything like mine, then they're always knocking each other over like dominoes, which is annoying because you have to constantly fix them. And sometimes it's a slow burn, and they just slouch and slump until the shaft of the boot is basically on top of the the toe box, which just makes an otherwise organized closet look like crap.
I realize this is a totally first world problem, but the thing is, people, there's a fix. I had a total eureka moment when I found these clear inflatable boot shapers at The Container Store. For $5, you get a set of these blow-up forms that will hold your boots' shape, keeping them upright and tidy in your closet.
You can't really see the shapers since they're clear and largely covered by the boot fabric. Plus, they're as easy to inflate as a beach ball. And, sure, I could have saved the cardboard inserts and tissue paper that often come with new shoes. But I pack my boots up for the spring and summer. Those kinds of packing materials take up extra space, whereas these shapers deflate down to practically nothing.
Like this idea but don't want to spend a dime? You could try using a couple of wine bottles in the same way. Rinse them out, toss one in each boot and done. Then you can recycle them at the end of the season, so there's zero shaper storage involved whatsoever. Wine bottles might not be as sleek as my clear inflatable boot shapers, but they'll get the job done. And you get to drink the wine first!
Apartment Therapy supports our readers with carefully chosen product recommendations to improve life at home. You support us through our independently chosen links, many of which earn us a commission.