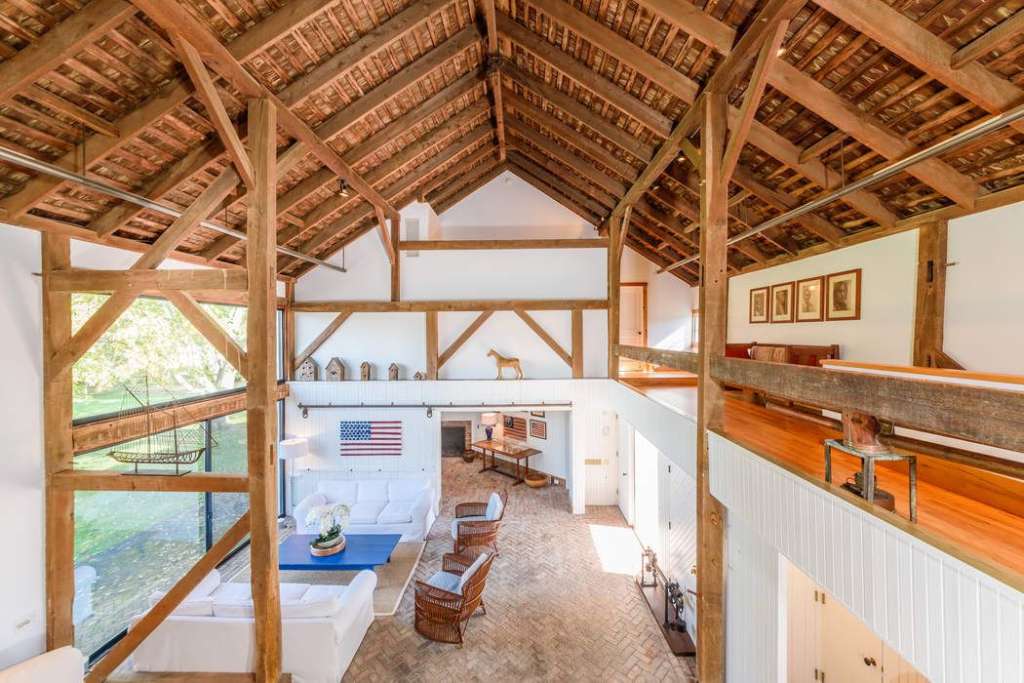 If you've ever left a door open, you've probably been asked if you were raised in a barn (the antiquated phrase refers to farmers' tendency to leave the door open during the day to facilitate easy coming and going.) But what in the past was a clever dig is now a compliment. With all the attractive homes converted from barns on the market right now, who wouldn't want to grow up in one? The following five converted barns blend vintage charm and modern updates—and are so appealing and welcoming that you might just consider placing an offer on one.
297 Market Lane
Square feet: 5,969
Listing price: $2.35 million
Located in a former dairy barn built in 1925 or earlier, this home on 3.64 acres in Clinton Corners, New York, has room for the whole brood, complete with six bedrooms and four and a half baths. It was originally converted in 1970 and underwent a major renovation in 2007. Use the two-story carriage house as an office or a guest retreat.
153 Two Town Road
Square feet: 6,122
Listing price: $1.25 million
Prefer wide open spaces? This home in Hillsdale, New York, is located on more than 50 acres of land with a stream, a pond, and breathtaking views. The Shaker-inspired main farmhouse has a flowing layout, comprising four bedrooms and two baths. The separate converted barn features two beds, two baths, a gourmet kitchen, a sleeping loft, and a spa room with hot tub and sauna. Count us in!
554 Hedges Lane
Square feet: 9,000
Listing price: $14.95 million
Talk about wow factor. This Hamptons compound—in Sagaponack, New York—consists of a converted 1880 barn, a pool-house barn, and a guest house. It features a total of nine bedrooms, 12 full baths, and three partial baths.
The main house is a dreamy light-filled space filled with rustic touches—like antique hewn beams and a vintage brick floor—and modern amenities—like a media room and a gourmet kitchen. The master suite comes complete with his-and-hers baths, a study, a fireplace, and a private sundeck. Did we mention the sunken tennis court, pool, and postcard-perfect lily pond with arched bridge?
195 Marshall Corner Woodsville Road
Square feet: 7,500
Listing price: $785,000
How neat would it be to live in a former apple farm barn? Located in Pennington, New Jersey, this charming home (with four bedrooms and three full baths) was converted in the mid-1980s and still retains much of its original character. The kitchen is outfitted with designer appliances. A loft-like upstairs bedroom is reached by climbing a hidden staircase within the silo.
76 Windmill Lane
Square feet: 4,600
Listing price: $3.5 million
Three steel-clad barns were joined together to create this farmhouse-style home with an industrial spin in Bridgehampton, New York. Designed by Jack Ceglic, two barns make up the main house—adjacent to a courtyard and a granite pool—and the third is a guest house.
Highlights include geothermal heating with radiant-heat concrete flooring as well as glass walls. Double-height windows also allow in ample natural light. All told, the home has four bedrooms, four full baths, and one partial bath.