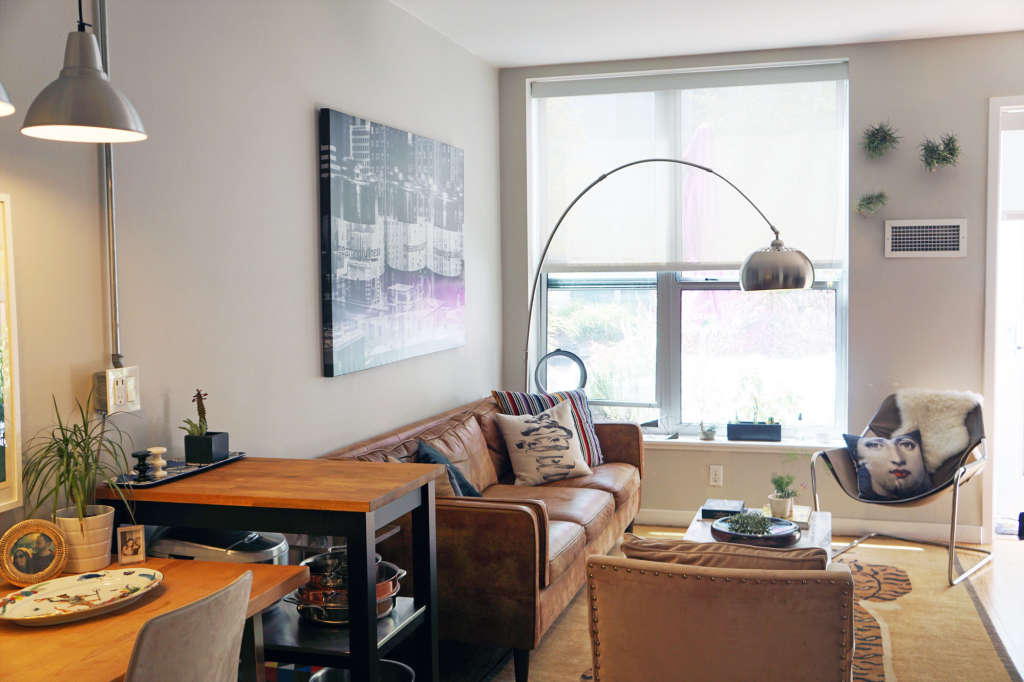 Name: Alessandra Wood, my husband, Brian, and our dog Coco.
Location: Design District — San Francisco, California
Size: 496 square feet
Years lived in: 3.5 years, owned (although my husband has lived here for 10!)
I'm Alessandra Wood, Director of Style at Modsy. I have a PhD in design history and wrote my dissertation on the design and merchandising of mid-twentieth-century department stores. I love vintage and antique everything and firmly believe that we can learn a deeper story about the past via studying designed objects. My life fuses the past (my academic trajectory) and the future (my role at a tech company). Having a foot in both worlds gives me a different perspective on the world around me. When I buy new things I like to think about buying them for my grandchildren, who I assume will be collectors—what will be on Antiques Roadshow or sell at a premium in vintage stores from our generation? I want to be that grandma that still has all the things from her wedding registry in daily use. Those are the things I like to buy.
I live with my husband Brian Gauld, Head of Marketing at a crypto startup. Brian's professional career has centered around entertainment and technology, working at Playstation, YouTube, and a few startups in between. An audiophile who loves cars, he has great taste and a good sense of design; he's the minimalist. While I define myself as a maximalist, I do have a big soft spot for minimalism, and when you live in 496 square feet being a minimalist (or at least looking like one) is key.
We both live here with Coco, our rescue Chihuahua who I adopted just before I moved from Delaware to California. While it might be our least favorite part of the space, we think Coco's favorite part about our house is that she can always see us, no matter which room we're in.
Four hundred ninety-six square feet means you get to know a lot about each other. We've worked really hard at creating zones in the condo to mentally divide the space (like mid-century department stores!). Brian was big into IKEA in his early bachelor days, and we have a few pieces that are still going strong. He had a wall of BILLY Bookshelves that we used to create a dividing wall between the sleeping area and the living area. We added glass doors to these to make them feel a bit more refined, and added a PAX at the end for extra storage. On the other side, we wedged in a desk. This wall helps make the space feel less dorm-like and allows for the idea of separate rooms.
The living area has a few pieces from Brian's early days: the arc lamp, marble coffee table, and media console. The sofa, rug, and side chairs are things we purchased together. I wanted to make the space feel comfortable, collected, and introduce warmth and texture. We opted for a leather sofa, which is aging beautifully over time. After years of having my eye on a Paulistano chair, we found the frame at a warehouse sale and had a seamstress make a new leather sling for us. The tiger rug is one of my favorite pieces. It's the first adult rug I ever bought, and I'm continually shocked at how beautifully it wears and cleans. This piece is my ode to mid-century collectors who seemed to effortlessly mix modern and classic pieces in their homes. The velvet chair is one I bought because I wanted a comfortable seat; I found this one at Gump's and liked how it contrasted the minimal pieces.
The dining area is one that we created together when we just started dating. We custom-made the table to fit perfectly in the space. This is where we work and eat sometimes, though we mostly have dinner sitting around the coffee table.
Thanks, Alessandra Wood!
• Interested in sharing your home with Apartment Therapy? Contact the editors through our House Tour & House Call Submission Form.