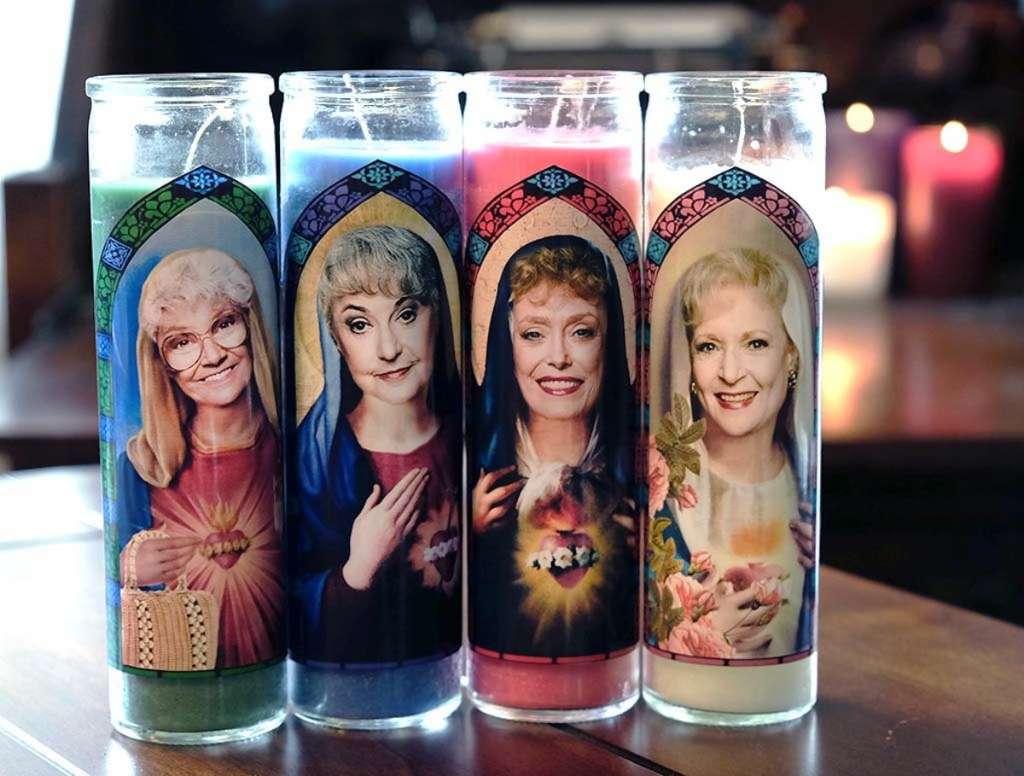 Thank you for being a friend! Can you believe that "Golden Girls" went off the air 26 years ago? Thanks to Nick @ Nite and TV Land, "Golden Girls" has become beloved by many generations. Betty White continues to be one of the cutest women in the world and is now a national treasure. So, it should come as no surprise that people are still obsessed with "Golden Girls" all these years later.
Target recently put "Golden Girls: cereal on their shelves, as well as an " Any Way You Slice It" board game. Target is great and so is Etsy. On Etsy, sellers have very unique products that are tailored toward different genres and fandoms. Golden Girls lovers can now buy a set of prayer candles. And just in time for Christmas!
These Patron Saints of Miami / Set of 4 / Dorothy, Rose, Sophia and Blanche prayer candles are available for sale from the Etsy seller, The Eternal Flame.
Thank you for being a friend! Take your favorite Miami ladies out to the lanai for cheesecake and worship them as the holy saints they are.
This set makes a wonderful gift for when you need someone to see that the biggest gift is from you. And let us know if you want a card attached that says "Thank you for being a friend."
The 8″ tall candles are unscented and can burn for up to 100 hours. The "Golden Girls" images will last for years, as they are printed on high-quality weather and fade-proof vinyl stickers. The candles are made with recycled and eco-friendly packing materials. Once you've purchased the candles, The Eternal Flame suggests trimming the candle wicks up to ¼" before burning to be safe and reminds buyers to never leave the candles unattended.
You can buy the full set of these "Golden Girls" prayer candles for $44. If you don't want Rose, Blanche, Sophia, and Dorothy, you can buy the candles individually as well. Each individual candle is $12.95. These candles would make the perfect Christmas gift for your friends with old souls.