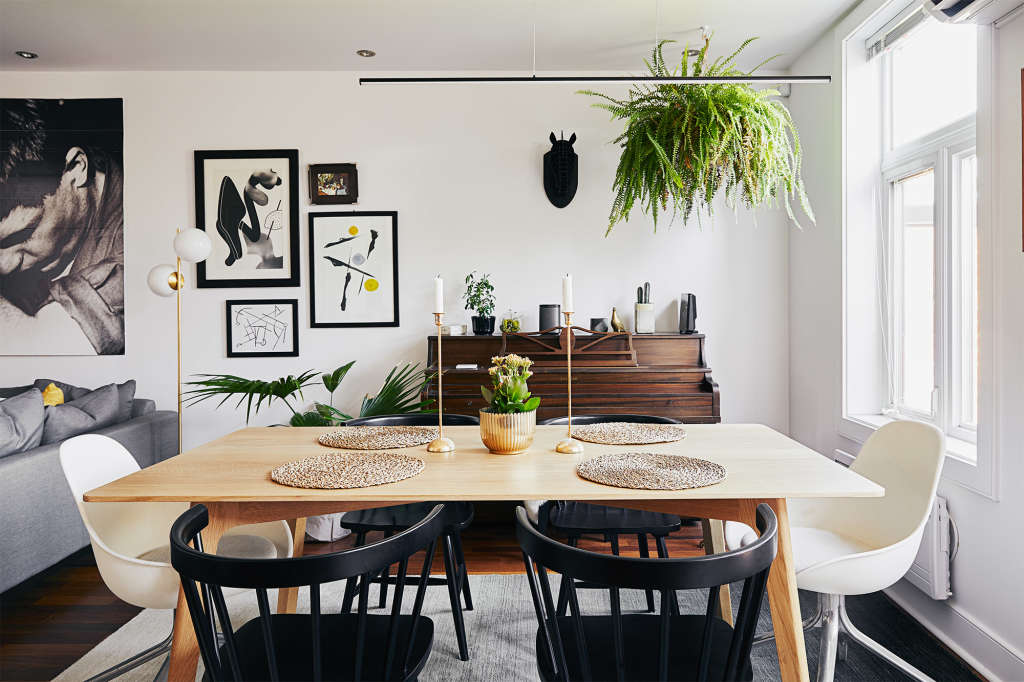 When I told my husband that I was going to write an article about what to get rid of in the dining room, he said without out a breath of hesitation, "How about the dining room?" It's a bit of "A Subject" at our house because I inherited my grandparents' entire dining room (the only thing I didn't keep is the chandelier), and we've been shipping it from home to home for a decade. And yet, the kids call our beautiful dining room "the Thanksgiving room." I'll let you deduce from that exactly how much we use it.
Whether your dining room is little more than an in-house museum like ours, or it's a lively hub for family puzzle parties, birthdays, and homework, it probably houses some items that you don't think of decluttering. So while the living room and closet get plenty of attention year-round, as Thanksgiving approaches, we thought it was a good time to revisit our dining spaces and stuff.
Whether or not you're hosting this year, here are some dining room items to consider saying goodbye to—whether or not you store them in the actual dining room:
1. Fancy china
If you have fancy china you use every day, awesome. Skip this one. But maybe the china you own is an inheritance, like mine. Do you love it? Keep it. I do and I do. If you don't love it, though, don't hang on to it from a sense of obligation or guilt. Though it may sound trite, life is too short and space is too scarce to keep things that weigh you down. Even if your fancy dishes are a relic from your own wedding, if you realize they may have been a mistake to acquire, it's okay to give yourself permission to let them go.
2. Excess table linens
You may bring out the same lace table runner every holiday or that may an item you can't help refreshing every year or two. Either way, you can only use one table runner at a time, and there are probably some you never reach for, either because you don't like them, they're stained, or your taste has changed. Donate them. Same with napkins, tablecloths, and placemats.
3. Redundant or never used serving ware
It's easy to hang on to serving platters, dishes, and bowls because you feel like you never know what you'll have to serve or for how many. But after hosting a few events, you know what you reach for and what sits unused. Make room for the good, faithful pieces to breathe—and for you to get them out easily.
4. Table decorations
Again, these may have come with sets you inherited or they may be holdouts from your earlier days. Think about what you use or love, and let go of anything you don't. For instance, I've been hanging on to the shells my grandmother used to serve tuna bakes on Fridays during Lent. I will never make a tuna bake, let alone serve it on a shell. I need to re-purpose these.
5. Antiquated pieces
Although many of the pieces in my dining room inheritance are ones I use on our rare "dining room occasions," I'm kidding myself if I think I will ever serve coffee from the ornate silver teapot. Our lives are different these days. Some of us have relinquished top sheets, for goodness sake. We need to evaluate how much we hold on to that is important to us only by extension.
6. Holiday decor
Do you find comfort in the tradition embodied in the same, familiar decor? Or is decorating for the holidays and special occasions more of a seasonal hobby involving sprinkling in new finds? Go through your stash of garlands, candles, ceramic turkeys, and fairy lights, and keep the items that are neutral, versatile, or favorites you get excited to see every year.
7. Things that have no business in the dining room
It's so easy to stash things away behind credenza doors. Maybe your dining table is the holding space hot spot you clear off in a hurry when guests come and you have a few eras of kids' unfinished art projects or school papers hidden in the cupboards. Out of sight isn't out of mind, though; think about how good it will feel to unearth the treasures buried in those paper piles and clear out those clogged shelves.
What will you get rid of in your dining room?