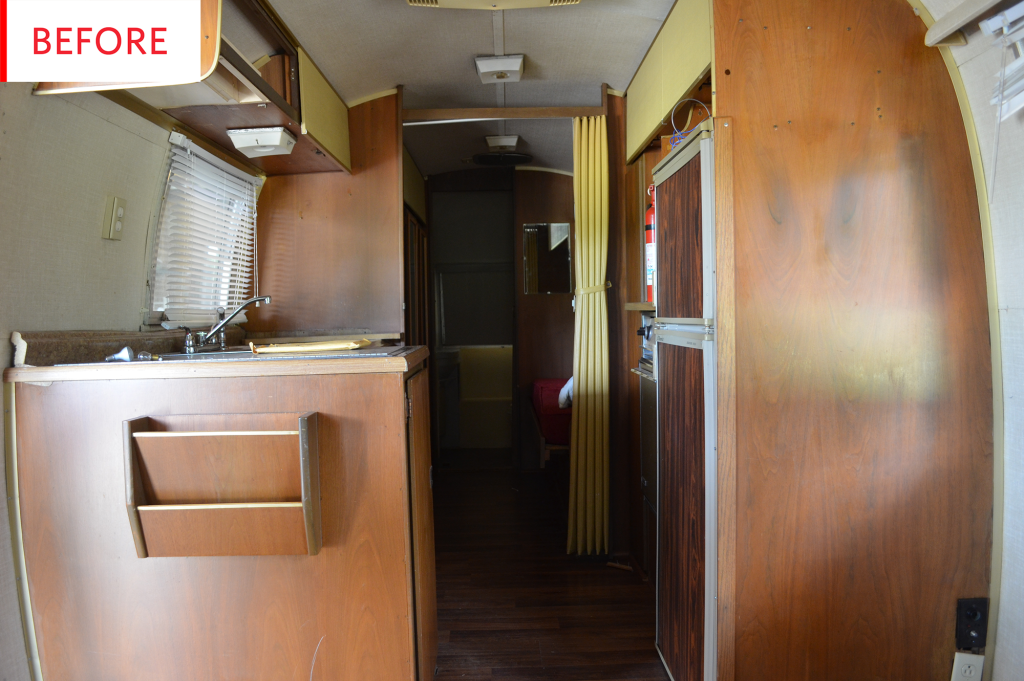 This vintage Airstream had a whole lot of faux paneling and bulk built-ins, but was recently given a breath of fresh air thanks to an enthusiastic couple who "loves to bring Airstreams back to life with a modern update."
This is completely dreamy. Colleen and Zachary Cashio of Steady Streamin' Cashios turned an intensely warm-toned and closed-off interior into a soothing, spacious, light-filled, beautifully foggy space full of subtle grays, silvers, white, pale wood tones, and reflected daylight. The white walls create a feeling of openness, while the floorboards draw the eye forward to the horizon, further creating a sense of space. The finishes and fixtures are all elegantly plain, so there's no visual clutter in this small space. The Cashios are very pleased with the results of their hard work, and especially love how bright and open the Airstream is now.
Trailer house tours and camper makeover photos rarely include the bathroom, so it's a treat to get to see how this one was transformed. Less of a treat was actually dealing with the bathroom:
It took us almost six months, including polishing it. We have about $35K invested, but that's materials and trailer, not labor. We did all of the work without any outside help. The biggest surprise was finding street signs holding up the toilet because of a leak.
The new bathroom fits more efficiently into the curve of the Airstream—the layout was tweaked—and though this is smaller than the previous bathroom, it feels roomier. All of the surfaces are smooth, and there's simply so much less going on, but with no utility lost. There's still a sink, counter space, toilet, outlet, light, mirror, and storage—there's just far less fuss now. The blue-gray paint continues to be wonderful, and it pairs exquisitely with the slightly peach-toned wood. The sweet little mini-backsplash adds a bit of ornamentation at a level that's appropriate for the space.
Here's a great look at the beautiful gray-washed floor, which looks just as fantastic in this black-and-white area as it did in the blue-gray/peach-wood kitchen. It has enough of a wood grain to be interesting, but not so much that it overwhelms the interior. That rug there appears to have been made for this floor, they look so perfect together. The low bed surrounded by windows is very inviting, and the abundance of pillows doesn't feel like too much thanks to their restrained palette.
If you daydream about renovating an Airstream someday, Colleen and Zachary have some advice for you:
Research, research, research. Vintage trailers are one of a kind and need certain love. It's an overwhelming process and you'll probably miss every deadline you make, but it's so worth it in the end. This is our second Airstream renovation and definitely not our last.
Thank you, Colleen and Zachary Cashio of Steady Streamin' Cashios!