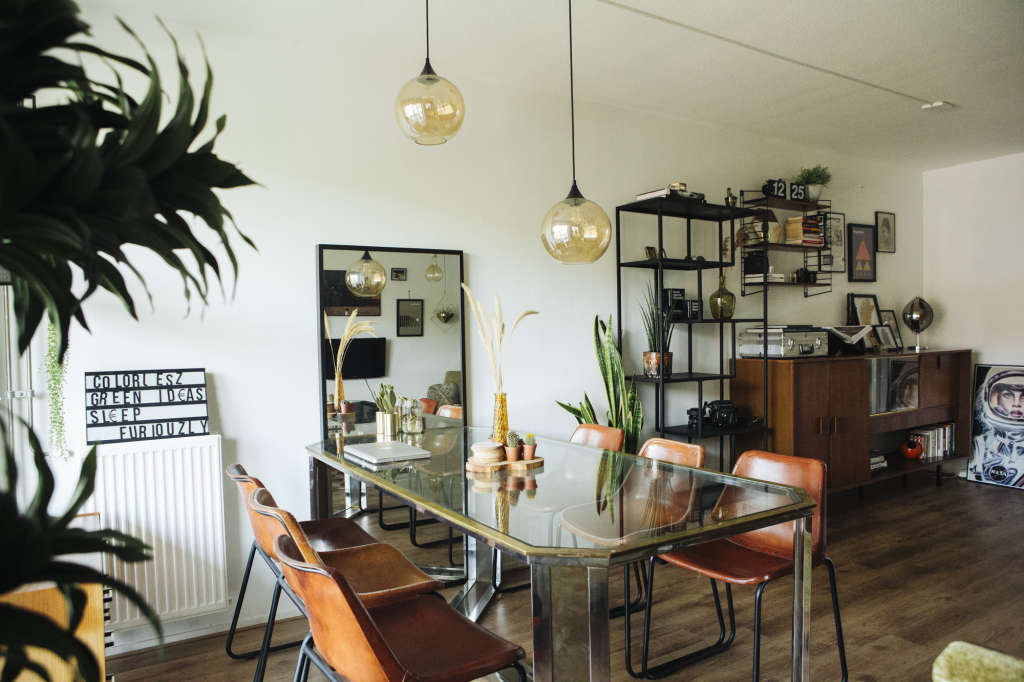 Name: Desiré van den Berg and my younger sister
Location: Amsterdam, Netherlands
Size: 700 square feet
Years lived in: 10 months, renting
I got this apartment by pure coincidence: I won a lot draw! The moment I found out, I started looking online for cheap secondhand furniture—a hobby inherited from my mother since I was very young. I'd never had an entire apartment for myself, so I literally still needed to buy all the big basics: a couch, a dining table, chairs, etc. But I did already have things to decorate the house with… in abundance. It's almost as if my whole life I'd been working towards the moment I'd get my own place.
I really wanted one wall in my apartment with a big and crazy wallpaper. Initially I was looking at '70s prints but that ended up getting really expensive, so as a way to save money I decided to print one of my own photos on wallpaper. This is a photo I took in the Caucasus mountains of Georgia last year and I edited the colors in a way that would match my interior.
(Image credit: Desiré van den Berg)
I've been keeping receipts and tickets from my travels, postcards sent by my friends, notes from loved ones, analog photos, Polaroids since I was a teenager, posters, and art from thrift stores and flea markets all over the world. I used all these items as a mood board for my interior. I bought the cheapest paint I could find and I decided to use one of my own photos as a wallpaper in the living room to save costs.
All of my friends and family came to help me with the place. I only had about a thousand euros to spend and impatient and overly excited as I am, I wanted to buy everything at once. By spending several hours a day online for a few weeks straight, I found the most beautifully designed dining table for free (that looks a lot like a Rizzo!), a dresser for 50 euros which I added legs to by myself to create the mid-century style I love so much, and so on. I remember barely being able to sleep from all the excitement. I really feel like I've found an actual treasure sometimes.
I only had a week to make the place livable and within three weeks it was finished. Friends coming over all said the same thing; "It's like you've lived here all along!" It's been a year now and I'm still always looking for new things to add to the house, moving around frames and furniture, or changing light bulbs to create the perfect light. I've come to realize my interior has become some kind of creative outlet I've secretly always craved for.
Then, when my 18-year-old sister who'd just started to go to university in Amsterdam told me she couldn't possibly find a place to live, I asked her to move in with me. I had a spare bedroom anyway! Now we love living together, cooking big meals or binge-watching entire shows on Netflix. We both didn't think she would stay this long, but it just happened organically and I really wouldn't want it to change anytime soon. Because of our big age difference, she didn't really grow up with me in the house, so in a way we're catching up on time too!
What is your favorite room and why? The living room. It's pretty big for Amsterdam standards, but it has a bit of a difficult shape. I like that, because it forces me to really think about the best possible composition with all the furniture I wanted to put in there and it enables me to kind of create different spaces within one space: a home office, TV/lounge area, and dining room. The dining table had to be big because I like to invite groups of friends over for dinner parties and game nights. Also, the light in the afternoon is absolutely stunning. I didn't realize when choosing the furniture's materials that it would enhance the incoming sunlight as much as it does. The brass reflects the light, creating beautiful shapes on the walls and ceiling, and the glass tables make it seem even more as if the room is truly bathing in the sun.
If you could magically change something about your home, what would it be? Well I love my couch and those two chairs but I guess eventually I'd like to go for something more comfortable and a bit bigger, like a corner sofa or something. I notice that when there's more than three people at my place and we want to order in food and watch TV, there's not enough space for everyone to sit comfortably. I have a pretty clear idea of how I can solve this, but because I only allow myself such a tight budget, it's going to be hard to find. At the same time I will have a hard time saying goodbye to my green velvet couch and chairs, so I'll probably just postpone it as long as I can.
Any advice for creating a home you love? If you're like me and you don't like the idea of spending too much money on furniture, look for secondhand furniture online by describing materials as opposed to describing style. I noticed a lot of the cheapest finds are being sold by people who don't know what it's worth and have no idea about interior design trends. So don't use words like "mid-century" or "Scandinavian," but words like "brass and glass table" and "chrome chair."
Thanks, Desiré!
• Interested in sharing your home with Apartment Therapy? Contact the editors through our House Tour & House Call Submission Form.