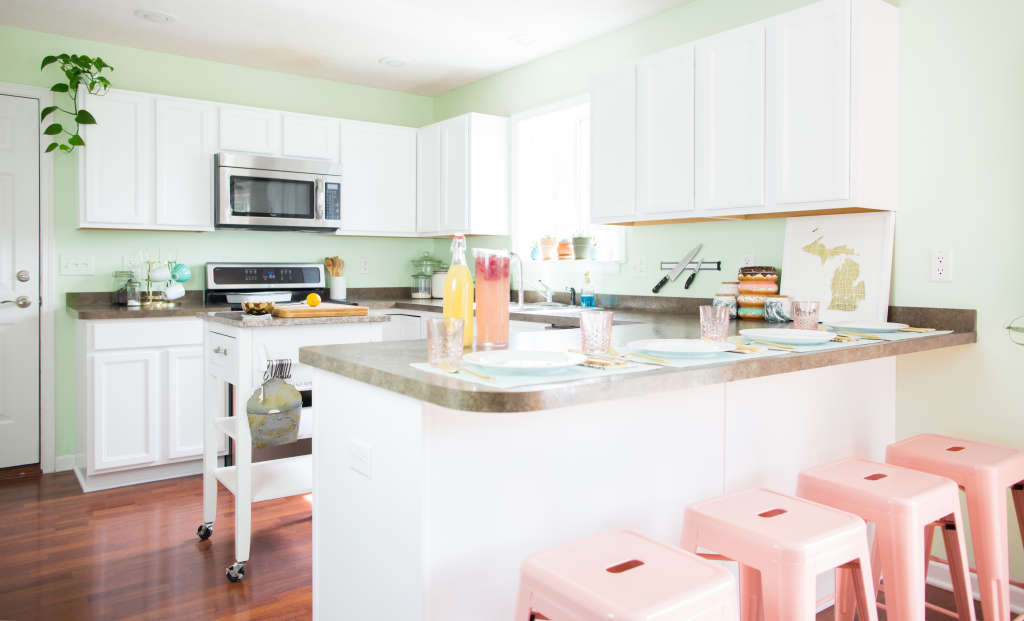 One year ago, the fabulous folks at Swatch Out came to my house to show all of us how to paint drab wooden cabinets white. The end result was incredible. My house looked brand new — even more so than when I'd painted the walls around my kitchen cabinets earlier that year. Instead of being a dark, depressing void, my open-format kitchen became an inviting, bright space. All at once, the house seemed bigger, brighter, and just plain happier.
Although I knew I'd love the results, I wasn't without fear. How would the paint hold up in a heavily used kitchen? Would it chip, flake, stain, or discolor? If you're considering going the route of painting your existing cabinets instead of the more costly option of replacing them entirely, let me calm some of your fears.
Here's how my painted kitchen cabinets have held up…one year later.
About a month after the cabinets had been painted, I spotted what I thought was a mark from a black sharpie. I couldn't understand how it ended up on the side of the cabinet. I set out to see if I could remove it with some soapy water. I wasn't immediately successful, and when I drew my fingers across the mark, it became clear that it wasn't a mark at all: it was a dent! As it turned out, my bad habit of letting the toaster's plug fall over the edge of the counter wasn't something the painted surface could handle. Upon further inspection, there were multiple marks around the same height, presumably where I'd let the cord fall before. It was an important realization, and one I keep in mind every time I'm in the kitchen: Painted cabinets don't hold up super well to bangs, scrapes, and cuts. So keep that in mind!
More on Painting Kitchen Cabinets
As for staining and cleaning, I'm happy to report that I haven't had any trouble. I've discovered a few caked-on bits of who knows what that cleaned off quickly and without issue. Same for fresh spills — even things like tomatoes and greasy batters haven't left a mark and come off readily with a gentle scrub from a cloth dampened with warm soapy water.
Over time, I've caused a few more nicks and dents here and there. That said, I think you'd only see them if you were looking, and they really don't bother me at all — especially when you consider the trade-off of being able to wake up every day and come down to my newly brightened kitchen. Even in the cold, dark days of winter, my home feels more open and airy than ever before.
So, would I do it again? Absolutely! If you're fortunate enough to start with good bones, painting existing cabinets can save you thousands over the costs of replacing them. I would make this decision again in a heartbeat.
Now, all I need to do is get rid of my hideous countertops!
Have you painted your kitchen cabinets? How are they doing now?