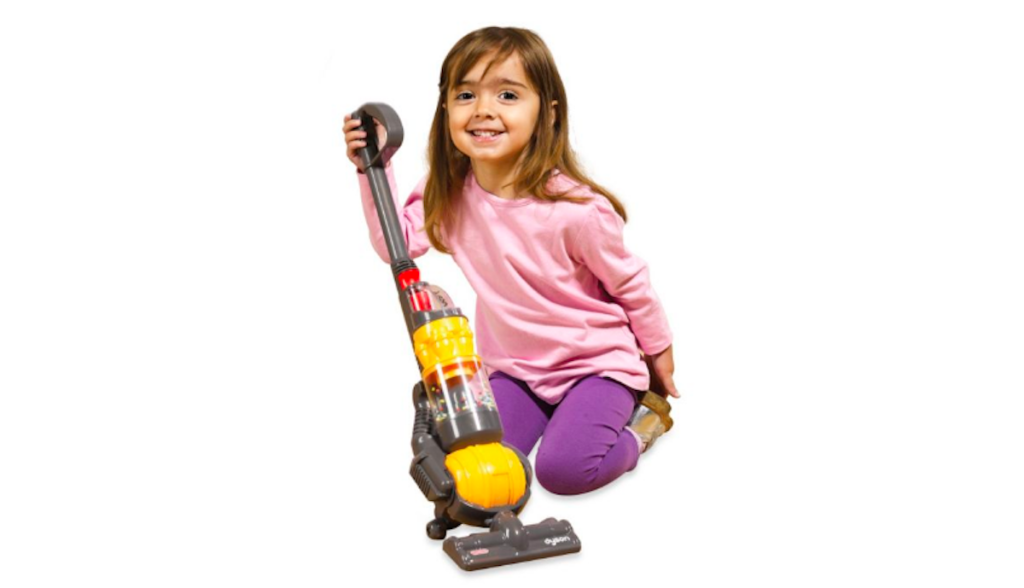 Most days, it seems like no matter how much you clean, the house is always dirty five minutes later. There is a never-ending amount of laundry. Even when you're done with every basket of clothing, the clothes you're wearing still needs to be washed and the cycle begins again. You find dust, debris, and lord only knows what on your floors just 20 minutes after you've swept.
If you live with children, you've most likely accepted that there will always be something that isn't clean in your home. Maybe they leave their dirty socks in the living room. Or maybe you have a budding artist that enjoys "painting" on your walls. Well, you might not be able to break those habits yet, but you can at least have clean floors! Did you know Dyson sells a working vacuum meant for children? It is just under $30 too.
The company sells a Dyson Ball Toy Vacuum that looks exactly like the full-sized product meant for adults. The product description reads:
Take your little one's role playing to a new level. The Dyson Ball Toy Vacuum makes helping around the house even more exciting and realistic for your child, making them feel like part of your world while also developing essential life skills.
It is meant for children ages three and up (due to small parts, children under this age really should not use this product). It has simulated cyclone action with tiny, colorful balls. It twists and turns like the real Dyson Ball Vacuum. It actually features suction at the foot of the vacuum and can pick up small pieces of paper or tiny poly beads. There is even a dustbin at the back that can be removed and emptied!
Parents can purchase this from Bed, Bath & Beyond for $29.99. It has over 72 reviews on their website, with many of them being positive 4 or 5-star reviews. One reviewer said it is sturdy for children around 30 pounds, as her son loves to stand on his toys when he plays.
Will you be buying this for the little one in your life this Christmas?
Apartment Therapy supports our readers with carefully chosen product recommendations to improve life at home. You support us through our independently chosen links, many of which earn us a commission.