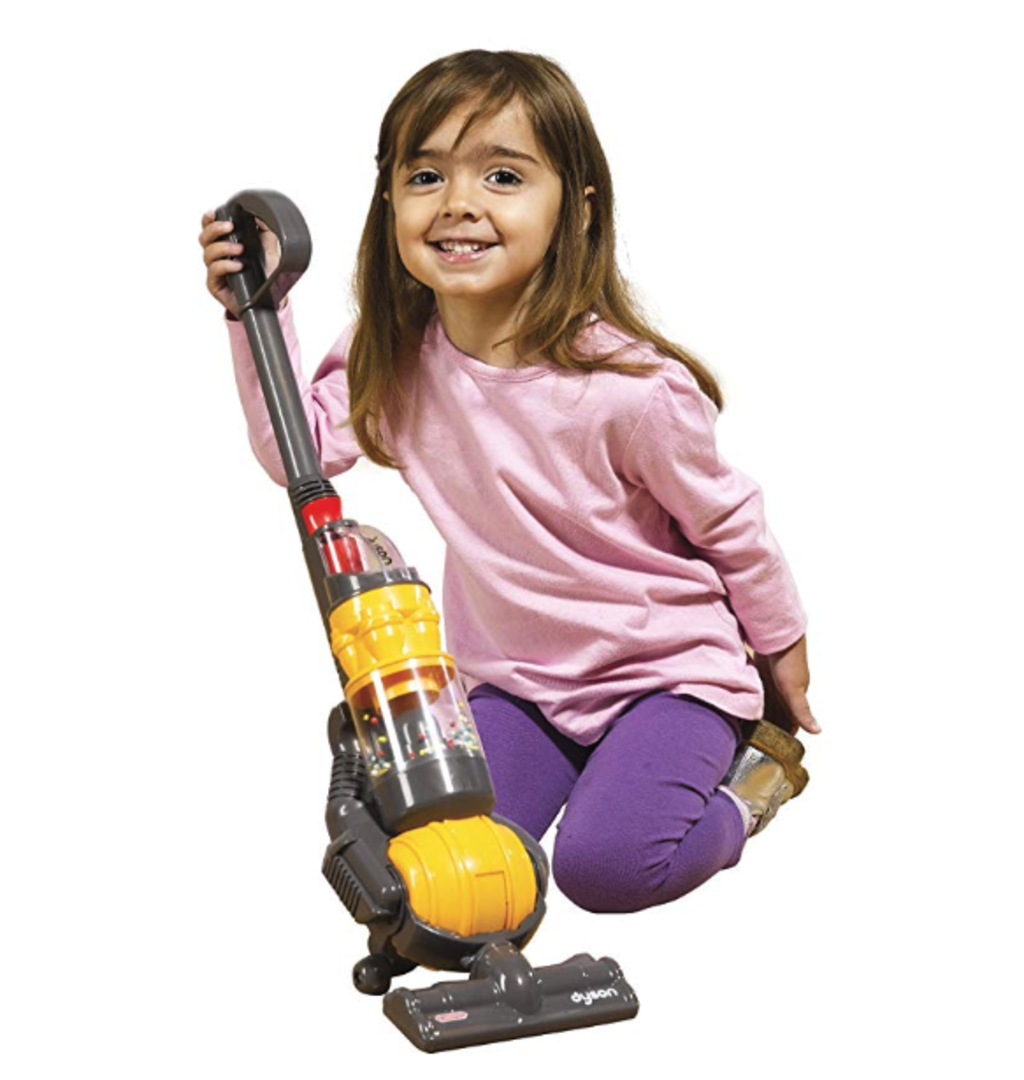 A vacuum might feel like a real dud of a gift as a grownup. But a Dyson vacuum? Apartment Therapy may be biased, but that feels more like a super-fun gadget than a cleaning tool. (Seriously, a few editors own one and swear it takes some of the drudgery out of chores, no #sponcon here.) So when we spotted a Dyson-for-kids over the weekend, that seemed like hitting the jackpot—everything is better when it's miniature… right? What's more, the $29.99 tool actually works (and who could blame a few industrious parents for briefly contemplating the upside of outsourcing through play).
And we weren't the only ones who bought into the hype—more than 40,000 people shared the find from our Facebook page alone. But a few readers also pointed out the obvious: the ad for the kids' Dyson Ball Toy Vacuum features a photo of a young girl. And, while the ad copy accompanying the photo is gender-neutral (and an additional video adorably features both boys and girls), it touts the benefits of giving kids ages three and up this vacuum to "role play" with and to help develop critical life skills. Readers were quick to share passionate opinions on the product, the pros and cons of giving a child a kiddie vacuum for the holidays, and whether it's a subtle cue for girls to do domestic labor when they get older. So is it all good, clean fun, or is there something more nefarious at play?
Ask Marie Cartier, PhD, a senior lecturer in gender and women's studies at California State University Northridge, and she'll tell you this is a totally "inappropriate" gift.
"The model is a young girl," she says. "What role is she playing that this toy would help with? What 'essential life skills' is she developing? Yes, for most of us, vacuuming, may be part of our world—but we'll pick that skill up when we need to. Hopefully we don't need to learn it at three years old."
To Cartier, the fault lies in the ad copy.
"I don't know that I for one would describe 'vacuuming' as my 'world' or that a child learning to vacuum is a way to become part of my world," she says.
But beyond the copy itself, this concept can be reinforced inside the home, as well—particularly when chores are split between gender roles in a family with one mom and one dad. According to Eileen Kennedy-Moore, PhD, a clinical psychologist in Princeton, New Jersey, and author most recently of 'Growing Friendships,' if both mom and dad do housework, that's a way more important message.
"If Dad is as likely to vacuum as mom, kids won't think that vacuuming is a girl thing," she says.
Kennedy-Moore has a bigger issue with the message behind the product itself.
"I don't know if this is an ideal gift because there's an implied criticism with it as in you should be doing more cleaning," she says.
In the end, children of any gender can enjoy or loathe vacuuming, says Kari J. Winter, professor of American Studies in the department of global gender and sexuality studies at the University at Buffalo, SUNY.
"Gender stereotypes aren't intrinsic to the vacuum itself," she says. "What's more important is that children learn gender straitjackets or gender equality from the dynamics in their homes, schools and society."
So maybe a vacuum is just a vacuum—and a chance for kids to copycat mom or dad this holiday season.
"Little kids like to model what the adults are doing," Kennedy-Moore says. "They can understand what it means to vacuum way better than what it means to balance the checkbook. They'd have no idea how to do that!"
(Note: When reached by Apartment Therapy, Dyson declined to comment due to the fact that this is a licensed Dyson product produced by a toy company in the UK. We also reached out to that company, Casdon Toys, and had not heard back by publication time.)