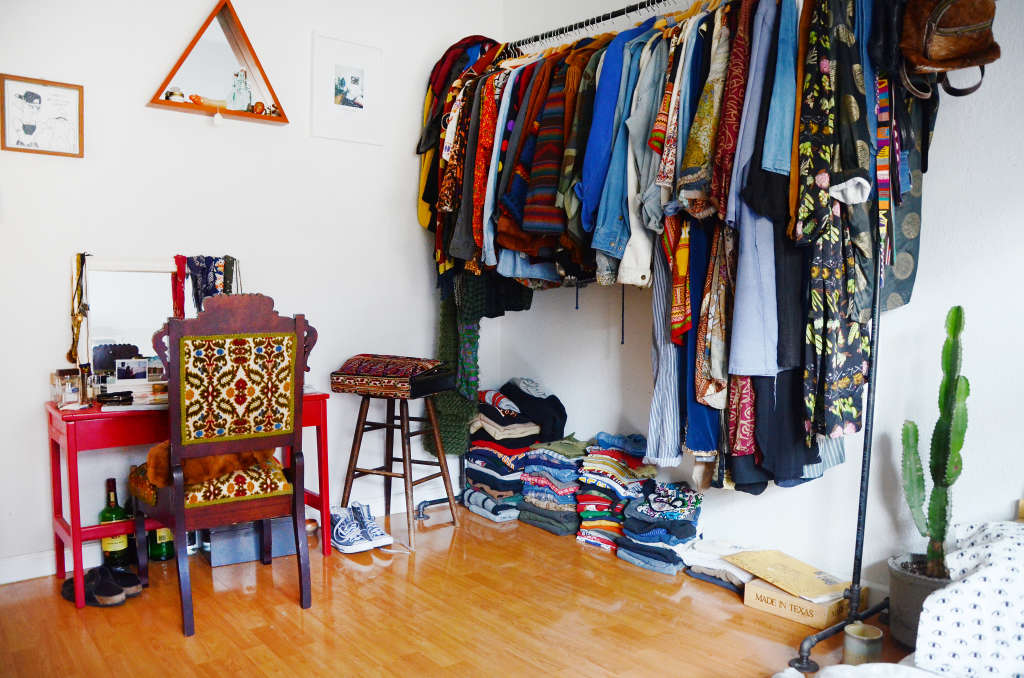 If you're done with opening your closet and being met with an avalanche of shoes and not-so-folded sweaters, then you might be ready to upgrade your wardrobe experience with closet organizers.
But not all dividers and shelving units are created equal. If you're looking for shoe racks, knit dividers, and tidy cubby shelves but aren't finding anything that looks minimalist or stylish, we're here to help. From whole-closet organizing systems to small products that are designed to tidy a single thing, ahead are some closet organizers that are as useful as they are beautiful—and you can score each one on Amazon.
For those with zero closet space, this double tier closet is a great pick. Scandinavian in style with its white poles and black hook accents, it's an attractive way to hang your clothes and display your accessories. It takes zero tools to build, comes with a built-in curtain if you want to hide your clothes, and even has hooks for your hats and scarves.
You can double the size of your closet without renovating—or even using any tools at all. Just hang up a closet extender like this one on your main closet rod. The second rail on this one is a adjustable, so you can size it to fit under your existing clothes, while hanging a whole second wardrobe down below.
Nix that jumbled mess of ballet flats, oxfords, and fall boots on the bottom of your closet floor by storing all your shoes in an organized modular system. This one gives a compartmentalized home to each pair, and hides them to give a more streamlined look to your wardrobe when you open your closet doors.
If you have just a few pairs and you want a stylish way to stack them, try this shoe tower. It comes in white or black, and tall or wide configurations, so you can find your Goldilocks-style solution. This find would also be great at tackling your shoe pile in the entryway.
Make the most of your closet space by utilizing the back of your closet door. This jewelry organizer hooks onto the top of your wardrobe door, and lets you store tons of bits and bobbles in the most neat and organized way. (If you don't have quite this much jewelry to stash, try this smaller wall-mounted organizer from mDesign.)
Give your purses, sweaters, and bags their own cubbies with this stackable shelving unit. It comes complete with four square cubbies and two rectangular "shelves," where you can easily store folded knits, organizing baskets, or clutches. You can put it on top of your closet shelf to help create a more organized look, or stack them on top of each other to create a shelving unit.
If you prefer a storage unit with built-in cubby drawers, then this five-drawer storage unit is a chic pick. It's part of a bigger, matching collection, so you can pick everything from shoe cabinets to skinny, vertical cabinets to achieve your wildest organizing dreams. This will let you create a customized shelving unit over time, to best fit your own closet shape and size.
Separate everything from folded knits, towels, stacked pants, linens, or purses with these clear shelf dividers. They come in a pack of two.
If you don't have the luxury of having enough space to clearly display every item of clothing, these storage bags are a chic and tidy way to keep your sweaters or t-shirts organized and in an easy-to-grab place.
For garments like pants, scarves, and slim pullovers where you typically just drape them over the hanger bar, you should know that s-shaped hangers like these will let you stash a whole lot more wardrobe with a single hanger.
If your problem is an overcrowded closet, this find will help you declutter down to the essentials and give your wardrobe a streamlined look. They will add some negative space between each article of clothing, nixing that cramped and cluttered look on your racks, making your closet look like a well organized boutique.
Make use of that space underneath your shelves with this hanging purse shelf. There are five compartments to store your clutches and small bags (or even pairs of sandals), plus a back edge to make sure nothing slips out of reach.
Apartment Therapy supports our readers with carefully chosen product recommendations to improve life at home. You support us through our independently chosen links, many of which earn us a commission.