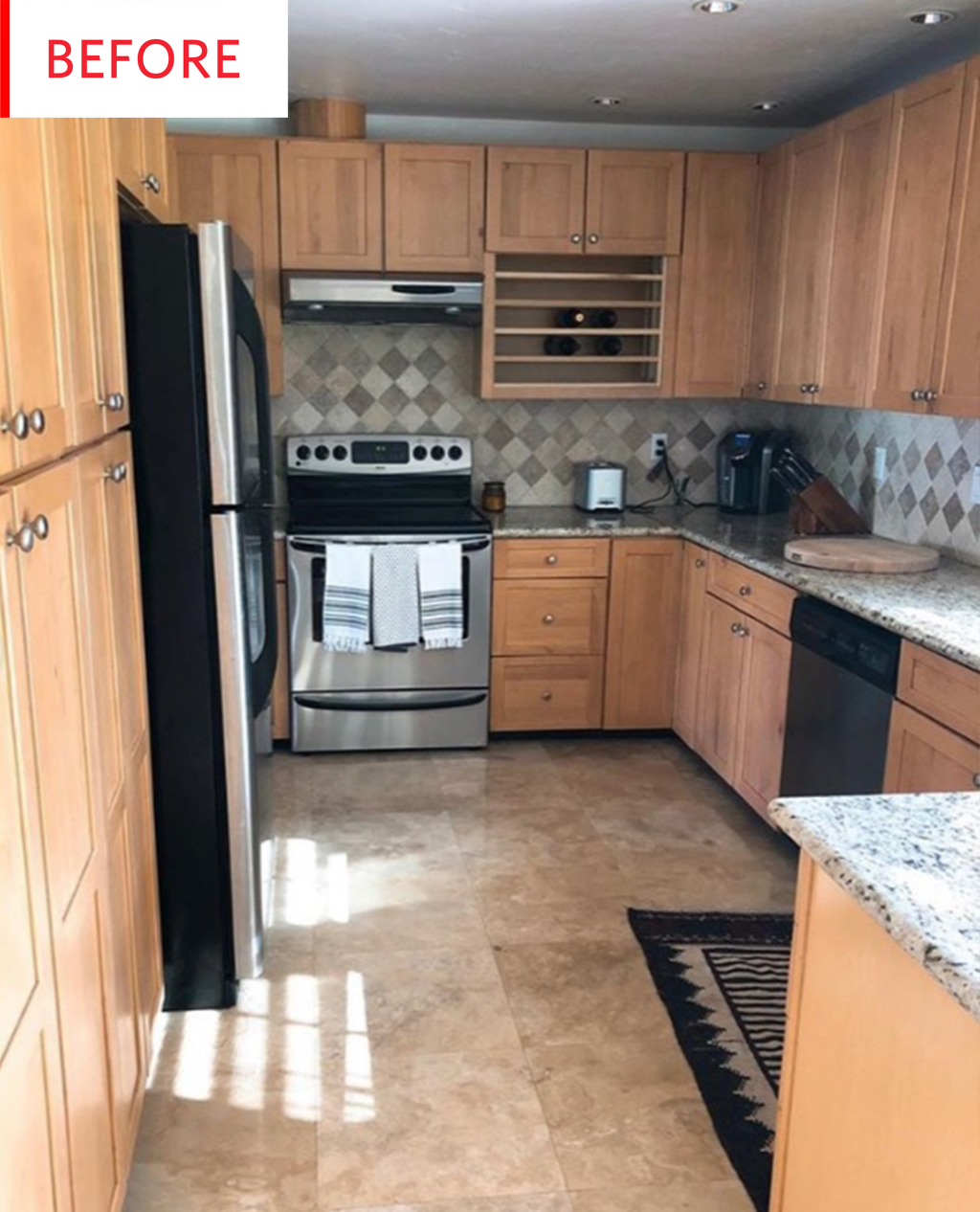 The busy couple that owns this kitchen didn't want to spend a ton of time and money updating it, but they definitely wanted to update it. With six weeks of hard work and less than a grand, they were able to totally transform the room.
KP and Mike Snow of The Snow Home—@theressnowplacelikehome on Instagram—did a bang-up job, getting major impact without spending major bucks. Straightforward subway tiles in clean white replace the distracting harlequin backsplash, and, while replacing the numerous cabinet doors would have cost a fortune, painting them gave them a totally fresh look. The new open shelves add more beauty and utility than the large wine rack, so no real storage was lost. The new range hood has a great presence, and its lightly paneled facade links it nicely to the cabinetry.
There were lots of very enviable finishes in the original kitchen, but they were difficult to fully appreciate because they were all approximately the same shade: gray, brown, tan, taupe—they all blended together. Now, thanks to the newly painted cabinets and other white elements, the fascinating floor and countertops really pop. Their natural subtleties now shine. Similarly, the stainless steel appliances now stand out rather than blending in with all the grays.
Here's a closer look at that dynamic rug, as well as a glimpse of how well the new kitchen fits into the rest of the home. In the dining room we see more of the same floor, plus white walls, natural surfaces like wood, and black accents. The two rooms complement each other wonderfully without matching too closely. The new blinds provide shade an privacy while echoing the natural fibers of the wishbone dining chairs.
It's astounding and inspiring to see what a powerful effect a coat of paint, some tiles, two new lights, and a few new accessories can have on a room!
Thank you, KP and Mike Snow of The Snow Home!