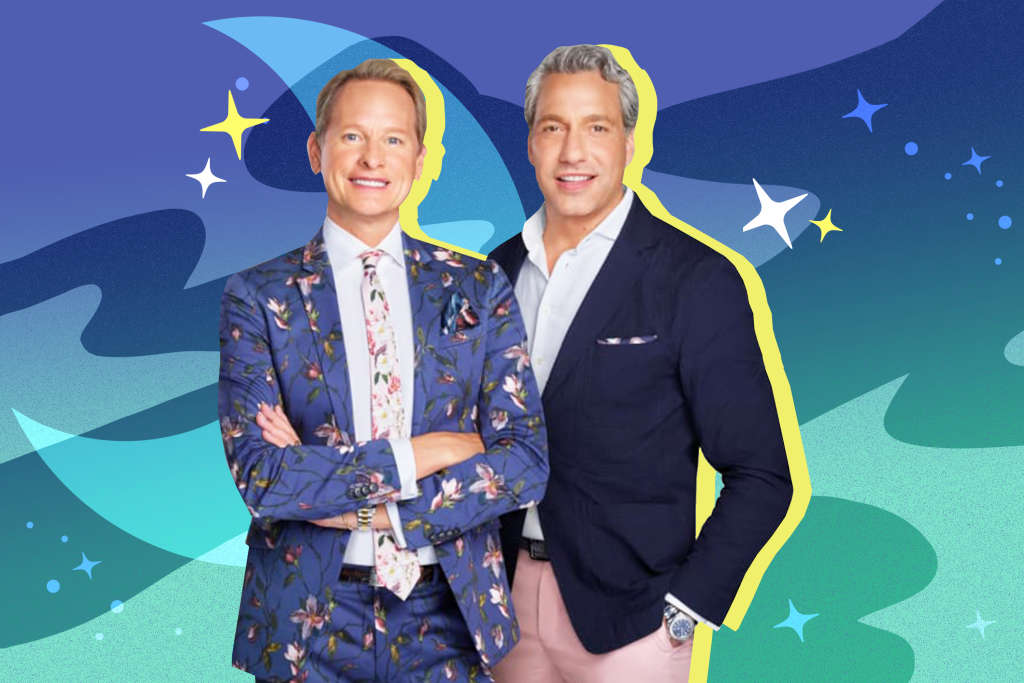 Perfect Night In is a series where we ask actors, artists, entrepreneurs, and beyond how they'd spend the ultimate luxury—a blissful evening at home.
If you were a fan of the original "Queer Eye for the Straight Guy," then you should immediately recognize these two members of the OG Fab Five, Carson Kressley and Thom Filicia. It's been over a decade since the last episode aired, but Kressley and Filicia have started another chapter together with their new Bravo series "Get A Room."
In the new show, the dynamic duo uses their design backgrounds to redecorate homes on various budgets—and deal with all the drama that comes with the process. Additionally, Kressley and Filicia are doing a crossover episode airing in mid-December with Bluprint's "Bring the Party," a series on organizing a party from start to finish.
But when these two guys aren't running around transforming homes, we're curious to know: How do they spend their nights in? So we decided to ask them, and we got some loaded answers in return!
See below for how the charismatic friends are similar and different when it comes to how they spend their downtime at home.
Set the scene
Your perfect homebody scene in 5 words:
Carson: Quiet, relaxing, calm, yummy, cocoon.
Thom: At home, kids, having dinner.
Are you alone or with someone else:
Carson: I'm going to give you a real short answer: with a man.
Thom: One person for me. It could be a girl, it could be a guy. It could be just fun to snuggle up, separately but together, have the dogs there, and just watch something stupid and laugh.
Night-in uniform:
Carson: Mine is just a cashmere track pant and a white cotton t-shirt.
Thom: My night-in uniform is a sweatshirt that has a really big collar that you could pull over your head or pull down. It's like a gator scrunchie. Then a really great pair of shorts, and finally cashmere socks.
What people, dead or alive, would you let crash your night?
Carson: I would invite Lenny Kravitz because he's so hot, and I think he has great taste. I would also like Billy Haines. He was an actor, then he did sets and became a decorator. So his trajectory seems really interesting to me.
Thom: Thomas Jefferson because he was such a design icon. I think he's more of a complicated, intriguing person and would be really interesting from a design perspective. I also think from Hollywood, Marilyn Monroe. She'd be a really fun house guest.
Now playing
TV or a movie?
Carson: I love a movie.
Thom: I think I'm a movie.
What are you watching?
Carson: I feel like at home if you're watching a movie, it has to be something very engaging or you get too distracted. It's usually something that I wanted to see in the theater but I never got to see it. I'm like, "Oh my god, look 'The Notebook,' it's on DVD!"
Thom: I generally search comedy first. And if I've seen them all, then we'll watch something that's intelligent.
eBooks or the real deal?
Carson: Oh God, the real deal. I have to have the actual book. I like going to the bookstore and selecting it.
Thom: The real deal.
Currently reading?
Carson: I just read Lauren Weisberger's new book called "When Life Hands You Lululemons." It's really good.
Thom: I'm reading mostly design books.
Silence or music?
Carson: Music for sure. My new thing is you put Sade on Pandora, and you're going to get some Lenny Kravitz, you're going to get some Sade of course, you're going to get some India.Arie. You got some real good slow jams up in here. You're going to get some Sting. I didn't even know I liked these people!
Thom: Pump up music all the time. My favorite song right now is Arcade Fire's "Everything Now." It's really fun when you're at home and you DJ on Spotify with another person.
Board games, yay or nay?
Carson: If I'm having like a small group of people over, we will play games, but they generally aren't board games. It will be like charades.
Thom: I like the one when you're on your phone and the other person has to act out what's on the screen. I just feel like that game with the phone is my favorite. Everybody's into it, too.
What's cooking
Order in or cook for yourself?
Carson: I like to order in.
Thom: I like ordering.
What are you eating?
Carson: Thai food, cozy things like dumplings.
Thom: Really thin crust pizzas are always fun. But I also do this thing where I'll order steamed shrimp, chicken, and broccoli, and then I just put it together. I add olive oil and tamari, so I know the ingredients!
What drink are you pouring?
Carson: I would have Sauvignon Blanc because I like white. Or you know, there's nothing better than champagne in the bathtub.
Thom: I would say drinkwise, I'll do tequila on the rocks or vodka on the rocks with a splash of soda and a lemon. At home I try to keep it healthy. But when it comes to wine, I think red is the coziest.
What's for dessert?
Carson: If I was being really decadent, I would have ice cream or something because that's so cozy.
Thom: If I was having someone over and we were staying in, it would be two scoops of Halo Top in a champagne coupe with some blueberry ice cream on top.
Late night snack?
Carson: I have a half a spoon of Manuka honey, and then a half spoon of peanut butter, out of the jar. And then, on the same spoon, it's like a candy bar.
Thom: I actually do [Manuka honey] with almond butter, because I was told that almond butter is even better for you.
Take care
Do you have a self-care ritual?
Carson: I always take a bath. Like Tom Ford, I sometimes would take three in a day. And before bedtime, I always take a very hot bath with some kind of Epsom salt in it. I have a huge Kohler soaking tub, and it's my favorite thing in my apartment.
Thom: I wash my face with basic soap, I put a little bit of night cream on around my eyes, I brush my teeth, and then that's it.
What do you try to avoid at all costs?
Carson: Being on your computer or phone. I try to punch the clock.
Thom: Doing work, dealing with clients, or office-related stuff. It should be more of things that allow your brain and soul and everything else to kind of relax.
Candles, yay or nay?
Carson: Huge yay. I like the currant flavors, like grape or something. Votivo makes such a good one.
Thom: Yay! I like wood smells.
Face masks, yay or nay?
Carson: Yay. I do those ones that come in a packet and are a kitten face or a drag queen. You just slap them on and they're very quick. But the ones where you have to slather on the black stuff and avoid your eyebrows… I never do that.
Thom: Yay! I love them.
Bubble bath, yay or nay?
Carson: Yay! It's a real refuge. And I'm a Scorpio, so I need to be in water a lot.
Thom: Nay! I hate baths. I need a shower after every bath. Second of all, you're supposed to be relaxed and I'm just like, is this over yet? I love a shower.
Chores, yay or nay?
Carson: Yay. I'll clean out my bag or something. There's something very luxurious about having time to do the things that you should be staying on top of.
Thom: Yay! I feel like I do chores all the time. Even before I got here today, I did a couple loads of laundry and I dropped off dry cleaning.
Ideal bedtime?
Carson: I think midnight is perfect. That seems right, like not too early, not too late.
Thom: I feel the best between 12 and 12:30. If I'm at home watching television, I give myself until midnight, just like it's a school night. Then I'll turn the television off and I'll give myself 30 to 45 minutes to wind down.
Thanks, Carson and Thom!
Apartment Therapy supports our readers with carefully chosen product recommendations to improve life at home. You support us through our independently chosen links, many of which earn us a commission.