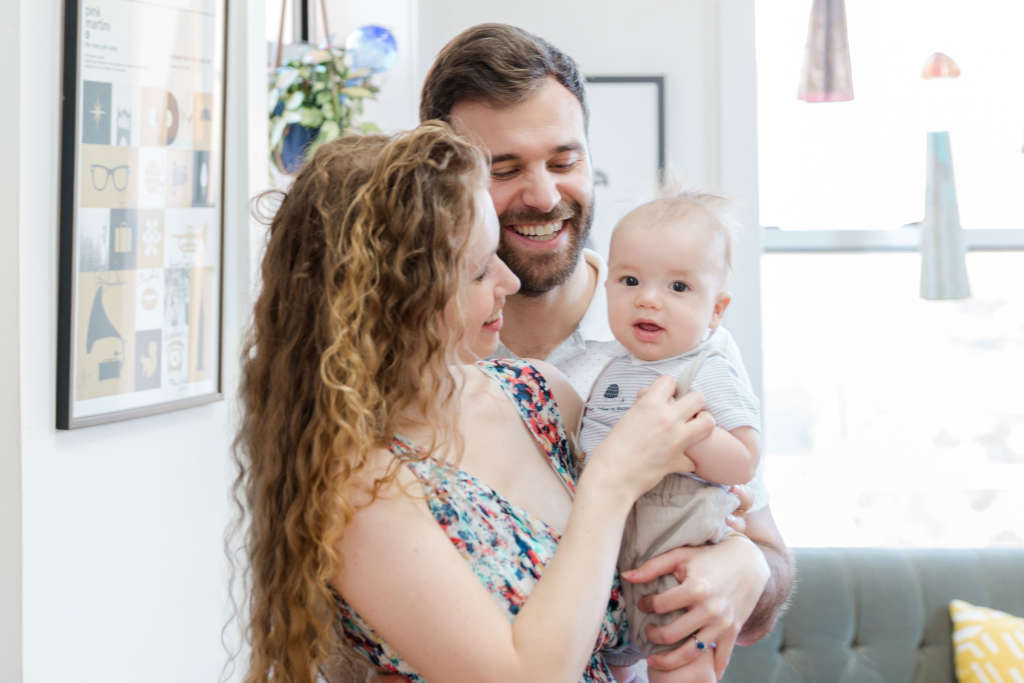 Name: Andrea and Brian Cotlove
Location: Brooklyn, New York
Size: 380 square feet
Years lived in: 4 years, renting
Andrea her husband, Brian, live very cleanly and simply in a third floor apartment in Brooklyn. They recently added a new little one to their family and have magically made 380 square feet work. Though, they admit, "Once he's mobile, we're going to have to rethink!"
---
See the video tour of this home:
---
The best kept secret is their rooftop patio and garden. Having this space on the roof to escape to makes their home feel a bit bigger. They grow all kinds of fruits and vegetables and have dinner parties with friends. They also have an amazing view of the city.
Apartment Therapy Survey:
Our Style: Nostalgic and whimsical.
Inspiration: My grandma/antique shops/friends' apartments.
Favorite Element: The tall ceilings and the amount of natural light makes the space feel bigger.
Biggest Challenge: Where to store things. We love having a washer/dryer, but it limits our closet space quite a bit. That is partly why I decided to build our storage bed. The big drawers hold most of our things.
What Friends Say: Cozy and welcoming.
Biggest Embarrassment: Whenever guests come over, I inevitably find myself throwing all manner of things on the far side of the bed to the point where I can no longer access half of my drawers.
Proudest DIY: The bar shelf in our kitchen. This was my first woodworking project. When I was little my mom and I often took trips to the post office together and I remember her turning the dial on the combination lock to retrieve our mail. There was something magical about it. Like opening a treasure box. After moving to New York, I passed by a UPS store that had some of these old doors displayed in their window. That was when I first had the idea of making something with them. The store wouldn't sell them to me, so I turned to eBay and found this beautiful set of doors dating from the 1920s. Each door comes with its own unique combination.
I knew I wanted to build some kind of shelf that resembles how they appeared when you walked in the post office. I lined the inside of the boxes with pages from old books in different languages with themes that are meaningful to us. For instance, pages from a Japanese/English dictionary that contain ingredients for a gin hot toddy, a map of the Russian village where my husband's ancestors are from and a German poem to represent my family.
Biggest Indulgence: Our living room rug. Found it on Craigslist. It reminds me of my grandma's house. I'm also addicted to buying plants.
Best Advice: It takes time to make a space feel personal. Patience is not my strong suit so I often need to be reminded of this.
Dream Sources: I like objects that have a history or some sort of story that inspired their creation.
Resources:
PAINT & COLORS
Black chalkboard paint on our kitchen bar cart — Home Depot
LIVING ROOM / DINING ROOM
Gray tufted sofa – Craigslist (originally from ABC Home and Carpet)
Diamond weave throw — Anthropologie
Yellow patterned decorative throw pillow — Target
Denim pillow cover — My first sewing project on the Singer
Lamp — eBay
Singer Sewing Machine — Craigslist
Hurricane lamp and candle snuffer — Gift from Brian's grandma
Wooden box on the singer — Antique market on a road trip to Canada
Table and chairs — Thrift store in our neighborhood, Go Green Village
Farmhouse bench — Built by Brian and Andrea. Plans by Ana White
Dog portraits — Purchased on our honeymoon. The Airbnb we stayed at in Budapest was the home of this artist — Ildiko Olah
Paper lanterns hanging in window — Made by Andrea
Custom house portrait — Jade Doyle (Etsy)
Big canvas — A work in progress. Based on a photo of rooftops in the city where we used to live, Aix-en-Provence, France. Am learning how to draw and paint with Will Kemp. Highly recommend his classes!
Jefferson ladder — Built by Andrea (I've always loved the look of home libraries with ladders so I tried to capture the spirit of one by building a shelf high above our couch and a ladder to reach it. I stumbled upon the folding ladder on YouTube when I came across a 1988 episode of "Woodright's Shop" which demonstrates how to build one using old tools.)
KITCHEN
Magnetic spice holders — Etsy
Clay succulent pockets — Made by Andrea. Design by Natalie Shriver, DIY instructions
Tins and scales — Thrift store road trip finds
Bar Cart — IKEA
PO Box shelf/wine glass holder — Built and designed by Andrea
BEDROOM
Storage bed — Built by Andrea. Plans by Ana White
Moses baby basket — Plum + Sparrow
Bookshelves above the basket — Designed and built by Andrea
Wooden sculpture — Ecuadorian Artist, Luis Potosi
Painting below shelves — Sonal Nathwani
Black desk — Asian Barn NYC
Artwork above black desk — Custom drawing/watercolor of our rooftop; Groupmuse concert Violet Paek Illustration Children's books illustrator / Butterfly stamp with quote — Mandolin Brassaw
Paint corner behind bedroom door — Paint/brush holder and paintings (still life + John Constable reproduction) — By Andrea
Black and white rug — Target
Bookshelves on either side of the bed — Built by Andrea
Pottery on window sill — Arhoj
Artwork above the bed — Made by Andrea (I was planning to make wreaths with the copper tubing I bought and by happy accident I ended up making this shape and thought it looked beautiful. The evergreen represents where my husband and I met (Portland, Oregon), the lavender, where we fell in love (Aix-en-Provence, France) and the rosemary from our garden where we live now (New York City).
All the furniture built by Andrea was assembled in the apartment. (Yes, we had a lot of sawdust in our home for a while.) The tools live under the couch.
ROOFTOP
Garden — Milk crate planters and wooden pallets courtesy of NYC bodegas and grocery stores.
Furniture — West Elm
Tiles — Etsy
Thanks, Andrea and Brian!
---
Apartment Therapy supports our readers with carefully chosen product recommendations to improve life at home. You support us through our independently chosen links, many of which earn us a commission.