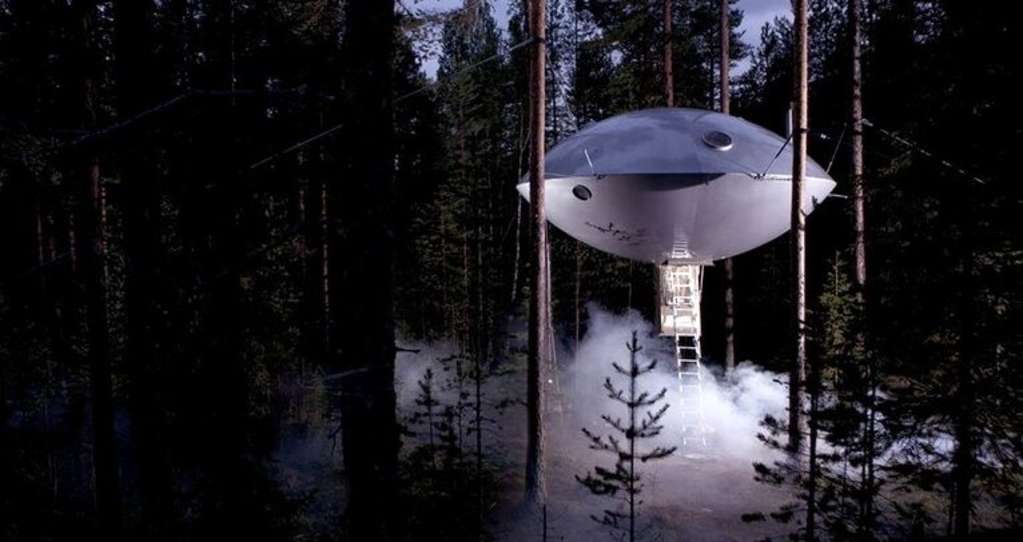 Wasn't everyone inspired by outer space at some point growing up? Movies like "Star Wars"and "E.T." fueled fascination with the galaxy and inspired humans everywhere.
Well, now is your time to live out your childhood galactic dreams with this UFO-inspired glamping experience. The hideaway is located near Lulea, Sweden, which looks like it was plucked from another galaxy and plopped into the woods.
The spaceship can host up to five renters (two adults and three children), making it the perfect hideaway for the whole family. The glamping rental is equipped with Wi-Fi, four beds, and a running toilet, and the shower and sauna is located on the camping grounds, just a short walk away.
There's everything you could want for an outdoor adventure on-site, so don't be afraid to pack light. You can rent out fishing gear, kayaks, and mountain bikes right outside your spaceship's door.
The campsite is tucked away in a pine forest a mere 30 miles south of the arctic circle, meaning your stargazing may come with glimpses of the famous Northern Lights. And during the day, gaze out the window for spectacular views of the Lule River. Campers can also grab hiking boots and explore some of the many trails.
If hiking isn't your thing, hop on horseback and explore the pinewoods that way. Balance out your adventure-filled days with a sauna or Swedish massage, also on property. If you'd rather unwind with a drink, check out the on-sight bar or fuel up at the 1950s-inspired restaurant just a stone's throw away from your UFO home.
Rentals start at $624 a night, according to Glamping Hub, with a minimum two-night stay. The chance to live like a martian in the Swedish wilderness doesn't happen every day, so chances are you'll want to experience for more anyway.