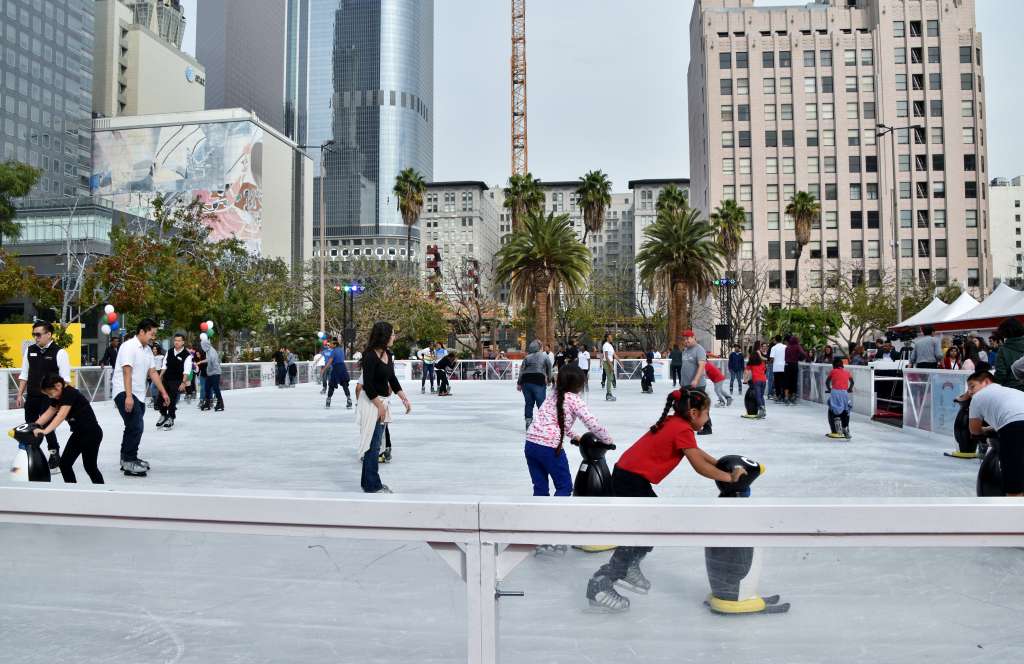 Just picture it: You're graciously gliding across the ice, hot cocoa in hand and wowing the crowd with your figuring skating spins. Okay, maybe it's more like chopping across the ice while gripping the rink's ledge. And, perhaps it was a fall—not exactly a flying sit spin—that's being judged…
But that's neither here nor there! Ice skating is a quintessential wintertime activity, even more so when rinks are decked out in their best holiday finery. It's even possible to have snow much fun in cities that don't experience much when it comes to cold fronts.
Here, we've got the best ice rinks in every major city. Check them out, no leotards required:
1. The Rink at Rockefeller Center in New York City
Easily the most iconic skating rink in the United States, The Rink at Rockefeller Center made its debut on Christmas Day in 1936. Since then, it's made cameos in movies including "Elf" and "Collateral Beauty," and has been featured on "Saturday Night Live"'s holiday specials. A gold-leaf Prometheus overlooking skaters and the towering Christmas tree decked in lights help set the scene at the rink that draws 150,000 visitors every year. It's hard to imagine the rink was originally intended to be temporary!
2. Bai Holiday Ice Rink Pershing Square in Los Angeles
(Image credit: Red Apple Photography)
At 7,200 square feet, the Bai Holiday Ice Rink Pershing Square is L.A.'s most spacious rink. In honor of "Wicked" doing a run in Los Angeles this winter, the rink is casting a green glow every Wednesday and playing plenty of songs from the cast album. The downtown L.A. ice rink also hosts special events throughout the season, like a DJ night and curling lessons. (P.S. We support your 2022 Winter Olympics curling dreams).
3. Millennium Park McCormick Tribune Ice Rink in Chicago
(Image credit: Adam Alexander Photography, Courtesy of Choose Chicago)
One of the best way to see Chicago's downtown skyline and city lights is from the Millennium Park McCormick Tribune Ice Rink. That's because holiday lights reflect on The Bean's shimmery surface, creating quite a light spectacle. Admission is free, but skate rentals will cost you $13 during the weekdays and $15 on the weekends.
4. ICE powered by Green Mountain Energy in Houston
(Image credit: Visit Houston)
City lights in downtown Houston lend a fun effect to this eco-friendly ice rink. ICE powered by Green Mountain Energy powers the rink with renewable energy and the ice rink's border is even made with recycled plastic materials. Little kids get their own rink called the ICE Box. Worth mentioning: A giant, red mailbox is on site ready to receive letters to Santa.
5. Blue Cross RiverRink Winterfest in Philadelphia
(Image credit: Matt Stanley)
Perched on the Delaware River Waterfront, the Blue Cross RiverRink Winterfest area is decorated with 100,000-plus lights, including more than 40,000 lights twinkling on the tree. Also, programmed lights color the rink surface in changing hues. As the kids these days say… "It's lit!" Some other rink amenities include a 45-foot tall Douglas fir—one of the largest live trees in the city—and a cozy fire pit area.
6. CitySkate in Phoenix
(Image credit: CityScape Phoenix)
An ice rink in the desert? You bet, says CitySkate, which brings a winter wonderland to Phoenix. For its next trick, CitySkate is dazzling skaters with a 30-foot sculpture shaped like a tree at the center of the ice rink. The copper-colored tree has 100 interlocking panels, illuminated with thousands of programmed LED lights. Interactive kiosks let you light up different patterns on the tree with the press of a button.
7. Eisbahn near San Antonio
While San Antonio has several indoor skating rinks, your best bet is to head about an hour outside of the city for an outdoor ice skating rink in Fredericksburg, a postcard-perfect town that exudes holiday charm.
After skating at Eisbahn, check out Fredericksburg's 26-foot-tall German Christmas pyramid that looks like an oversized ornament. Technically, it's called a weihnachtspyramide, a German decoration dating back to the 16th century.
8. Skating by the Sea in San Diego
(Image credit: Hotel del Coronado)
And the award for the most stunning ice rink goes to… Skating by the Sea at Hotel del Coronado. This beachfront ice rink flanked by palm trees shows off panoramic views of the Pacific and also benefits Make-A-Wish San Diego. For some après-skating fun, sidle up next to the roaring fire pit and enjoy holiday-themed libations or hot cocoa.
9. Galleria Dallas Ice Skating in Dallas
(Image credit: Galleria Dallas)
The best ice skating rink in Dallas can be found inside a mall. During the opening ceremony of Galleria Dallas in 1982, Olympic figure skater Dorothy Hamill performed a free show for onlookers. Since, several more Olympic champions have graced the ice here and put on performances. During the holiday season, a massive tree decorates the center of the ice and a figure skating Santa and his elves grace the ice to kick off the holiday season.
10. Kristi Yamaguchi Downtown Ice in San Jose
(Image credit: Rick Jensen/San Jose Downtown Association)
Named after the Olympic gold medalist (a Bay Area-native), this downtown ice rink is a popular one. Ringed with palm trees, Kristi Yamaguchi Downtown Ice attracts 50,000 skaters each season. It's also the setting of lots of first dates and proposals.