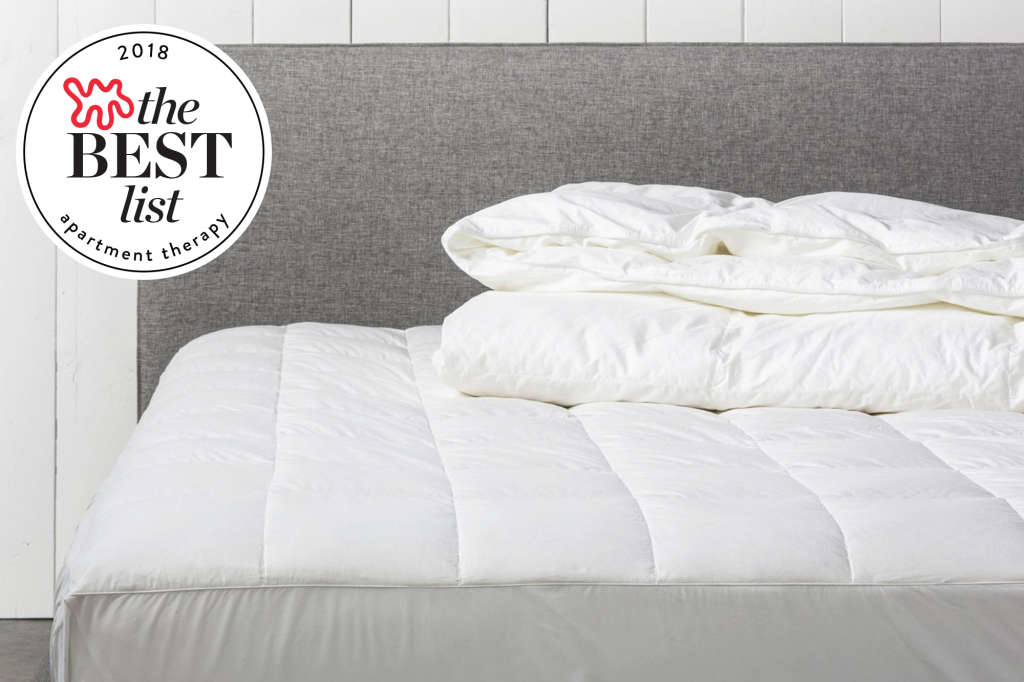 A wisely chosen topper can make a bad mattress good, or a good mattress even better. The benefits are many: Mattress toppers can make a bed more comfortable and supportive, help regulate your body temperature throughout the seasons, and extend the useful life of your (likely more expensive) mattress.
Which mattress topper material you choose should depend on how you prefer to sleep. Foam toppers vary from very cushy to very firm, but they're quite supportive for your joints, and can help stifle movement if you share a bed with a toss-and-turner. Down and down alternative toppers offer less support than foam, but they provide plenty of plush softness and comfort and generally won't sleep as hot as a foam topper would. Wool toppers are pricey, but they're durable and comfortable, and are top-tier if temperature is your main concern, as wool won't retain body heat.
If you have any known allergies or sensitivities to feathers, latex, polyurethane, or other materials and chemicals that might crop up in this category, that's going to narrow your options, but it's wise to research the materials in any mattress topper (or mattress) before you buy.
One other thing to be aware of is height and thickness. You need to make sure that a fitted mattress topper (one that wraps around the mattress like a fitted sheet, as opposed to just resting on top) is tall enough to contain your mattress. And more importantly (for every type of topper), that your sheets are roomy enough to fit over the mattress and topper together. Some of the foam mattress toppers on our list are sold in varying thicknesses, so that's worth clicking through to comparison shop.
---
LATEX & MEMORY FOAM
Available from 1.5-inch to 4-inch thicknesses and sizes from twin to king, you're sure to find a fit in this affordable memory foam mattress topper line from Zinus—who makes a budget boxed mattress we love as well. The egg-crate-style shaping is designed to provide air flow that might cool you down a bit as you're sleeping.
Another solid budget buy, this memory foam mattress topper comes in a few additional sizes (California king and twin XL) that you might have a hard time finding in other brands. It has that familiar body-hugging memory foam feel, but with support where you need it.
If you feel like foam is for you, but you'd prefer something labeled natural, this latex topper is a great choice. Latex is going to have more of a bounce than memory foam, and less of a sink-into-it kind of dip as well. The perforations in the topper are designed for air flow that makes this one feel cooler, overall, compared to a similar solid topper. Sleep on Latex also makes a removable cotton cover for each size; the top of the cover (once zippered off from the bottom) is machine washable, a boon in the hard-to-clean foam mattress market.
---
DOWN & DOWN ALTERNATIVE
This fitted pad will stretch around a mattress up to 18 inches thick, and is filled with a hypoallergenic fiberfill down alternative. The name here is legit: According to the company, they supply the same mattress pads to hotel chains like Omni and Courtyard. This one comes in extended sizes from twin XL to California king, and can be machine washed in front-loading or high-capacity washers, then tumble dried according to the instructions.
The hypoallergenic, sateen cotton Parachute mattress pad garners rave reviews across the web, calling it plush, soft and "like sleeping on a cloud." This fitted variety will cover mattresses up to 18 inches deep (although Parachute also makes a double-thick down-alternative "feather" bed with no fasteners—it just rests on top of the mattress). It can be dry cleaned or machine washed according to the instructions (delicate, low temps, no fabric softener).
If you're after a true down feather bed, this one from Pacific Coast Feather is a good pick. The "barrier weave" fabric is designed so you won't feel quills poking you, which many reviews confirmed works. The company reports that their feather fill is "thoroughly washed to remove dust, dirt and allergens," so you could take a gamble if you're allergic but prefer natural down.
---
WOOL
If you have chemical sensitivities, certain allergies, or your main concern is sleeping hot, wool might be a good choice if you can afford to spend a bit more. It's not as thick or supportive as other materials, but it's filled with superfine merino wool encased in cotton, so it's soft and comfortable for most sleepers.
---
More Bedding Reviews & Resources:
---
Other Good Resources: