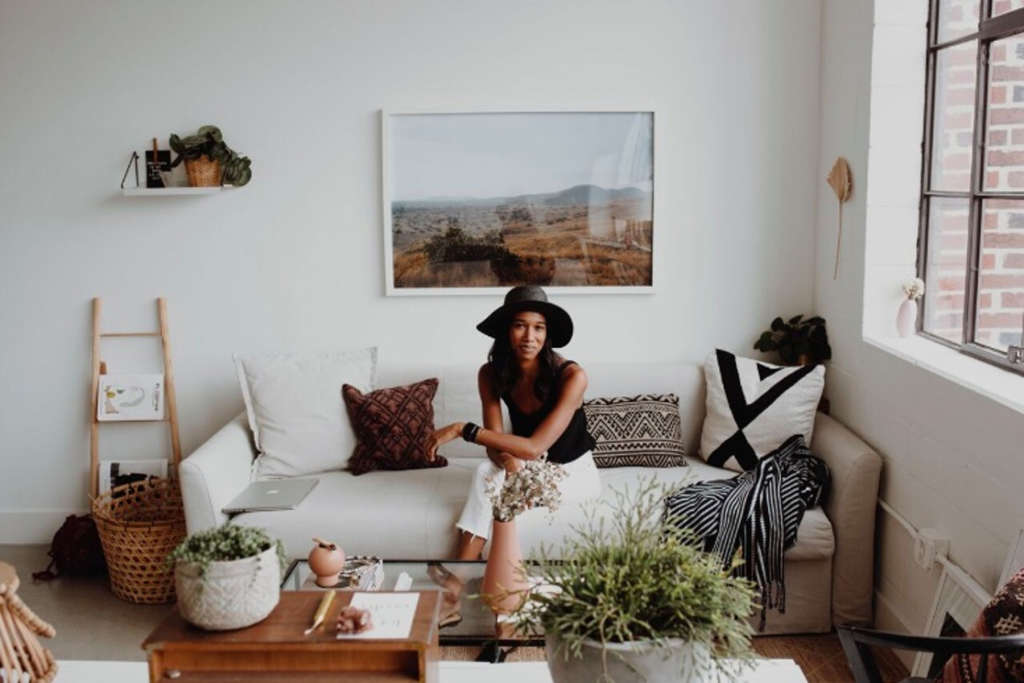 Name: Giana Shorthouse
Location: Ponce City Market — Atlanta, Georgia
Size: 655 square feet
Years lived in: 1 year, renting
I live at the FLATS at Ponce City Market in Atlanta. Housed in a historic landmark originally constructed by Sears, Roebuck & Co. in 1926, each flat at Ponce City Market mimics the industrial modern aesthetic of the building with original features such as brick walls, tall ceilings, and expansive steel-frame windows overlooking the Atlanta skyline.
As a designer and prop stylist, I've made my apartment an extension of me and what I do. Stylistically, it leans more on the side of minimalism, or half-minimalism and half-collected, curated things I've picked up throughout the years—leftovers from photo shoots or things I've picked up at local shops and on trips. Everything has meaning behind it to some extent. Two portraits by my friend and Atlanta artist Sheyda Mehrara sit atop my dresser in my cozy bedroom alongside built-in shelves filled with thoughtfully placed trinkets.
(Image credit: Jamestown)
I also have a crystal collection, which I move around the apartment often. This is the case with many design pieces. I'm constantly changing design elements based on what I find around town and during travels. I'm always taking in ideas. I lean towards tribal things, and love texture and natural materials. I have a lot of natural wood elements in my home. One of my favorite places is the desert, and I'm inspired by the homes in these areas. I'm inspired by the less.
(Image credit: Jamestown)
Describe your home's style in 5 words or less: Bright, Airy, Collected, Versatile, Purposeful.
(Image credit: Jamestown)
What is your favorite room and why? The main room—everything is there in one place. I can lounge, entertain, enjoy food, and work all in one space. I also appreciate the big windows and bright light—I don't think I could live comfortably without an abundance of natural light.
(Image credit: Jamestown)
If you could magically change something about your home, what would it be? A little more space! Compacted living is all the rage right now and it requires a great amount of planning, self control, and intention. Being purposeful with how and where I store away my things is a challenge but well worth the trade for the location.
(Image credit: Jamestown)
(Image credit: Jamestown)
What's the last thing you bought (or found!) for your home? Plants! I'm working on developing a "green thumb." I recently purchased a few plants from The Victorian at Citizen Supply, an artisan marketplace located on the second floor above Ponce City Market's Central Food Hall.
Thanks, Giana!
• Interested in sharing your home with Apartment Therapy? Contact the editors through our House Tour & House Call Submission Form.