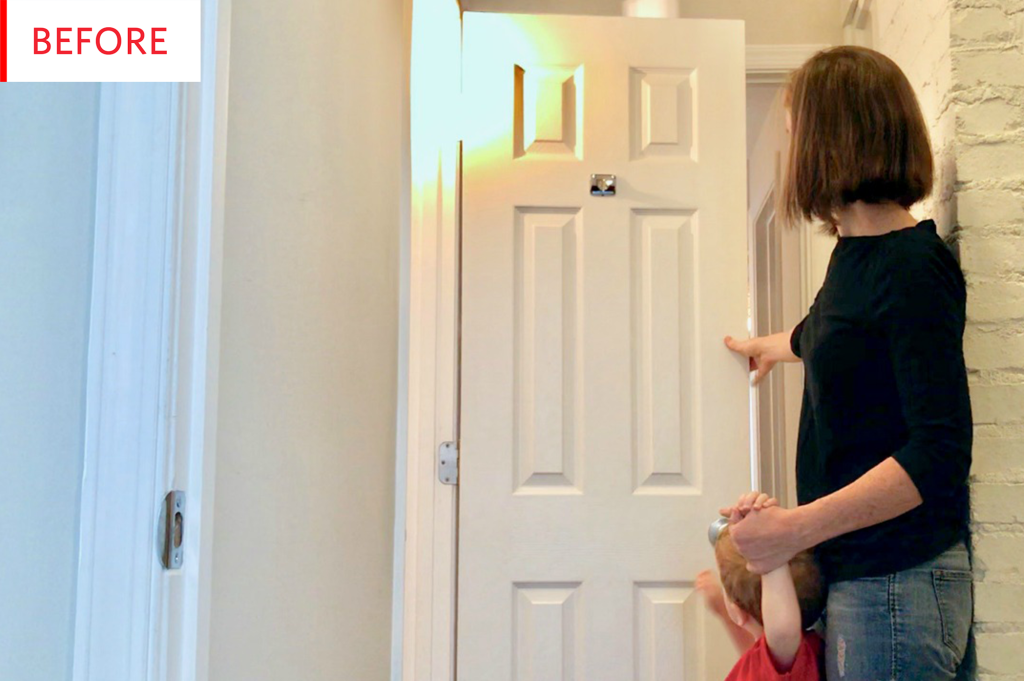 Barn doors have a reputation for being massive, but this DIY proves that even a small hallway with a low ceiling can accommodate a barn door, which will actually save space.
Here's the situation Lara Wilhelm of The Unprofessional was dealing with the old door, and her thought process that will lead to the new one:
I had a poorly planned interior door on a small attic bathroom in my upstairs hallway. This is the bathroom my 3-year-old uses, so the door is almost always open for easy access. It also happens to have the best air duct, so I like to keep it open as much as possible. I needed a solution that allowed the door to remain open without blocking the hallway.
Originally, I ruled out a barn door because I thought my ceilings were too low for both the hardware and an oversized door. I solved this conundrum by lowering the door frame a few inches (way easier than it sounds!) so that I was able to use a smaller, standard door as a barn door and free up space to mount the hardware.
Lowering a door frame sounds highly intimidating, and makes this door upgrade even more impressive.
Here's the new door in place. Painted a lovely shade that looks alternately blue, green, and gray, the door and its bold black frame add a dynamic presence to the hallway. The slats of the door echo the horizontal line of the hardware above, for a nice cohesive style.
Fortunately, the new barn door works as good as it looks:
I love the functionality and flow it provided to the hallway. It works exactly as I intended. A bonus is that it freed up precious space inside the tiny bathroom, whereas before my knees would graze the interior door when I was doing my biz on the potty. Even though I love the look of the louvered door, I recommend a solid door as a better bathroom choice. In my case, this is a kid's bathroom so it's not really an issue, but adults might appreciate a little more privacy.
A few inches can make a world of difference in a small room, and it's always an excellent turn of events when a project ends up saving space in more ways than one.
The whole project took me two weekends to do and cost about $250, which includes the door, track and hardware, trim, and paint. It would have taken less time if I had ordered the hardware and the door sooner, and if I hadn't lowered and re-trimmed the doorframe. Lowering the frame saved me money in the end though because it allowed me to purchase any old interior door instead of a custom or oversized barn door.
Steps:
Remove the interior door and prepare the opening. I think it looks better to remove the doorjamb but it's not totally necessary.
Use a stud finder to locate your studs and mount the track. You can also add a header, which is a more secure choice, but I didn't. Hang the track on the wall, being very careful that it's level.
Prep and paint the door and install the hardware.
Hang your door and add a floor guide and a handle (optional).
Doors can be absurdly expensive, so $250 is a nice total for the door, paint, and all the necessary components.
The new door adds an excellent field of color to the brightly monochromatic hallway and works well with the lines of the wood floor and brick wall.
If you're considering a barn door for your home, Lara has some enthusiastic encouragement, as well as helpful tutorials:
Do it! Barn doors save space and add character. Think outside the box. If you are DIY-ing in a small space or older home, the traditional approach or materials might not work for you. But a little bit of creative problem-solving may lead to a better outcome than you expected!
Detailed step-by-step instructions are available, as is a video tutorial.
Thank you, Lara Wilhelm of The Unprofessional!